Britons forced to sleep at airport after being denied entry into Sweden
Travellers provided negative PCR tests but were still stopped from entering the country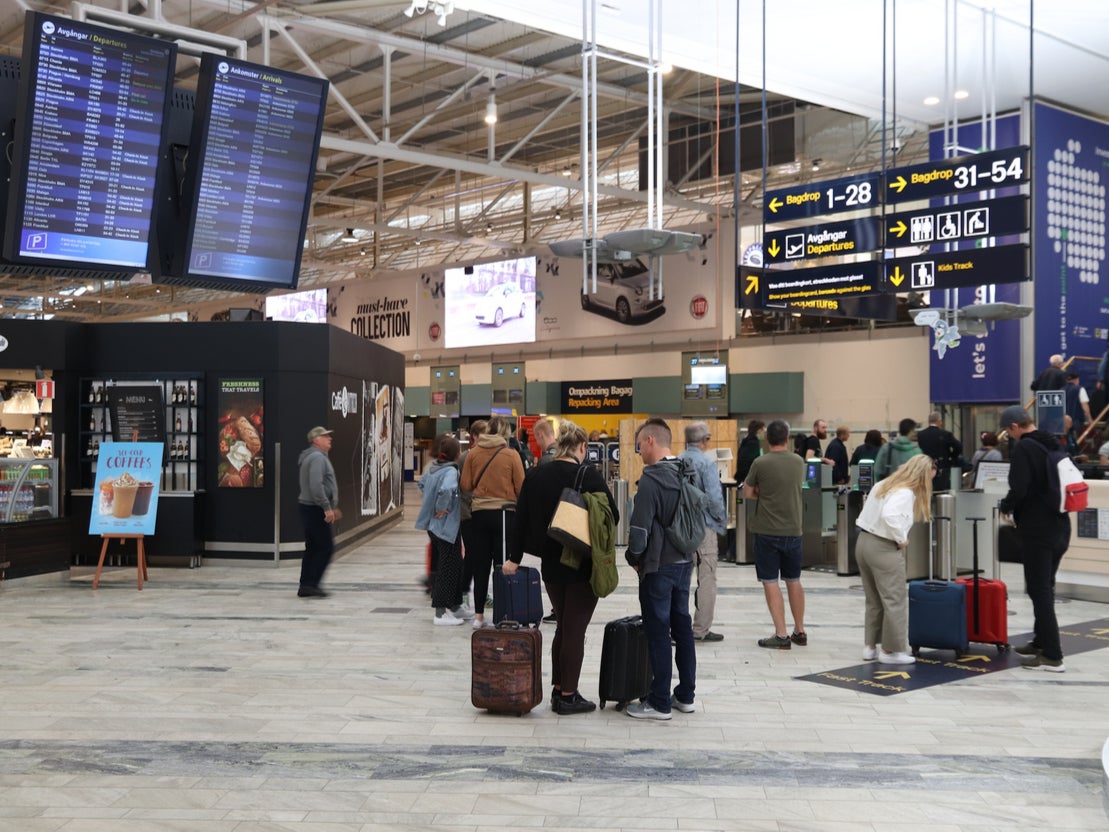 British nationals who live in Sweden were forced to spend the night in Gothenburg airport after initially being denied entry to the country.
As of 1 January, the only Britons allowed into Sweden are those who have an urgent reason to enter the country, such as family commitments, or those who reside there, until at least 21 January.
All British travellers must produce a negative PCR Covid result from a test taken no more than 72 hours before arrival into Sweden.
However, several Brits who reside in Sweden have reported being barred from entry after arriving on a flight from Manchester on 3 January, despite having negative test results.
"When we landed in Gothenburg, all Swedish people were allowed to get off, but British people were told to remain seated," Gina Smart, a teacher who lives in Sweden, told The Local.  
"Then the police came onto the plane and everyone had to show a negative Covid test."
Smart provided her test result, but was told the lab she'd used was not on Sweden's list of "authorised" providers.
She wasn't the only one denied entry to Sweden, but while some agreed to be flown straight back to Manchester the same day, Smart refused to return.
Along with four others, Smart says she was ushered into a room at the airport, where the group were given blankets and microwave meals and forced to spend the night on chairs.  
She called the treatment "diabolical", saying they had to ask permission to go outside and were given no access to showers.  
"They're not telling us what's happening," she said. "It feels like a psychological experiment. I feel like a criminal and we're not."
Eventually, at 10pm on 4 January, Smart was told her test result had been accepted and she was permitted entry into the country.  
The Independent has contacted Landvetter Airport in Gothenburg for comment.
Another passenger on the same flight, Jason Ryan, returned on the flight to Manchester despite having a negative NHS PCR test.
He said he had been threatened with arrest if he did not comply, and described the experience as "emotionally draining".
BA denies boarding to UK residents of Spain
British ambassador to Sweden Judith Gough said she was "concerned" upon hearing about British citizens who reside in Sweden being turned away at the border.  
"The British Embassy in Stockholm has been in regular contact with the relevant Swedish authorities over the last week and requested that any measures be clear, well-communicated and appropriate," she said.  
"It is clear that there have been teething problems with the new system over the weekend, and we are asking the Swedish authorities to provide greater clarity and consistency for UK nationals, who wish to return home to Sweden."
The Foreign Office has advised that travellers to Sweden from the UK who are exempt from the entry ban will have to show a negative Covid-19 test "from an authorised provider". It has now provided a list of approved testing facilities.
Join our commenting forum
Join thought-provoking conversations, follow other Independent readers and see their replies