The Independent's journalism is supported by our readers. When you purchase through links on our site, we may earn commission.
The 10 Best lightweight luggage
Keep it light while you're on the road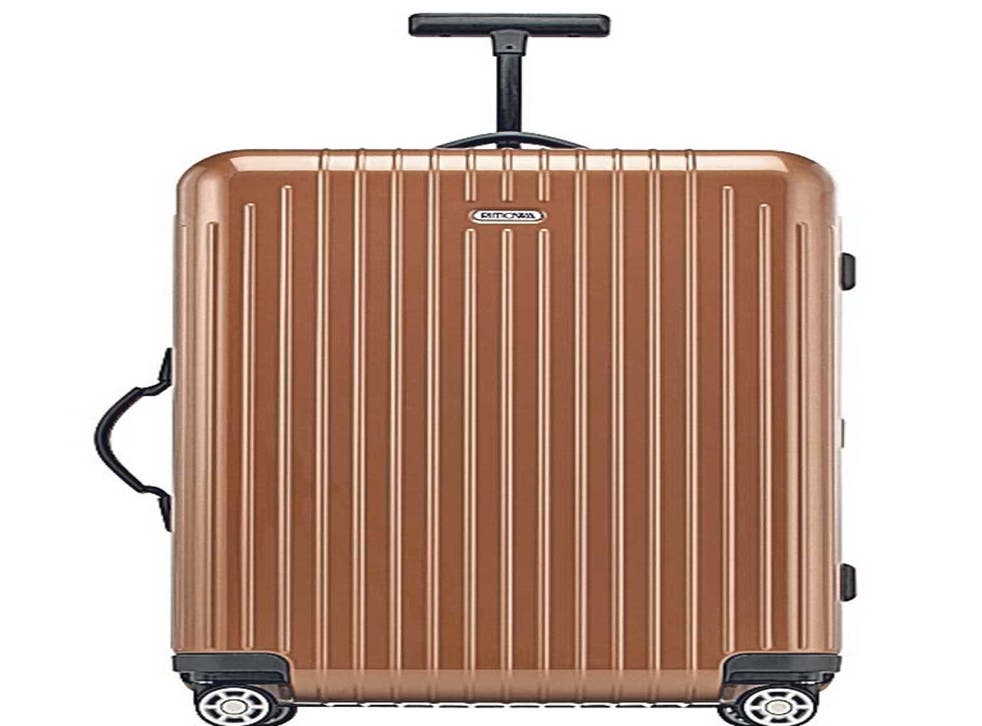 1. Rimowa Salsa Air, £355, Selfridges
This is an excellent and stylish model from baggage masters Rimowa. It's a capacious cabin case (35 litres) but only weighs 2.4kg. Lots of colours.
2. John Lewis Monaco Black Pearl, £169, John Lewis
A great balance of size and light weight (74l, 3.1kg). it has useful pockets and dividers inside, four wheels and a TSA combi lock.
3. Rimowa Classic Flight Cabin Trolley, £480, John Lewis
Strong and gorgeous, this isn't as light as some here (it's 3.7kg) but it's capacious and desirable. Aluminium with leather handles.
4. Samsonite Firelite Spinner, £270, John Lewis
This four-wheeled hard-sided big case is impressively light, managing 94l capacity but weighing just 2.9kg – and the cabin size weighs less than a large bottle of water. Choose a bright colour like red so you don't spend ages at the carousel squinting at endless identical black cases.
5. Tumi Voyageur Super Leger International Carry-on, £495, Amara
The right size for carry-on luggage (not Ryanair). A soft-sided case that weighs 2.4kg and is solidly built with leather top.
6. Knomo Serra, £210, amazon
Clever pocket with shock protection. Plus, it comes with Knomo's system to reunite you with luggage that goes astray, with a unique "if lost" ID number.
7. Carlton Titanium Expandable, £89, Aspen Of Hereford
Lightweight maybe, but this bag is no slouch for sturdiness. Made of a nylon and polyester and has "duck feet", so won't topple over.
8. Eastpak Transfer (small), £85, John Lewis
A great budget option, made of super-light material with compression straps on the side so you can squeeze your clothes down to the bare minimum.
9. Sub Zero G Trolley Case, £45, amazon
This is really light: just 2.2kg – in fact Sub Zero claims this is the world's lightest. It's convenient and easy to manoeuvre but for all that, it's exceptional value.
10. Delsey Lite Gloss, £130, John Lewis
The case that lives up to its name: the 65cm model has 87l capacity, weighs 4.1kg and is certainly glossy. Looks great in red, black or silver.
Click here to view our latest travel offers with Independent Holidays
Register for free to continue reading
Registration is a free and easy way to support our truly independent journalism
By registering, you will also enjoy limited access to Premium articles, exclusive newsletters, commenting, and virtual events with our leading journalists
Already have an account? sign in
Register for free to continue reading
Registration is a free and easy way to support our truly independent journalism
By registering, you will also enjoy limited access to Premium articles, exclusive newsletters, commenting, and virtual events with our leading journalists
Already have an account? sign in
Join our new commenting forum
Join thought-provoking conversations, follow other Independent readers and see their replies