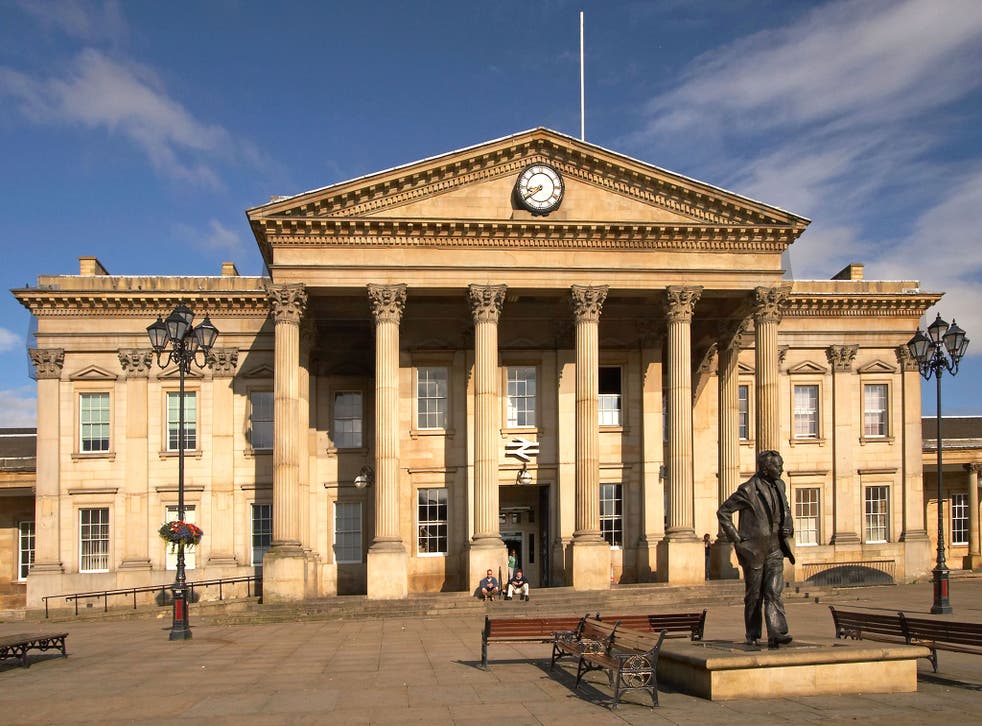 The 10 greatest English railway stations: English Heritage releases list of top terminuses
The list of "destistations" starts with Brunel masterpiece London Paddington
"Not only for their engineering feats are the railways of the United Kingdom remarkable," wrote Sir John Betjeman, "but also for the architecture of their stations." The poet would be delighted that English Heritage has revealed its choice of 10 great English railway stations.
The list of "destistations" starts with London Paddington, a Brunel masterpiece, and ends at St Pancras, where Betjeman is celebrated with a larger-than-life statue.
Yet English Heritage's selection is causing controversy in the railway fraternity, with claims that equally important stations have been left out.
Paddington, in the limelight thanks to the eponymous new film, is included as "the first real cathedral of the railway age". Next is Newcastle, described as "a classical tour-de-force". Windsor and Eton Riverside is chosen because of its "engaging Tudor-style composition", while Carlisle is "built in fine, local red sandstone, complemented by an ecclesiastical-looking clock tower".
In pictures: English Heritage Train Stations

Show all 5
Huddersfield, "fronted by a magnificent classical portico", is fifth. Sixth-placed Monkwearmouth, north of Sunderland city centre, is "a strikingly handsome classical civic building which resonates dignity and permanence". Unfortunately for the traveller, it is now a museum rather than a railway station.
Four trains an hour still serve Battle in East Sussex, which has "a Gothic-style to evoke the former splendours of the famous Battle Abbey nearby". In eighth place, Wolferton in Norfolk was "built to serve the Royal Family's Sandringham estate". The Tudor-style station was closed down in the 1960s, like so much of the British railway network, in the Beeching cuts.
Great Malvern, "one of the most characterful stations of the 1860s", is ninth. Britain's most celebrated terminus, St Pancras, makes the list for engineering as well as aesthetics: "The largest man-made span in the world for over 20 years," says English Heritage.
Some rail experts contacted by The Independent expressed surprise at the organisation's choice. Mark Smith, founder of the Seat61.com website, said: "The stations listed are wonderful - but there are so many more. Battle but not Rye's lovely Italianate station? Paddington but not King's Cross? Newcastle but not York?"
Mr Smith added that a place should have been found for Bristol Temple Meads, "including Brunel's first trainshed".
The absence of one of England's pioneering railway locations was tweeted by Jason Thirkell: "Where's Darlington Bank Top, Darlo being the birthplace of the railways?"
Chris Woodcock, editor of the European Rail Timetable, said: "I would include Preston station ahead of Carlisle, though any positive debate promoting all that is good about the railways of this country should be welcomed."
The English Heritage survey was also welcomed by Nigel Harris, managing editor of Rail magazine: "Stations made statements on behalf of the companies that built them - and the grandeur of the architecture speaks of an era of massive corporate pride and chutzpah. We invented the railways, they changed and created the world we live in and it's right that we should care for and continue to use and enjoy them."
Last word to Sir John Betjeman: "Railways were born in England," he wrote in 1960. "The early railway architecture of this country is therefore of more than merely national importance. It is the beginning of the whole history of the Railway Age."
For the complete list, click here
Click here to view UK Tours and Holidays, with Independent Holidays.
Register for free to continue reading
Registration is a free and easy way to support our truly independent journalism
By registering, you will also enjoy limited access to Premium articles, exclusive newsletters, commenting, and virtual events with our leading journalists
Already have an account? sign in
Register for free to continue reading
Registration is a free and easy way to support our truly independent journalism
By registering, you will also enjoy limited access to Premium articles, exclusive newsletters, commenting, and virtual events with our leading journalists
Already have an account? sign in
Join our new commenting forum
Join thought-provoking conversations, follow other Independent readers and see their replies