The 50 best wedding locations (1-25)

Show all 6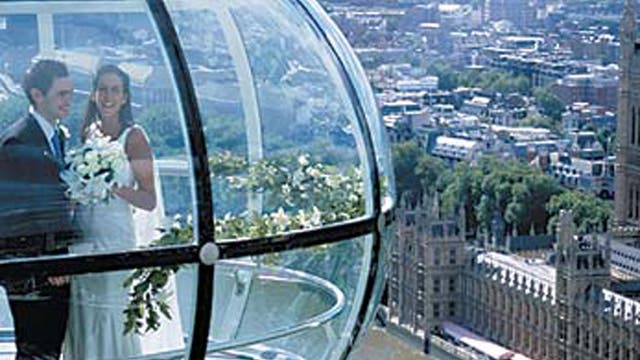 The 50 best wedding locations (1-25)
You've decided to tie the knot - but where do you want to exchange vows? Ian McCurrach has found the world's most picturesque places to say 'I do'
1. THE WESTMINSTER REGISTER OFFICE, LONDON NW1
Westminster Register Office, with its choice of four beautiful rooms, is one of the most popular venues in London for weddings. Its famous steps have seen numerous well-known couples over the years, including Paul McCartney and Linda Eastman, Ringo Starr and Barbara Bach, and Liam Gallagher and Patsy Kensit. Where: Westminster Register Office, Westminster Council House, Marylebone Road, London NW1 (020-7641 1161; www.westminster.gov.uk/registrar).
How much: from £43.50 to £250, depending on room. £30 each for a legal notice.
2. BA LONDON EYE, LONDON SE1
Reach for the sky on your wedding day and celebrate on the British Airways London Eye. Bride and groom and up to 20 guests have their own private capsule decked out with flowers. The civil ceremony is courtesy of Lambeth Register Office, the happy couple being pronounced man and wife when they reach the top. Enjoy a champagne toast on the descent with the whole of London beneath your feet. Where: British Airways London Eye, Riverside Building, County Hall, Westminster Bridge Road, London SE1 (0870 222 2223; www.londoneye.com).
How much: Mon-Fri from £1,700; weekends from £2,000.
3. THE BALMORAL, EDINBURGH
Exchange vows with breathtaking views of Edinburgh Castle at The Balmoral Hotel. Celebrate with champagne in the Bollinger Bar and have a piper play traditional Highland music. This landmark hotel will ensure the big day is romantic and elegant, complete with rose petals on your bed and a champagne breakfast the following morning. Where: The Balmoral, 1 Princes Street, Edinburgh, Scotland (0131-556 2414; www.thebalmoralhotel.com).
How much: on application. Packages from £26 per person, excluding meal costs (based on a minimum of 60 guests).
4. SKIBO CASTLE, DORNOCH
Like Madonna, spend your nuptials in splendour in this famous pile, which dates back to 1900. Exchange vows in the Edwardian Dining Room, once a party place for the likes of the Rockerfellers. Exclusive wedding hire is available for members, this includes the run of the stately home and 7,500 acres of private grounds, staff, catering, ceilidh band and services of the local minister. Sleeps up to 80. Where: The Carnegie Club, Skibo Castle, Dornoch, Sutherland, Scotland (01862 894600; www.carnegieclub.co.uk)
How much: on application, exclusive hire from £34,000 per night.
5. ICE HOTEL, QUEBEC
White weddings don't come much whiter than at this Ice Hotel. Everything is made of ice, including a spectacular chapel, which has ceilings resembling a small cathedral. After exchanging vows, head for sparkling cocktails in the Ice Bar, followed by a meal. The N'Ice Club provides music for dancing, and before bed warm up with a dip in the Ice Hotel Sauna. You've missed your chance for this year; the Ice Hotel is only open throughout the winter months and will close on 2 April, 2006. It is due to re-open in January 2007. Where: Ice Hotel Quebec-Canada, Quebec, Canada (00 1 418 875 4522; www.icehotel-canada.com). How much: from £750 per couple, plus £213 for registrar.
6. CASTLE RUSHEN, ISLE OF MAN
This is one of the best preserved medieval castles in Europe, dating back to the 13th century it is steeped in tradition. Located in Castletown, the castle with its towering limestone walls and grounds are perfect for wedding parties of all sizes and can accommodate up to 130 guests. The grounds provide an atmospheric backdrop for wedding snaps. Where: Castle Rushen, Castletown, Isle of Man (01624 648000; www.visitisleofman.com).
How much: exclusive hire from £600.
7. THE QUEEN'S STAND, EPSOM DOWNS RACECOURSE
Since 1780, Epsom Downs has played host to the Derby, one of the world's greatest sporting events. Those who like a flutter can hold their wedding ceremony and reception in the Queen's Stand, which has superb views over London and the Epsom Downs. There are five rooms licensed for civil ceremonies, which are performed in conjunction with Leatherhead Register Office. The Queen's Stand can host up to 250 guests for a civil or partnership ceremony and up to 400 for a reception. Where: The Queen's Stand, Epsom Downs Racecourse, Epsom Downs, Surrey (01372 726311; www.epsomderby.co.uk).
How much: room hire from £350-£850. Wedding packages start at £60 per person.
8. HMS BELFAST, LONDON SE1
Launched back in 1938, HMS Belfast is the only surviving example of the great fleets of big gun armoured warships built for the Royal Navy. Couples can exchange their vows and party away with up to 350 guests on her Quarterdeck, with views of Tower Bridge and the Thames. HMS Belfast is popular with couples engaging in civil partnership ceremonies. Where: HMS Belfast, Morgans Lane, Tooley Street, London SE1 (020-7403 6246; www.hmsbelfast.iwm.org.uk).
How much: room hire from £340-£400, plus VAT. Catering from £19.50, plus VAT per person.
9. TORRE PALAZZONE, TUSCANY
The BBC's Holiday programme called this romantic medieval hamlet "the perfect solution for wedding parties". Set within a nature reserve close to Siena, Torre Palazzone offers outstanding cuisine, pool, hot tub, massages and an array of entertainment, from pizza nights and medieval banquets to troubadours and fire-eating acrobats. Outside its fortified walls, there is ballooning, horse trekking, wine tasting and factory-outlet shopping and other Tuscan delights. Where: Torre Palazzone, Sovicille, Siena, Tuscany, Italy (00 39 0577 314364; www.torrepalazzone.com).
How much: on application. Exclusive hire of hamlet from £8,000 per week, sleeps 22.
10. ONE&ONLY PALMILLA, MEXICO
Mexico is becoming one of the hippest destinations for weddings, with its fantastic climate, great beaches and luxury accommodation. This five-star resort is set on the tip of the Baja Peninsula, which is famous for its crashing white surf and spectacular sands. It has its own historic chapel for weddings, with whitewashed arched window and doorways and overlooks the resorts grounds and beaches. Where: One&Only Palmilla, Los Cabos, Mexico.
How much: Caribtours (020-7751 0660; www.caribtours.co.uk) offers a one-week room-only break from £1,859 per person, based on two sharing, including return scheduled flights and private transfers. Additional cost of weddings on application.
11. THE GUILDHALL, WINDSOR
Windsor's 17th-century Guildhall is set within the shadow of Windsor Castle and recently found fame when it was chosen by Prince Charles and the Duchess of Cornwall for their wedding and then by Sir Elton John and David Furnish for their civil partnership ceremony. With a design by Sir Christopher Wren, the Council Chamber seats up to 120 and boasts royal portraits and chandeliers on loan from the Queen. The Ascot Room seats 30. Where: The Guildhall, High Street, Windsor (01628 796033; www.rbwm.gov.uk).
How much: from £250 per hour for residents of Royal Borough of Windsor and Maidenhead; from £350 per hour for non-residents.
12. PRIDE PARK FOOTBALL STADIUM, DERBY
Football fans exchange vows in the glass- fronted suites with views over the stadium where Derby County celebrate their victories. The Pride Park stadium staff are on hand to look after everything from a buffet to themed occasions. Couples can have their photos taken by the pitch and even get an appearance from Rammy, the Derby County mascot. Where: Derby County Football Club, Pride Park Stadium, Pride Park, Derby (0870 444 1884; www.prideparkstadium.com).
How much: on application. Room hire costs £275; catering from £19 per person for a three-course meal.
13. INTERCONTINENTAL, HONG KONG
Say "I do" on the terrace of the newly completed Presidential Suite at the Intercontinental Hotel, which has great views of Victoria Harbour and Hong Kong Island. With five bedrooms, Duplex living room and wrap-around terrace with a rooftop infinity swimming pool, the suite is one of the plushest in the Far East. Where: Intercontinental Hotel, 18 Salisbury Road, Kowloon, Hong Kong (00 852 2721 1211; www.hongkong-ic.intercontinental.com).
How much: from HK$250,000 (£18,430) plus 13% tax to hire the Presidential Suite for wedding and reception. Cost includes one night stay for bride and groom and a cocktail reception for up to 60 people, or a seated dinner for up to 36 people on the terrace.
14. BLAIRQUHAN CASTLE, MAYBOLE
Wedding guests can enjoy exclusive use of this regency castle, dating from the early 1800s, complete with original furniture. Blairquhan is set in fine parklands with celebrated gardens and well- landscaped grounds. The castle has a seating capacity of 100 for the ceremony and reception and sleeps up to 26.
Where: Blairquhan, Maybole, Ayrshire, Scotland (01655 770239; www.blairquhan.co.uk). How much: on application. Facility fee £1,900.
15. HAMWARI GAME RESERVE, SOUTH AFRICA
Celebrate your marriage with the Big Five on this game reserve near the Garden Route. The happy couple go on a game drive, with the minister arriving to perform the wedding ceremony under a tree on the top of hill, surrounded by the wilds of Africa. After the ceremony, the couple and guests enjoy a further game drive on their way to the boma (reeded enclosure), for a wedding feast under a vast African night sky. Where: Longlee Manor, Shamwari Private Game Reserve, South Africa.
How much: Thomas Cook Signature (0870 443 4482; www.tcsignature.com) offer a three-night wedding package from £2,407 per couple.
16. THE CHELSEA REGISTER OFFICE, LONDON SW3
It is world famous and over the years everyone from Judy Garland to the former Arsenal footballer Patrick Vieira have tied the knot here, along with countless other A-list celebrities. Situated on the King's Road where the swinging Sixties began, Chelsea Register Office is still one of the hippest places to get married. All rooms are luxurious and the office can cater for parties of four to 40. Where: Chelsea Register Office, Chelsea Old Town Hall, King's Rd, London SW3 (020-7361 4100; www.rbkc.gov.uk).
How much: prices from £47.50.
17. LEIBIG DOME SHOWFIELD, NEW ZEALAND
Fly by helicopter and say your "I do's" high above the rest of the world, on the Liebig Dome snowfield, surrounded by a landscape of frozen beauty. This World Heritage location, in the heart of the magnificent Southern Alps, is home to New Zealand's highest mountains and largest glaciers, including Mount Cook. It's the ultimate in high white weddings. Wedding packages include helicopter flights for up to six guests. Where: The Liebig Dome Snowfield, staying at the Hermitage Hotel, Mount Cook, South Island New Zealand, book through Bridge & Wickers (020-7483 6555; www.bridgeandwickers.co.uk).
How much: from £3,785 per couple, including one night at the Hermitage Hotel, with breakfast and dinner, beauty spa, massage, manicures and helicopter flights.
18. THE DORCHESTER HOTEL, LONDON W1
Currently celebrating its 75th anniversary, the Dorchester has played host to numerous weddings over the years. The hotel has 12 private dining rooms that can accommodate from five to 1,000 people, ranging from the classic opulence of the ballroom to the new, sleek, modern Crystal Room. It also offers some of the most luxurious suites in London to spend your first night. Where: The Dorchester, Park Lane, London W1 (020-7629 8888; www.thedorchester.com).
How much: on application. Room hire from £1,000.
19. LA PREGHIERA, UMBRIA
This luxury country house in the Umbrian countryside offers exclusive use of its landscaped gardens and private chapel for weddings, with accommodation for 22 guests in beautifully furnished bedrooms. Steeped in history, the chapel at La Preghiera, once a Roman temple, has been lovingly restored and makes an enchanting setting for ceremonies and blessings. Where: La Preghiera, Umbria (00 39 075 930 2428; www.lapreghiera.com).
How much: €9,000 (£6,233) exclusive hire for a three-night wedding break weekend.
20. PLANTATION BEACH, TOBAGO
Plantation Beach is arguably the best in Tobago, with its palm trees, golden sand and the turquoise clear waters of Stonehaven Bay. Get hitched with the sun on your back with a wedding package that includes the ceremony, witnesses if required, bridal bouquet, a two-tier cake, champagne and photos. Accommodation is in the three-bedroomed (three bathrooms) Plantation Beach Villas, which also have their own pool. Sleeps six. Where: book through Fleewinter (020-7112 0019; www.fleewinter.co.uk).
How much: one-week rental costs from £1,235 total, plus wedding packages from £510.
21. KENSINGTON ROOF GARDENS, LONDON W8
Combine impeccable taste with fantasia at this unique venue. The gardens are set 100ft above street level, with breathtaking views of the London skyline. They include walled Tudor gardens, a formal cloistered Spanish garden with a court of fountains and the English woodland with a stream and ducks. The famous pink flamingos reside all year round providing a colourful backdrop to wedding photos. The venue can hold 130 guests for the ceremony and up to 500 for the reception (180 seated). Where: The Roof Gardens, 6th Floor, 99 Kensington High St, London W8 (020-7937 7994; www.roofgardens.com/functions/weddings).
How much: on application. Gold package from £95 per person, platinum package from £115 per person (minimum of 100 guests required for reception).
22. FERRIS WHEEL, VIENNA
The Giant Ferris Wheel was built back in 1897 and is still one of the city's landmark sights. It famously provided the backdrop to the classic movie, The Third Man, starring Orson Welles. Located in the oldest amusement park in the world, the wedding ceremony is performed in an Art Nouveau gondola. The ceremony begins after the wedding gondola has started moving and is completed when it reaches its highest point. Weddings can be held Monday to Friday at 4pm or 6pm and Saturday at 10am, 12noon or 2pm. Where: Vienna, Austria. Book through Crystal Holidays, Weddings Team (0870 166 4990; www.crystalholidays.co.uk). How much: on application, from £1,199 per couple.
23. FOUR SEASONS HOTEL, NEW YORK
The Four Seasons is the tallest hotel in Manhattan and couples who get hitched here spend their wedding night in a complimentary executive suite with views of Central Park, some from a bathtub designed for two, accompanied by a bottle of Veuve Clicquot and chocolate-covered strawberries. Ceremonies are held in the Metropolitan Suite, followed by cocktails and dancing. Where: 57 East 57th St, New York, USA. Book with Elegant Resorts (01244 897520; www.elegantresorts.co.uk).
How much: a seven-night break costs from £1,910 per person, including flights and private transfers (based on two persons sharing a deluxe double room). Wedding packages from $275 (£157) per person plus tax, booked directly through Four Seasons (00 1 212 758 5700; www.fourseasons.com).
24. BLENHEIM PALACE, WOODSTOCK
Wed in style at Blenheim Palace, a priceless national treasure, set in 2,100 acres of parkland. Opt for a ceremony in the elegant Orangery, with its private entrance and terrace overlooking the Italian Garden, and have an evening reception evening in the Palace's magnificent State Apartments. Dance on the Water Terrace and announce your departure with fireworks over the lake with blazing torches lining the drive. Where: Blenheim Palace, Woodstock, Oxon (01993 813874; www.blenheimpalace.co.uk).
How much: room hire from £2,000, plus VAT.
25. THE GREAT WALL OF CHINA
Get married right alongside the Great Wall of China on the rooftop of the Commune, a collection of contemporary villas designed by 12 Asian architects and run by the Kempinski hotel group. Exchange vows with views of the Wall tapering away from you and the mountains beyond. Receptions are held in the Club House, which can seat up to 500. Smaller parties are served contemporary Chinese food by a butler in a villa or chalet. Where: near the Shiguan section of the Great Wall of China, 50km, from the outskirts of Beijing.
How much: on application, from £134 per person, rooms from £248 per night with breakfast. For bookings email to: reservations@commune.com.cn
Click here to view UK Tours and Holidays, with Independent Holidays.
Join our new commenting forum
Join thought-provoking conversations, follow other Independent readers and see their replies