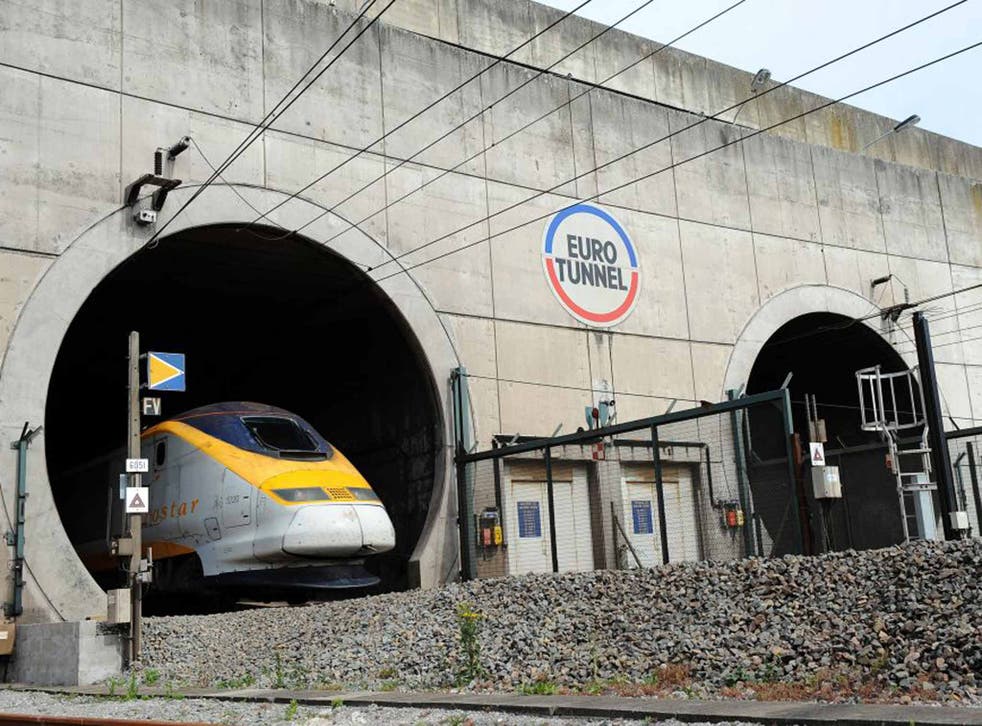 The Channel Tunnel's ultimate sprinkler system: How fire is a tunnel's worst enemy
It took a million litres of water to put out the recent fire in the Channel Tunnel. A million?!
Water seems like the last thing anyone would want in the Channel Tunnel. But on Saturday, the tunnel's £20m sprinklers activated during their first real-life emergency. A lorry fire on one of the Le Shuttle trains set off the system, carbon-monoxide detectors sensed the smoke and the high-pressure water-mist sprays did the rest. Damage to the tunnel was limited.
Peter Woodburn, a member of the Institution of Civil Engineers, admits that it does seem counter-intuitive to "spend an awful lot of effort keeping the water out, then put water in". (And, indeed, the operators only installed the system in 2011.) But, he says, "they obviously decided it was worth it, if you apply it correctly." In this case, apparently, a million litres of water were sprinkled: just under half the amount of water held by an Olympic-sized swimming pool (2.5 million litres).
But surely keeping water out of a tunnel under the sea is a priority? "No one's talking about filling the tunnel up," explains Roger Kemp, a professor at Lancaster University and a fellow of The Royal Academy of Engineering. "It's not absolutely huge volumes, we're not talking about tons and tons of water – it's a fairly controlled spray designed to cool the trains [and] disperse the smoke."
Eurotunnel's sprinkler system is called Safe. There are four 870m-long banks of sprinklers, two in each of the rail tunnels with one positioned towards the British end and one towards the French end. In a fire, such as the one on Saturday, the train driver stops at the sprinklers and they go to work automatically. Heat is reduced from 1,000C to 250C in less than three minutes. Water cools the flames and also evaporates, absorbing yet more heat energy as it turns to steam.
The sprinkler system was installed following damaging fires in 1996, 2006 and 2008 that caused hand-wringing at Eurotunnel HQ. But this weekend was the first time it was used in anger. "Those were quite serious events, they caused damage to the tunnels," says Kemp, who was formerly UK technical director at Alstom and helped to design the Eurostar trains.
Woodburn – head of tunnel ventilation and fire safety at CH2M Hill, which is currently involved in London's Crossrail tunnel – adds that, without the sprinklers: "we might have been talking about a much bigger fire and longer closures." Woodburn also says that "an awful lot of work goes into fire safety in railway tunnels", though they usually don't have sprinklers – unlike road tunnels such as Dartford, which do. That's because road traffic is more of a fire risk.
Fire is a tunnel's worst enemy. An inferno caused by a truck fire in the Mont Blanc Road Tunnel between France and Italy in 1999 claimed 38 lives. And in 2000, the Gletscherbahn Kaprun 2 funicular burst into flames inside a tunnel, killing 155 people in Austria. It's obviously essential to prevent a fire in the 20 year-old Channel Tunnel.
But how do they get water out once they've put it in? "There are hefty pumps in it anyway," says Kemp. "A lot of water gets in from rain and snow and trains get wet. And you need pumps because the tunnel goes down in the middle." But, he adds: "there's surprisingly little ingress of sea water."
Safety is so important under the Channel that there's a third "service" tunnel that travellers and staff can walk or drive out of in an emergency. And Kemp explains that Eurostar trains are a bespoke design, so they can split in half in an emergency and run out of the Chunnel in either direction.
And as for the queues of disgruntled passengers snaking round St Pancras Station on Sunday, Kemp points out, "there's always a trade of between reliability and safety." So while some may travel in fear of the sea above them, when it comes to tunnel fires, wetter is better.
Register for free to continue reading
Registration is a free and easy way to support our truly independent journalism
By registering, you will also enjoy limited access to Premium articles, exclusive newsletters, commenting, and virtual events with our leading journalists
Already have an account? sign in
Register for free to continue reading
Registration is a free and easy way to support our truly independent journalism
By registering, you will also enjoy limited access to Premium articles, exclusive newsletters, commenting, and virtual events with our leading journalists
Already have an account? sign in
Join our new commenting forum
Join thought-provoking conversations, follow other Independent readers and see their replies