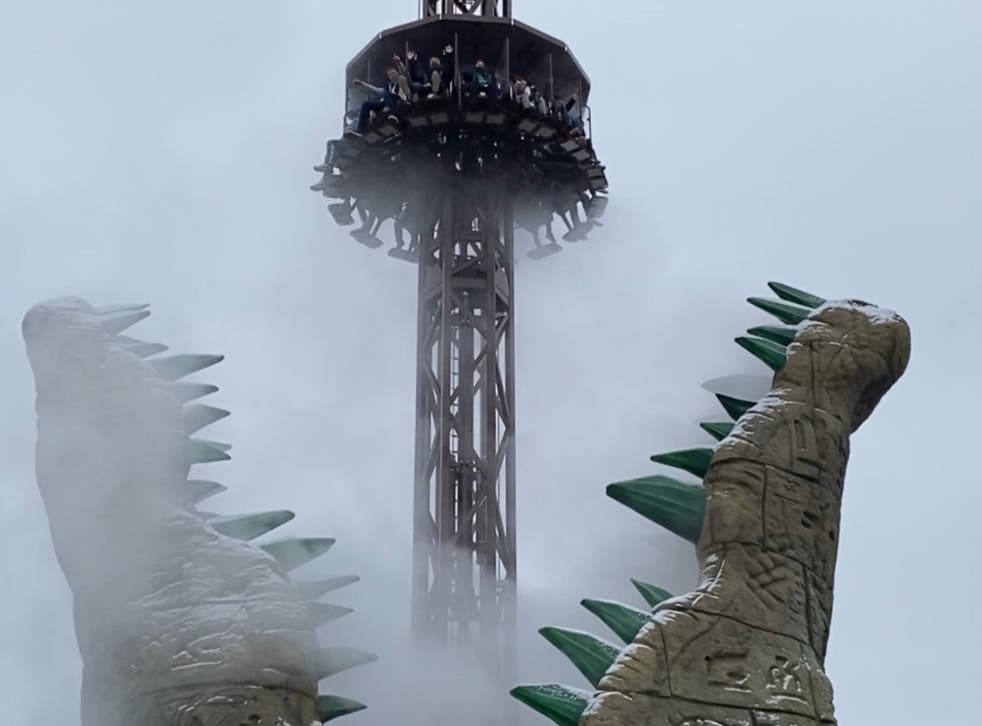 Queue till you drop: newest theme-park attraction opens up
Thrillseekers have spent the day plunging into the jaws of Ancient Egyptian croc god, Sobek
Just before 10am, the first paying customers at Britain's newest theme park ride were sent soaring above the snowy wastes of southwest London.
After months of lockdown, Chessington World of Adventures reopened slightly ahead of time. Crowds had gathered an hour before the official opening time of 10am as snow fell on the attraction – which includes a zoo as well as theme-park rides.
At the front of the queue were Tom and Hugo, teenagers from southwest London,
"Now we're finally here, with our little bit of freedom," said Hugh.
"Looking at it already, you can see the smoke and the ride-testing, it looks absolutely amazing. I'm just so excited."
The long-established Rameses Revenge at the only theme park within the M25 has been replaced by Croc Drop: "A 25m [82 feet] drop tower plunging into the jaws of Ancient Egyptian croc god, Sobek."
The screams were muffled by the facemasks that guests at Chessington must wear.
Unexpected wintry weather presented an extra challenge for staff. Many of the rides were covered with a fresh dusting of snow. with additional safety checks required before some rides could begin.
Heading the line for Dragon's Fury was Liam Galea. He said: "It's nice to be allowed out of the house finally, instead of being stuck indoors 24/7."
Joanna Teasdale, the marketing director at the southwest London attraction, said: "We are all very, very excited. This is the day we've been waiting for, for so long.
"Obviously waking up to the snow was an added dimension, but we're quite used to those sorts of things being thrown so it will be fine.
"We've put a lot of effort into making sure everything is really clean. Everything looks fantastic, so that when people come today and this week and in the coming months they really can return to some form of escapism."
The theme park is running at about 70-80 per cent of normal staffing because indoor attractions cannot yet open. All catering must be takeaway.
Chessington is part of Merlin Entertainment, the global tourism group. In its most recent financial statement, in late April 2020, the firm said: "The Covid-19 pandemic presents an unprecedented disruption to our business, and the wide variations in potential outcomes present a material challenge to our business and our industry.
"It is not possible to accurately predict the medium- or long-term impact of Covid-19 on our business and our industry."
That outlook does not appear to have changed.
Meanwhile as the crowds surged in to Chessington, Ms Teasdale said the nation is in need of fun: "After months and months of lockdown, to have shrieks and giggles and lots of fun with our rides and animals.
"I think everyone needs that right now."
Join our new commenting forum
Join thought-provoking conversations, follow other Independent readers and see their replies