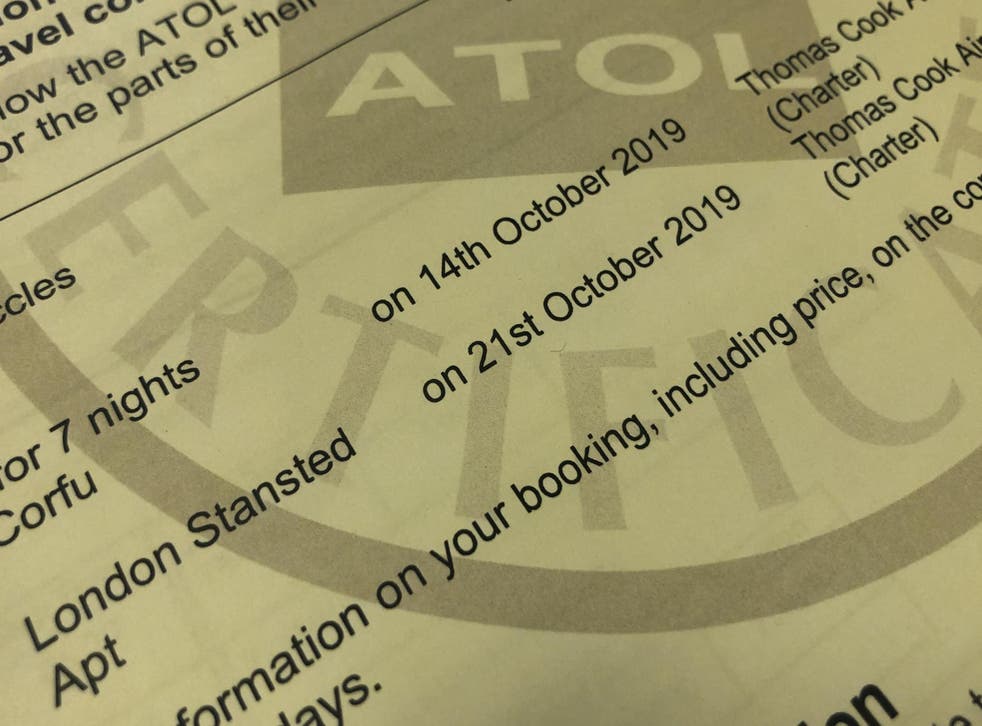 Thomas Cook customers may not receive holiday refunds for two months
Exclusive: More than half a million package holidaymakers are likely to be waiting until December for cash back
One week on from the collapse of Thomas Cook, hundreds of thousands of travellers who bought packages from the failed holiday company have been told they will have to wait another week before even beginning the refund process – with the likelihood of no money back before December.
The travel giant closed down in the early hours of Monday 23 September after a financial rescue deal fell apart. Around 21,000 Thomas Cook staff globally lost their jobs, including 9,000 in the UK.
The 150,000 customers abroad at the time are being brought home free of charge with an airlift organised by the Civil Aviation Authority (CAA). Seventy per cent have been brought back to Britain by "Operation Matterhorn," with the remaining 43,000 expected to be flown home by the time the airlift ends on Sunday 6 October.
The CAA is also responsible for refunding the payments for around 800,000 people with forward bookings of package holidays.
Because the organisation was focusing on the airlift, it had been telling passengers to wait for a week, saying: "The CAA will be launching a service to manage all refunds on Monday 30 September, once the flying operation has progressed."
Thomas Cook collapse: Passengers stranded and thousands of jobs lost

Show all 21
The website was updated during Monday morning to say: "We are developing a simplified, online refunds form that will be available on 7 October." It means that more than half a million travellers who paid by other means have now been told they cannot start applying for a further week.
The authority's chief executive, Richard Moriarty, said that around 100,000 bookings made by direct debit should be refunded within two weeks. Customers will have the money paid direct into their bank accounts.
Mr Moriarty said: "Refunds of bookings made by other payment methods will take longer as we do not yet have all of the information we need from Thomas Cook.
On Twitter, Gemma Adams wrote: "We were supposed to be on holiday in two weeks and now I have to wait longer to even start a claim. It's a joke honestly!
"Personally I think it should be done in date order regardless of how you paid, those due to fly sooner or holidays lapsed already should receive refunds first."
Even when people with forward bookings can finally apply for a refund, they may not get their money back for two months – extending almost until Christmas.
The authority has criticised Thomas Cook's management, saying the delay is "due to the poor quality of the Thomas Cook passenger data provided to the UK CAA".
The CAA chief executive said: "This will be three times larger than any refund programme we have managed before, and we are implementing new systems to enable us to process these refunds as quickly as possible.
Thomas Cook collapse: Stranded Brits turned away because planes are too small
"We hope to pay refunds within 60 days of receiving a valid refund form."
In previous travel-firm collapses, the CAA has told customers who paid by credit card to claim from their card provider. But banks are referring applicants back to the CAA.
Passengers who bought flight-only tickets and are not covered by the Atol scheme must claim from card providers. Some travellers who paid by debit card report that they have already been reimbursed under the "chargeback" scheme.
Join our new commenting forum
Join thought-provoking conversations, follow other Independent readers and see their replies