'I just think it's diabolical': Onboard a Thomas Cook rescue flight using the world's biggest plane
'It's worked miraculously. Guided us through. We're really pleased with the service,' said Alan Potter on his way to Manchester aboard an Airbus A380
Operation Matterhorn: An inside story
"Thank you for choosing Malaysia Airlines," says the lead member of cabin crew as she welcomes us to Manchester.
Yet none of the passengers had planned to fly on the Malaysian national carrier. It is not top of the mind when choosing an airline between Spain and the UK. And its giant Airbus A380 is designed for flying almost 500 people many thousands of miles in long-haul comfort, rather than connecting Mallorca and Manchester – just 982 miles apart.
But as Thomas Cook teetered on the brink of collapse, the super jumbo and dozens of crew flew from Kuala Lumpur to Manchester as part of Operation Matterhorn – the repatriation programme to fly 150,000 travellers home from Europe, the Caribbean and North America.
Hundreds of UK government officials are in place at key Thomas Cook airports to help passengers who learned that their holiday company had collapsed while they were abroad.
"I think it's worked miraculously," said Alan Potter from Corby in Northamptonshire, after he had checked in at Palma's vast airport.
Thomas Cook collapse: Passengers stranded and thousands of jobs lost

Show all 21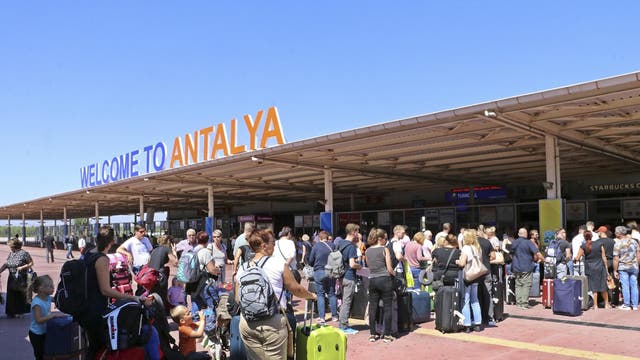 "Welcomed by people. Guided us through. We're really pleased with the service."
The Civil Aviation Authority (CAA), which is coordinating the operation on behalf of the government, is seeking to emulate as closely as possible the schedule that would have been flown by Thomas Cook Airlines – had it been allowed to keep flying.
But assembling a "pop-up" airline is especially challenging this autumn because of a worldwide shortage of narrow-bodied jets such as the Airbus A320 and the Boeing 737. This has been caused by the grounding of the 737 Max following two fatal crashes that were blamed on an anti-stall system.
So among the hundred-plus planes chartered by the CAA are some very large aircraft, including the Boeing 747 Jumbo and the Malaysian Airbus A380 – whose fuselage proudly notes it was the 100th edition of the double-deck to be built.
As part of the worldwide trend towards more efficient twin-engined aircraft, this four-engined giant is no longer used to shuttle between Kuala Lumpur and Heathrow. It is instead available for ad-hoc charters such as the Hajj pilgrimage to Mecca – or bringing Brits back in the wake of yet another holiday company collapse.
With 494 seats onboard, Malaysian Airlines flight MH8493 is flying holidaymakers from Palma to Manchester – with onward connections to Newcastle, East Midlands, Birmingham, Stansted and Gatwick. But the A380 will not be hopping around the UK delivering passengers. Instead they will be put onto buses at Manchester to complete their journey in less luxurious fashion.
Indulgence is the key for Yassin Mrabet, a Londoner in his 30s who is occupying seat 14K on the upper deck – not sitting, but stretched out along the 6ft 6in length of the flat bed.
All eight first-class "suites" and 66 business class seats are occupied by passengers who expected to be flying on a high-density, narrow-bodied jet.
Mr Mrabet had flown out from Gatwick to Palma on Norwegian but happened to have booked a Thomas Cook flight home. Even though he had opted for a trip not covered by an Air Travel Organiser's Licence (Atol), he was emailed by the CAA and invited to check in for the flight to Manchester. After two-and-a-half hours of luxury he faces four or five hours on a bus.
"It's not convenient for me," he says. "But it could be worse. it could be to Glasgow."
Like many 21st century travellers, he has few travel loyalties.
"I am a holidays-loyal customer. I fly with whoever will fly me to the sea."
The A380 is far too large for any of the gates at Palma airport. So instead it is parked at the north of the airfield and passengers are dispatched from the terminal in a series of buses. At the top of the long steps from the Tarmac, Kevin Hardy from Kings Lynn, is not happy: "I just think it's diabolical.
"We're actually going to Manchester airport and then from there being transferred to Stansted. From Stansted we've got another hour-and-a-half's journey back to home."
But the vast majority of passengers are very happy with the journey that fortune had delivered them. Dame Deirdre Hutton, chair of the CAA, is onboard, and addresses them on the plane's public-address system: "We know this was quite an unsettling end to your holiday."
No one looks unsettled. One of the cabin crew who had completed a dozen shuttles between Manchester and Spain's main holiday island said the passengers are confused by being offered tea, coffee and soft drinks – which they need not pay for.
Not directly, at least. Operation Matterhorn is expected to cost £100m, of which £60m will be covered by the Air Travel Trust – the fund where millions of £2.50 Atol contributions go each year. But the remaining £40m is provided by the government to fly home travellers who had chosen not to buy an Atol-protected trip. Many in the travel industry are angry about what they say is a message sent out to the travelling public that they need not bother with Atol.
Support free-thinking journalism and attend Independent events
"I can understand the feeling about that, but it's a matter of practicality," Dame Deirdre told The Independent. "How could we expect people in small airports around the world to distinguish between Atol and non-Atol passengers?"
After the collapse of Monarch Airlines – exactly two years ago – nothing has changed in the insolvency regime for travel firms.
She said she "would certainly very much welcome that" – adding: "It has been a heroic effort by very many people, not least the industry, to help us get everybody home."
Many traveller have evidently found other ways home. Of around 400 potential passengers, only 233 are on board – so fewer than half the seats are occupied.
Sisters Ann and Angela Goodall are the last of the Malaysian Airlines passengers to emerge from Arrivals at Manchester airport. For 72-year-old Ann, the holiday in Mallorca had been her first-ever trip abroad.
"I'm not sure I'll be going again," she said.
Join our new commenting forum
Join thought-provoking conversations, follow other Independent readers and see their replies