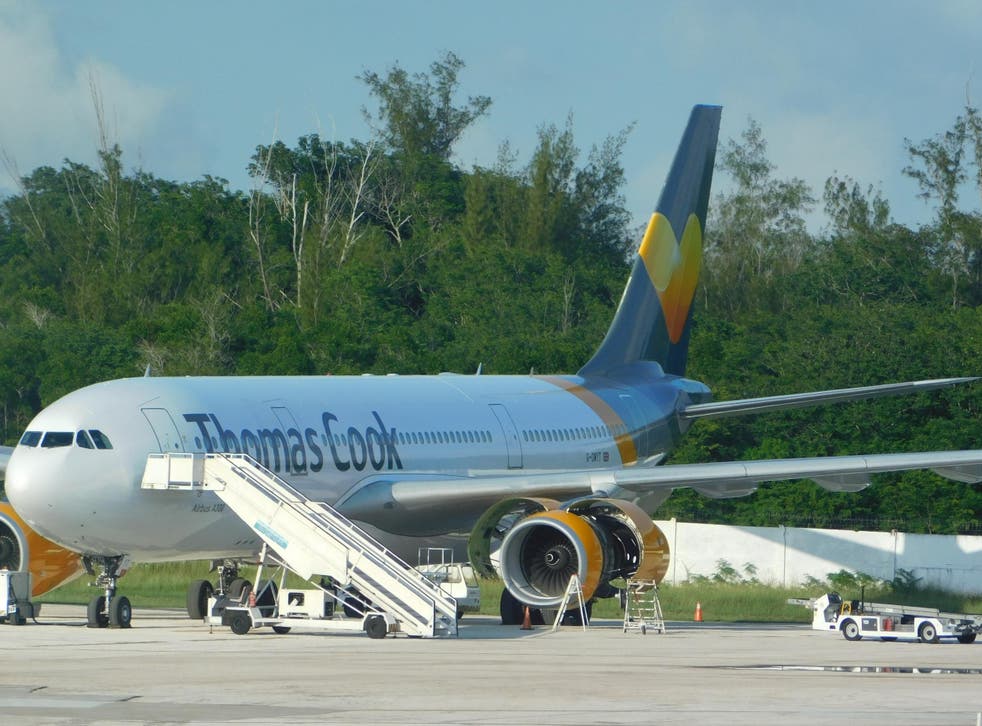 Thomas Cook passengers told they're 'lucky to be alive' after plane engine explodes on Cuba-Manchester flight
Exclusive: Passengers reported seeing fire through the window
A Thomas Cook flight from Holguin in Cuba to Manchester left passengers scared for their lives after the left engine developed a fault as the plane was taking off.
Flight MT2653 was due to depart on Monday 27 November but was grounded following a loud bang and fire seen coming from the engine just as the aircraft's front wheel left the tarmac.
Gareth Swan, a 41-year-old senior prison officer from Durham, was on board with his wife having just enjoyed a two-week honeymoon.
Top 5 places for expats to live
He told The Independent: "It was very scary. We're seasoned travellers, we take about five holidays a year and you always have in the back of your mind that something might happen. But to actually be in it… It was our honeymoon – to think we'd been married for two weeks and that could have been it."
Mr Swan was sitting on the right-hand side of the plane, and said he could see flames through the window.
"It was evident there had been some sort of explosion," he said. "The pilot dropped the plane straight back down and applied the brakes so everybody was thrown forward and then back, and the plane skidded for some distance."
The pilot then announced over the tannoy that it was an emergency situation to the crew, according to Mr Swan.
He added: "As he came back on you could hear that he was verbally shaken to the point where his voice cracked and he sounded like he was going to burst into tears. At that point I realised it was very serious."
Cabin crew were "visibly shaken" too, claims Mr Swan: "One was actually crying," he said. "That doesn't fill you with a lot of confidence. I could hear crew saying to passengers that it was really serious and we were lucky to still be alive."
From there, Mr Swan says the situation deteriorated as the plane began overheating; the on-board air conditioning was no longer working and passengers were obliged to wait on the aircraft for three to four hours while it was decided what would be done.
"People were fainting and being sick," he said. "It was bad customer service from Thomas Cook on board – we felt like cattle at the back."
Could there be no air travel between the UK and Europe on the day of Brexit?
Mr Swan says they were only given one small cup of water for the duration, and later breakfast packs were handed out. An elderly gentleman asked if hot meals would be available, and was told it would only make the cabin temperature rise further – but meanwhile Premium passengers at the front of the plane were being offered hot food, they discovered later.
"I felt like a second class citizen," said Mr Swan. "I consider myself a loyal Thomas Cook customer who's been made to feel worthless by them."
It also transpired that Premium passengers were allowed to de-board the plane an hour and a half before the economy passengers.
When the rest of the passengers were finally ushered back to resort, there were no Thomas Cook reps to meet them.
"It was very poor customer service," said Mr Swan. "There was definitely an issue with a lack of support. There was no counselling offered in resort after what was a traumatising experience, and no official information available. We mainly heard what was going on through word of mouth with other passengers."
The couple were eventually flown home on Wednesday 29 November and they arrived in Manchester on Thursday 30.
According to Mr Swan, some passengers were deeply affected by the experience. "People were refusing to get on the plane; they were having panic attacks they were so distraught."
When they arrived back into Manchester, Mr Swan said there was no help from Thomas Cook – but passengers were given a letter as they left the airport. He claims the letter is a cover up of what happened, as it states: "This is to confirm that the MT2653 Holguin to Manchester was delayed because of a technical fault found on the aircraft operating your flight before it departed."
According to Mr Swan, the fault was only discovered during departure, as the plane was taking off from the runway.
A Thomas Cook Airlines spokesperson said: "Flight MT2653 from Holguin, Cuba to Manchester was scheduled to depart at 22:05 local time on Monday 27 November. Due to a technical engine issue, the captain aborted take-off on the runway and returned the aircraft to the stand where customers and crew disembarked. Our customers' safety is always our first priority, and we are very sorry for the delay and inconvenience caused.
"We arranged transport and hotel accommodation for all customers and a replacement aircraft returned all passengers from Holguin to Manchester on Wednesday."
Thomas Cook also said that the letter Mr Swan received was one it sends out to all customers to confirm the length of delay and support their individual insurance claims against a delayed departure. According to the airline, the line stating "technical fault before it departed" is in the context of the flight never actually departing HOG airport and a technical fault being the reason for that.
For Mr Swan and his wife, the memory of the flight has tarnished that of their luxury holiday. "It certainly ruined our honeymoon," he said.
Join our new commenting forum
Join thought-provoking conversations, follow other Independent readers and see their replies