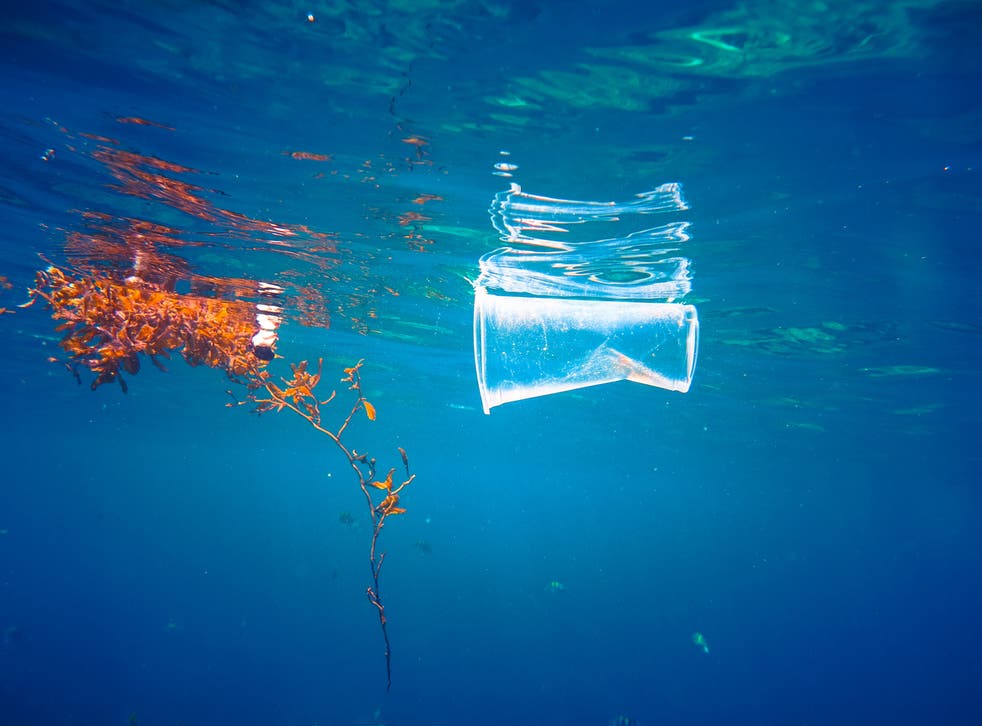 Why Thomas Cook has a single-use plastic problem
The tour operator doles out disposable cups at one of its Lanzarote hotels, and Joe Minihane is not impressed
Joe Minihane
Friday 21 September 2018 19:20 Comments
I'm just back from an extremely lazy week at a Thomas Cook all-inclusive resort in Lanzarote. Usually, this kind of thing is not my scene. I tend to prefer trips where I spend days hiking, swimming or getting footsore in museums and art galleries. But this summer, after 14 months of parenthood, the chance to simply lie down and play with our son and spend time with extended family for seven days was too appealing to pass up.
The hotel we stayed in was basic, affordable and did exactly what we wanted. The room was clean and airy, the beds comfortable, the pool refreshingly unheated, the food decent, the drinks free-flowing.
But it was the latter to which I took issue. Not with the ready access to beer with lunch, a glass of water in the heat of the afternoon or a cocktail by the pool in the evening. Rather, that if I wanted to take a drink outside, I had to put it into a single-use plastic cup. For hot drinks, polystyrene cups were on offer. The same went for drinks from the poolside bar. And when staff prepared paella on the patio one lunchtime, allowing guests to dine al fresco rather than in the restaurant, plastic, single-use plates were all that were on offer.
The result was a plastic pile up. Cups were everywhere: stacked next to sun loungers, bobbing in the pool, strewn among the bushes in the gardens. In the open land between the resort and the shops in the town of Costa Teguise, they got stuck in shrubs, cacti and undergrowth. I saw them in the sea, too. This is not to suggest they came from my particular hotel, rather that this is an issue that affects the entire island – and, by extension, the ocean which surrounds it.
All of this litter occurred despite there being bins on site, which were emptied regularly. However, there was no option of placing cups into separate recycling, or even reusing them. When a lifeguard went to take a cup I was placing next to my sun lounger, I told him I was happy to use it again. He looked apologetic but said, "You have to use a fresh one."
This all felt especially ironic as next to the drinks dispensers was a prominent sign reading, "Be kind to the Earth. Don't use straws." So, why not stop using plastic cups as well? I understand that taking glass and crockery outdoors isn't always safe, but the alternatives to single-use plastic seem obvious. Holidaymakers could pay a deposit for a reusable cup, much as they do at music festivals. Cover it in branding and they can take it home as a souvenir. It needn't be plastic, either. Why not offer stainless steel cups or tankards for a couple of euros for the week? This would keep beers and soft drinks cool, while ensuring tea and coffee stayed warm.
Wave of floating plastic in Dominican Republic shows extent of ocean pollution
Lanzarote has a rich heritage of environmentalism. It's been designated as a Unesco Biosphere since 1993, with the express aim of protecting ecosystems on land and underwater. The late artist and architect Cesar Manrique was a passionate defender of the island's ecology, fighting a tide of development in the 1980s. At his former home in the town of Tehiche, a film about his environmental activism plays as visitors leave the galleries which house his own work and collection of paintings by artists including Picasso and Miro. In 2016 Lanzarote became home to the Museo Atlantico, an underwater museum created by British eco-artist Jason deCaires Taylor and designed to draw attention to issues including climate change and conservation.
All this makes it essential for tour operators to act now and ban single-use plastics. Not just on Lanzarote, but at all resorts and hotels worldwide. Failure to do so is nothing short of a dereliction of duty in the fight to protect our land and oceans.
Thomas Cook told The Independent it was "announcing a plan on single-use plastics soon," but did not directly address the concerns raised about single-use plastic cups in its Lanzarote hotel. It did, however, reveal that it was running a pilot to remove straws in 17 Sunprime hotels, 10 Sunwing hotels and three Ocean Beach Club hotels. It added that at its Sunwing Kalithea hotel in Rhodes, it had used 57,000 fewer straws compared to the same period last year.
Plastic waste across the world: in pictures

Show all 15
Other companies and indeed countries and local councils are thankfully ahead of the curve on this, with cruise company Hurtigruten announcing a ban on all unnecessary single-use plastic on its ships from 2 July, while Isole Tremiti, an archipelago off the east coast of Italy, banned all plastic plates, cups and utensils from 1 May 2018; anyone caught using plastic dining ware on the Italian islands will be fined between €50 and €500.
I'll drink to that – but only if it's in a reusable cup.
Register for free to continue reading
Registration is a free and easy way to support our truly independent journalism
By registering, you will also enjoy limited access to Premium articles, exclusive newsletters, commenting, and virtual events with our leading journalists
Already have an account? sign in
Join our new commenting forum
Join thought-provoking conversations, follow other Independent readers and see their replies