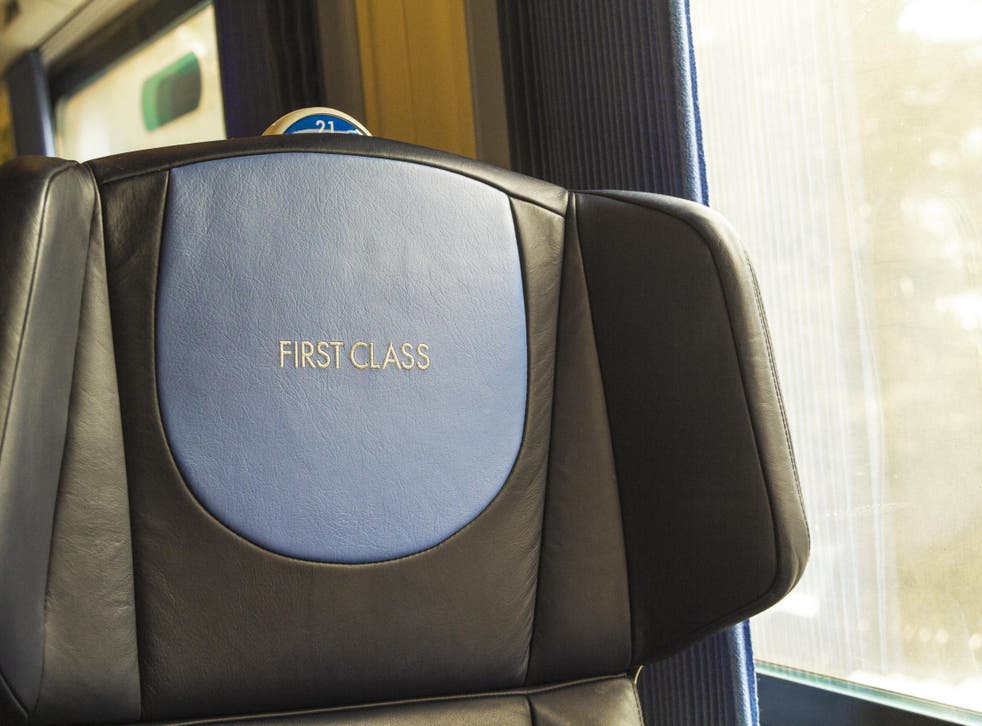 Train rules explained: Your rights when it comes to first class
As a rail executive tells standard-class passengers to leave the first-class carriage he was travelling in, we explain your rights when it comes to class distinctions on the railway
A rail executive in the first-class carriage of a Southern train allegedly told standard-class passengers to go and stand somewhere else. What are your rights on an overcrowded train?
How different is first class?
On long-distance services on LNER (London-Yorkshire-Newcastle-Edinburgh) and Virgin Trains (London-Birmingham-Manchester-Glasgow), first class offers far more space and comfort than standard class.
On some commuter lines, in contrast, the seats are basically the same; the main difference is that first-class ticket holders are more likely than those in standard to get a seat.
If the train is overcrowded, what are my rights?
If overcrowding becomes intense, first class can be "declassified", i.e. opened up to all passengers, regardless of their tickets. But there is no automatic right to occupy first class.
Ad hoc declassification typically happens after other trains have been cancelled or seriously delayed. With many more passengers than normal seeking to travel on a service that is still running, the train manager or guard can decide to open up first class to all.
If you feel that standard class is getting alarmingly crowded, it is always worth asking. If you cannot find any on-train staff, then you can contact the train operator on social media: they tend to respond briskly on Twitter. Note, though: "If you are given permission to sit in a first-class seat when holding a standard-class ticket, it is on the basis that you may be later required to give up your seat to a passenger holding a valid first-class ticket."
On trains where first-class ticket holders get free food and drink, do I qualify if I am allowed in?
No: if standard-class passengers are allowed in a first-class carriage, they have no entitlement to catering. Though sometimes the generous catering staff will allow you to eat or drink, in the same way that upgradees on flights usually get good meals and free drinks.
I have heard of "permanent" opening up of first class on some trains?
Long-term declassification sometimes happens. Right now, for example, the first-class section at the rear of Thameslink class 700 trains that run through central London is open to all at any time. Other first-class segments on these services are being declassified during rush hours: locally posted information tells passengers exactly when they can sit in first class.
Can I stand in the first-class corridor?
No. Standard-class passengers are not allowed to stand in first-class corridors and vestibules.
The official line is that you can travel in the first-class section (which includes standing areas) only with a first-class ticket. The National Conditions of Carriage warn: "You may be changed a penalty fare if … you travel in first-class accommodation with a standard-class ticket."
But in my experience, when standard-class passengers spill over into first class, the service is usually so crowded that the train manager cannot get through to tick them off and send them back.
Register for free to continue reading
Registration is a free and easy way to support our truly independent journalism
By registering, you will also enjoy limited access to Premium articles, exclusive newsletters, commenting, and virtual events with our leading journalists
Already have an account? sign in
Register for free to continue reading
Registration is a free and easy way to support our truly independent journalism
By registering, you will also enjoy limited access to Premium articles, exclusive newsletters, commenting, and virtual events with our leading journalists
Already have an account? sign in
Join our new commenting forum
Join thought-provoking conversations, follow other Independent readers and see their replies