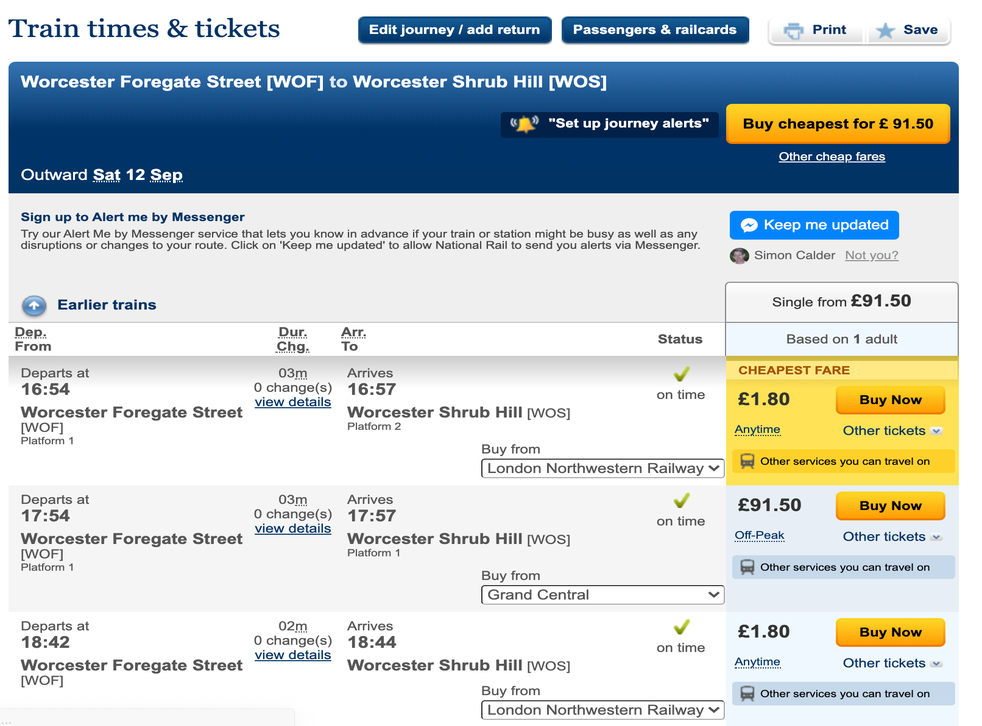 Three-minute train journey in Worcester priced at over £90
Exclusive: A 3,000-mile trans-Siberian adventure costs £10 less than the trans-Worcester trip
A rail passenger seeking to travel on one of the shortest journeys on the entire UK rail network was quoted a fare of £91.50
Daniel Puddicombe, a journalist, went online to check times and fares for the journey between the two stations in the city of Worcester: Foregate Street and Shrub Hill.
The trip between them covers five-eighths of a mile and is scheduled to take two or three minutes.
The normal fare is £1.80. But the 5.54pm departure from Worcester Shrub Hill showed a fare of £91.50.
Tests run by The Independent on both the website and the app obtained the same result.
The fare works out as a price-per-mile of £146.40.
Mr Puddicombe tweeted National Rail Enquiries to say: "I think there's an error with the pricing here…"
The organisation responded: "Thanks, our journey planner is showing a Heart of England Rover ticket for this journey hence the high price.
"I will pass this on to get looked at."
The perplexed passenger had been looking for departure times to connect with a special charter train he was travelling on.
"I tried to replicate the fare on the ticket machine at Shrub Hill without success, which is good," he said.
The £91.50 price corresponds to a little-known "rover" ticket that allows three days of travel in any seven days in an area of England and Wales bounded by Chester, Hereford, Oxford, Leicester and Nottingham.
Worcester Shrub Hill is on the east side of the cathedral city, about half a mile from the centre. Foregate Street station is more central, on the northern edge of the main commercial area.
Influencer Charly Jordan apologises for travelling to Rwanda during "incorrect" time
The run between them is reasonably interesting, given its short duration. But £91.50 is more than enough for some journeys that are more scenically rewarding.
The seven-hour trip from Kyle of Lochalsh in northwest Scotland to Glasgow, and the five-day trans-Siberian adventure from Vladivostok on the Pacific Ocean to Ekaterinburg in the shadow of the Ural mountains, are both over £10 cheaper than the fare quoted for the trans-Worcester journey.
The Russian journey covers 3,147 miles – though a 7,768 rouble (£81) ticket buys only third-class travel.
Mr Puddicombe's quoted fare was for standard class, formerly known as second.
A spokesperson for the Rail Delivery Group said: "Freak fares like this are a symptom of outdated rail fare regulations which have been in place for decades.
"Having undertaken the UK's largest-ever public fares consultation with the passenger watchdog Transport Focus, we have put forward proposals that could enable simpler tap-in-tap-out travel across the country and deliver a best-fare guarantee.
"We want to work with government to rebuild the fares system so anomalies like this are a thing of the past."