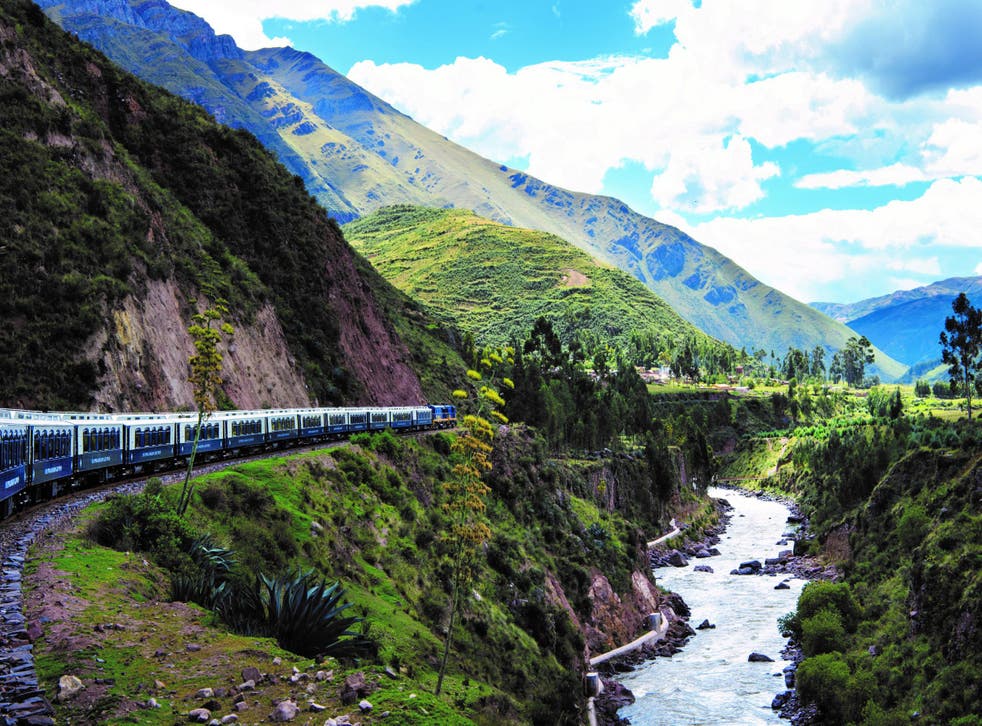 The most unforgettable train journeys around the world
From the UK to Peru and Switzerland to Colorado
There's an old-fashioned romance to train travel that still holds true today. The clatter of the tracks and ever-changing scenery makes trains the vehicle of choice for eloping couples and intrepid explorers.
Of course, not every train journey will make you starry-eyed – the commuters among you will know that – but that's where this list comes in. Even the most basic train carriage can be an indulgent, leisurely experience when combined with breathtaking views gliding past the windows and a good book.
Slow down your travels and take your time with these unmissable train journeys around the world.
World's best train journeys

Show all 10
Caledonian Sleeper
London to Fort William, UK
There was a time when the Caledonian got some stick for its dowdy fit-out, but post-refurb it's back on the bucket list with slick en-suite rooms. The train whisks folk from London to the wilds of Scotland while they slumber, scooting through the northern towns of England under the cover of night and arriving at bonny mountains at daybreak. Stunning lochs are best enjoyed from the comfort of your bed, preferably while devouring a full Scottish breakfast.
sleeper.scot
Belmond Andean Explorer
Puno to Cusco, Peru
One of the most opulent train journeys in the world, the Belmond Andean Explorer ferries guests through the plains of the Peruvian Andes in overstated luxury. A ticket from Puno near Lake Titicaca to Cusco includes all onboard meals and drinks, excursions to local towns, and a plush bedroom that stands up to any five-star hotel.
belmond.com
TranzAlpine
Southern Alps, New Zealand
In New Zealand the TranzAlpine traverses the Southern Alps, taking in swathes of breathtaking scenery along its 139-mile route. The five-hour trip between Christchurch and Greymouth takes in vistas of Lake Sarah, the Waimakariri River and verdant beech forests – all through panoramic windows which extend into the train's ceiling.
kiwirailscenic.co.nz/tranzalpine
Glacier Express
St Moritz to Zermatt, Switzerland
Snow-capped mountains, castles, and hilltop farm houses all whizz past the generous windows of the Glacier Express. Travelling at a leisurely pace between St Moritz and Zermatt, the Swiss train rides some of the world's most impressive rails, including the Unesco World Heritage-listed Rhaetian Railway with its towering viaducts and bridges. Book first class for panoramic windows, more spacious seats, and most importantly, access to the bar.
glacierexpress.ch
East Lancashire Railway
Lancashire, UK
The East Lancashire Railway is a wholesome slice of British industrial heritage. The project is a labour of love; most of the staff are volunteers, and the steam engine has been perfectly preserved since it was built in Crewe in 1945. Everything, from the ticket machines, to the staff's uniforms, to the painstakingly restored old carriages, seeks to keep this bygone era alive. The views aren't bad either: 12 miles of Lancashire's pretty countryside.
eastlancsrailway.org.uk
Rovos Rail
Pretoria to Durban, South Africa
The decadent carriages of Rovos Rail trace routes across South Africa, many of them weaving through nature reserves, savannah and game reserves. The three-day Durban Safari from Pretoria to Durban passes (slowly) through the Nambiti Conservancy – a nature reserve set in 20,000 acres of bushveld in Kwazulu Natal. From the open-air observation platform, eagle-eyed passengers might spot springbok, zebra and giraffes.
rovos.com
Coast Starlight
Portland to Los Angeles, US
The waves of the north Pacific Ocean seem close enough to touch as the Amtrak sleeper skims along America's west coast. Aboard the Coast Starlight train, passengers travelling between Portland and Los Angeles are treated to coastal scenery and the mountains of southern Oregon. Not all seats have access to the views, but claim a spot in the observation car to get an eyeful.
amtrak.com/coast-starlight-train
InterRegional
Porto to Pinhao, Portugal
Wine connoisseurs will adore the journey from Porto into the Douro Valley: a serene route which follows the river, and is hugged by sloping vineyards. A historic steam train sometimes travels the same line but the regular service is just as good – both for its price tag and its retro, no-frills fit out. A journey of just over two hours will take passengers to Pinhao, a picture-perfect station with a wisteria-lined access to the Vintage House Hotel, and an abundance of vineyards to explore.
cp.pt/passageiros/en
Durango Train
Colorado, US
In use since the 1880s, the Durango railroad is a window into the halcyon days of Colorado's Old West. Friendly staff and vintage coach seating make for a comfortable trip through the rugged mountains towards the old mining town of Silverton in the San Juan Mountains. Expect river canyons, tree-lined peaks and (hopefully) wildlife along the 45 mile journey.
durangotrain.com
Belmond Eastern & Orient Express
Singapore to Bangkok
Dining tables dressed in linen, handsome wood-panelled cabins and a veranda-style observation car are on offer inside Belmond's Eastern & Orient Express, a super-luxury service between Singapore and Bangkok. Views of the lush jungle and rice paddies are only things that threaten to upstage the plush interior.
belmond.com/trains/asia/eastern-and-oriental-express
Join our new commenting forum
Join thought-provoking conversations, follow other Independent readers and see their replies