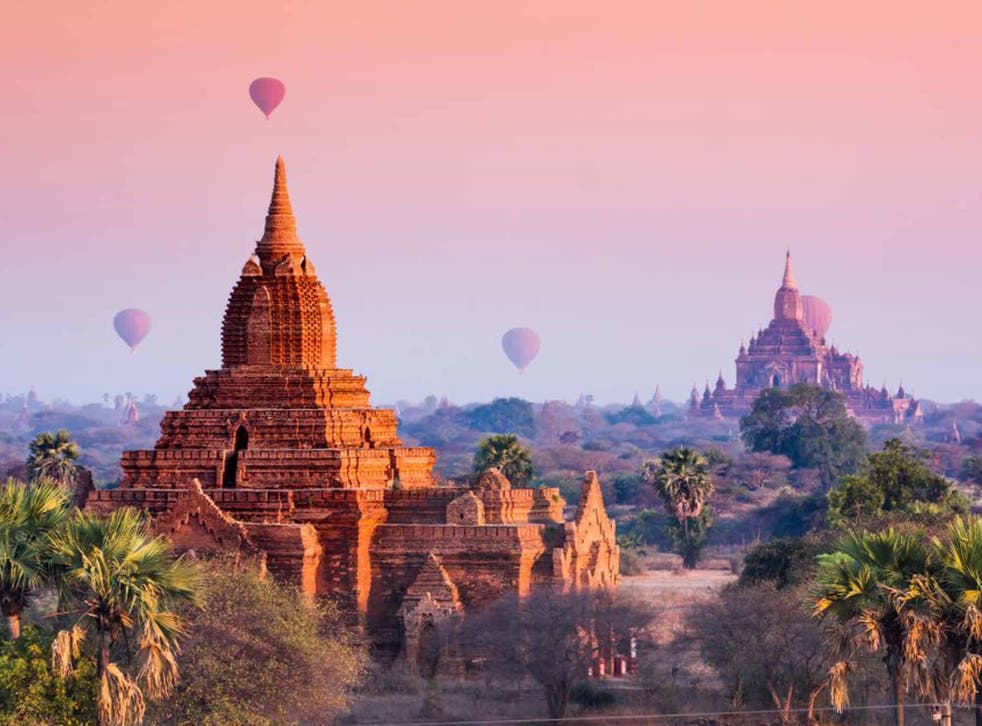 Destinations that are back on the map: Sierra Leone, Burma, Sri Lanka, Iran, and Haiti
Political strife, natural disasters and epidemics can devastate a country's tourist industry. But once initial challenges are overcome, visitors can aid recovery, says Nick Redmayne
Nick Redmayne
Monday 28 December 2015 11:58 Comments
Headlines warn we're living in an increasingly dangerous world. Conflicts and catastrophes plus punitive sanctions combine to diminish our horizons. However, travel is a moveable feast. As some destinations are placed off-limits, others emerge to welcome adventurous travellers once again. When it comes to visiting areas recovering from war, natural disasters or political purdah, small-scale tourism initiatives are proven to distribute income at grass-roots level, lay new foundations for fractured economies, and allow many the means to build a brighter future.
This is perhaps most resonant in West Africa, where 7 November saw Sierra Leone declared Ebolafree. In this English-speaking West African state, the Freetown Peninsula's enviable beaches were popular with package holidaymakers in the 1970s. Unsurprisingly a bitter civil war, ending in 2002, diminished their allure. "We'd got over those problems of perception," says director of tourism Mohamed Jalloh. "Ebola created new constraints ... but now we have a plan. We cannot have all types of development. It has to be green, it has to be sustainable." Tour operators that have reintroduced trips include Overland West Africa (01728 862 247; overlandingwestafrica.com).
In Asia, an emphatic election victory for Aung San Suu Kyi's National League for Democracy further distanced Burma from the implacable parade of generals previously holding sway. "Decades of isolation have allowed it to develop at a different pace. Consequently there's a rustic old-school charm to life in Burma," says Tim Milton of Bamboo Travel (020 7720 9285; bambootravel.co.uk). Certainly a new political atmosphere has attracted investment. The number of vessels offering luxury cruises along the Irrawaddy is increasing, with the Anawrahta entering service next year. Global brands developing hotels here include Melia, Kempinski, Starwood and Hilton.
Elsewhere, new trekking trails have been established between Mandalay and Inle Lake. However, demand still outstrips supply, meaning costs are still comparatively high for travellers in this part of the world.
In Sri Lanka, President Mahinda Rajapaksa, the leader who oversaw the defeat of the Tamil Tigers and the destruction of their de facto northern state was given an electoral snub, bringing reconciliation closer. "As it has been off the tourist radar for so many years, parts of the north are pristine. Jaffna is a re-emerging city, a world away from Sri Lanka's south," says Michael Pullman of Wild Frontiers (020 7736 3968; wildfrontiers.com). "In terms of safety, the war is over and life is returning to how it was more than 20 years ago, but there are new developments," says Pullman. "The newly built Sanguppidy Bridge joins the Jaffna Peninsula to the mainland and, since 2014, the Queen of Jaffna train connects the city with Colombo."
Wild Frontiers offers a 14-day "From Jaffna to Galle" tailormade trip that takes you from the north to the south from £2,275pp excluding flights. Hotels continue to flourish in the south, with new openings including an Anantara in Tangalle (tangalle.anantara.com), the Owl and the Pussy Cat (otphotel.com), Tri (trilanka.com) near Galle and Chena Huts (ugaescapes.com/chenahuts) near Yala National Park.
Earlier this year, sanctions against Iran were relaxed following a deal on its nuclear programme. While irreplaceable echoes of ancient civilisations have elsewhere been blasted to dust, Iran's treasured archaeology once again draws visitors.
"With 19 Unesco-listed sites, including Bam, Isfahan and Persepolis, the wealth of cultural heritage is well known," says Benjamin Carey of sustainable tourism consultants Dunira Strategy. "But few appreciate how much more the country offers. Watching turtles hatch on the beaches of Qeshm in the south, skiing north of Tehran or spotting rare mountain goats in Kolah Ghazi National Park are all possible."
Despite the theocratic veneer of the ruling elite, ordinary Iranians have a free-thinking outlook. "Though many 'Western vices', such as music, alcohol and even neckties, are effectively banned, Iranians know how to look after their guests," says Carey. Local operators offering tours of Iran include Doostan (irandoostan.com).
In the Caribbean, Haiti's fragile infrastructure was overwhelmed by the 2010 earthquake. But parts of the country were unaffected by physical destruction, despite all the headlines. Though poverty remains endemic, Haiti is culturally rich. "Nothing's perfect, but it's working," says Aled Evans of Undiscovered Destinations (0191 296 2674; undiscovered-destinations.com). "Haiti is an authentic Caribbean experience. It has a vibrant culture, fascinating history, and mountains and beaches to rival any in the region. Now is the time to see it." The company's 10-day group trip to the country costs from £1,685pp, excluding flights
Register for free to continue reading
Registration is a free and easy way to support our truly independent journalism
By registering, you will also enjoy limited access to Premium articles, exclusive newsletters, commenting, and virtual events with our leading journalists
Already have an account? sign in
Join our new commenting forum
Join thought-provoking conversations, follow other Independent readers and see their replies