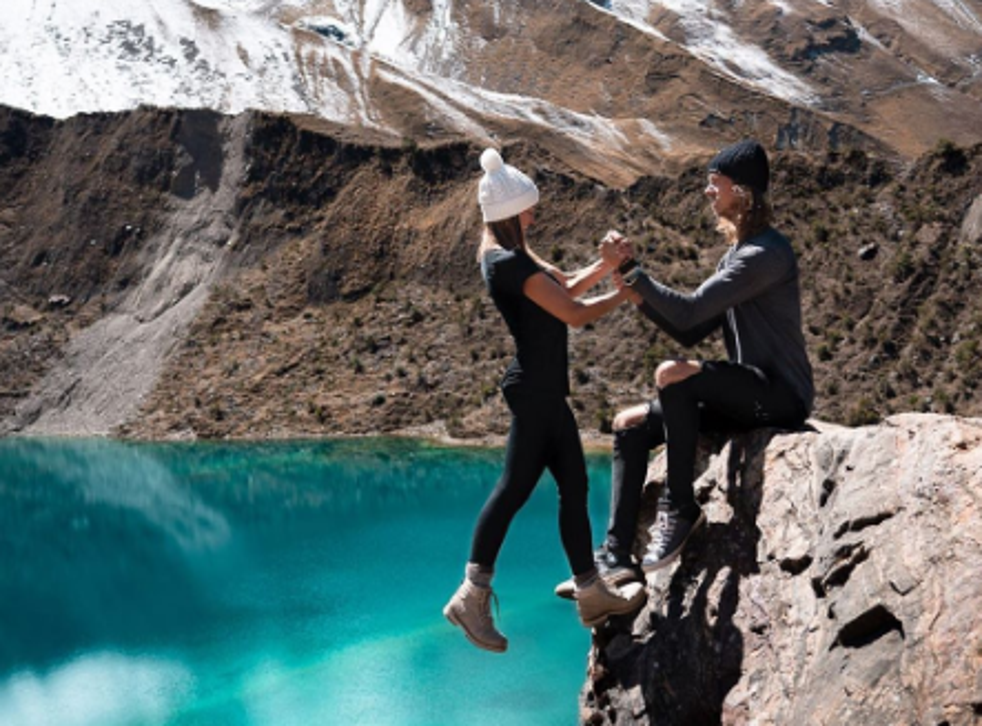 Travel influencer couple defend 'stupid beyond belief' photo taken on cliff edge
Instagrammers accused of encouraging dangerous behaviour
A travel influencer couple have come under fire for posting a "dangerous" picture of themselves posing over a cliff edge – and not for the first time.
The pair, known by their Instagram handle "Positravelty", shared a snap of them at Laguna Humantay in the Peruvian Andes in which Kody Workman is sitting and holding partner Kelly Castille over the edge of a sheer cliff face.
"The world is waiting for you!" the couple from the US wrote in a caption accompanying the photo, which seemed to address the issue of risk taking.
"Behind the masses of those that wish to watch you lead a quiet and sedentary life is an open, unlined canvas.
"We urge you to take a chance, to push past barriers of negativity and oppression of self fulfilment and paint the picture of who YOU want to be.
"Never let yourself be beat down for living your life by those too afraid to live their own.
"There is a difference between risking your life and taking a risk at having one. We know which side we would rather be on, do you?"
While some of the couple's 170,000 followers were inspired by the post, calling it "epic" and "amazing", others were less impressed.
Becoming a travel influencer

Show all 24
"I don't know how high that cliff is, but one slip of your boot, no matter how slight, and both of you will be at the bottom of it," said one commenter; another called the stunt "Just stupid beyond belief".
Some detractors highlighted that posting shots that appeared dangerous, even if they were not, could inspire copycats to risk their lives.
"It doesn't matter if you played with perspective and it wasn't dangerous for you. You really don't understand the power you hold, do you? Saying we all have personal responsibility is just a conscience-salving tool.
"You will encourage others who DON'T know how to play with perspective, and someone will kill themselves by accident trying to emulate you.
"You're an influencer. You influence. The clue is in the title.
"Be inspirational by all means, but stop ratcheting up this pseudo-dangerous vibe before you encourage someone to kill themselves."
The couple has defended the shot, telling Business Insider that "it was quite easy, considering we didn't find this to be dangerous".
"As we have discussed before, we love to push our creativity and play with perspectives. It is not dangerous. We would never risk our lives."
It follows them hitting headlines earlier this year for a similarly controversial snap in which Workman is holding Castille over the side of an infinity pool in Ubud, Bali, while they kiss, with a sheer drop below.
The photo was branded "dangerous" and "stupid" by online commenters.
Support free-thinking journalism and attend Independent events
At the time they fought back at critics, saying that they "weren't going to feed into the negativity of this".
"Our account is about creativity, photography, kindness, perspective, and above all…positivity," they added. "Whether a photo does well or not, whether it is perceived one way or another, is irrelevant to us.
"We post what we love and what we believe showcases our happiness, our adventures, (and) our creativity.
"This has become a bigger deal than we could have ever imagined and we, going forward only wish to discuss positive things and the reality behind the photo."
Join our new commenting forum
Join thought-provoking conversations, follow other Independent readers and see their replies