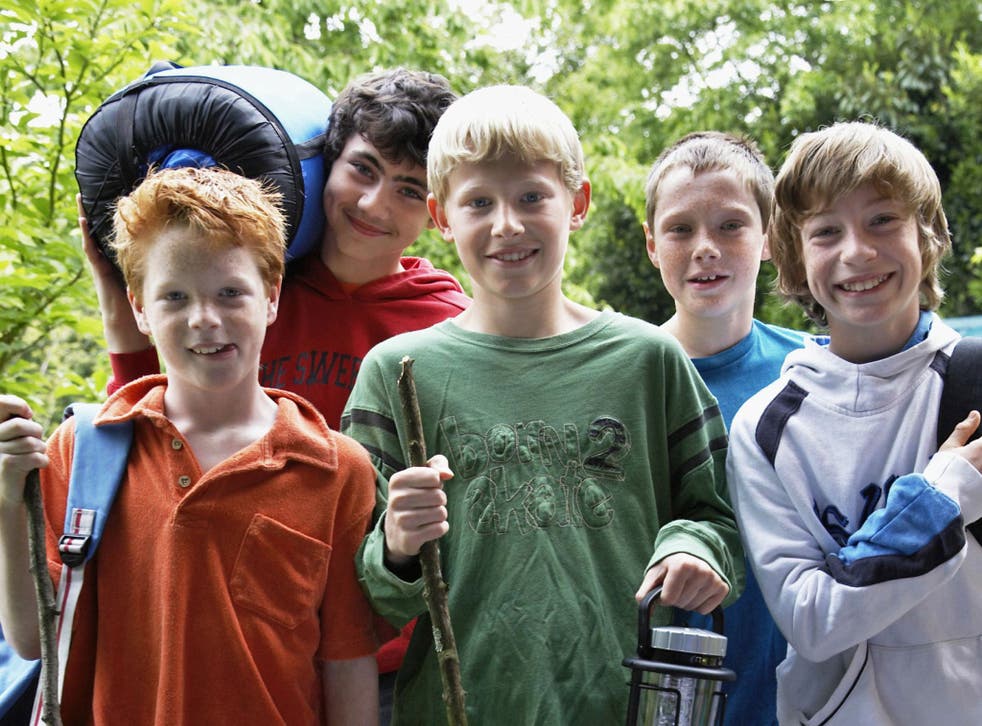 Traveller's Guide: Summer camps
Keep your children entertained over the holidays
When schools lock their gates at the end of term, children gain a spring in their step – while, all too often, their parents' shoulders slump. How can youngsters be safely, productively and affordably entertained throughout the long summer holiday?
Americans have a solution. With longer school breaks than Britain and, typically, less holiday leave for working parents, residential summer camps often provide a home-from-home. "There's an incredibly strong culture of that in America," says Fiona Jakobi of Camp Experts (07795 491350; campexperts.co.uk), an international organisation that provides free advice to parents. "Sending your kids to camp is like the 11th commandment over there."
In films, such camps involve an expansive lake, a lack of electricity and things called s'mores and poison ivy. UK parents are now learning the lingo, turning to summer camps to keep their children occupied. Some even pack them off to the States to sample the original experience. Seven to 16 year olds can do so in New York and New Jersey with School Holidays USA (0121 411 9165; schoolholidaysusa.com) from £500 for a week plus flights.
Closer to home, the British Activity Providers Association (01746 769982; thebapa.org.uk) accredits more than 100 summer-camp providers in the UK and Europe, ensuring that their members meet high standards of safety and service. More than 600,000 people currently use their website every year – and numbers are rising, says national director Pete Stacey.
Summer camps in pictures

Show all 6
Many programmes focus on sport and adventure, where the A to Z of activities runs from archery to zorbing – the dubious pleasure of hurtling down a hill in a huge inflatable ball – but each provider has its own programme. The Outward Bound Trust (01931 740 000; outwardbound.org.uk) hosts residential camps for 11 to 19 year olds in Scotland, Wales and the Lake District from £479 for eight days. The YHA (01629 592 530; yhasummercamps.co.uk) also runs camps with themes targeting 10 to 19 year olds, at hostels in Shropshire, Derbyshire, Gloucestershire and Hertfordshire. Its holidays start at £335 for five nights. XUK (020 8922 9739; xkeys.co.uk) keeps six to 17 year olds busy in East Anglia with quad biking, football, scuba diving and more from £459 per week. And ATE (0845 456 1205; ate.org.uk) offers residential "Superweeks" for children aged eight to 16 at five centres in Britain from £379 per week.
For young adrenalin junkies, Stacey notes the increasing popularity of coasteering – which includes cliff jumping, swimming beneath sea cliffs and exploring rock arches. Try The Venture Centre on the Isle of Man (01624 814 240; adventure-centre.co.uk), which runs week-long residential camps for £250, targeting nine to 15 year olds. But "the growth area recently has been bush tracking and bivouacking," he says. As part of YMCA Lakeside's day camp programme (01539 539 000; lakesideymca.co.uk), costing £147 per week, over-10s can spend one night bivouacking under the stars by Lake Windermere. "It's the Bear Grylls effect. Kids love getting dirty, building dens, lighting fires – all the things that we were allowed to do."
There are plenty of less boisterous options, including art-focused camps and academic programmes. Fire Tech (07798 928 057; firetechcamp.com), for example, runs day camps throughout England where those aged nine to 14 can take mobile app design, video game development and robotics classes, while teens can learn programming, priced from £400 for a week.
For those whose budget won't stretch that far, Fire Tech has a small number of scholarship places – and they're not alone. As well as offering scholarships, many summer-camp providers now accept Childcare Vouchers to lighten the load and some give discounts for early or multiple bookings.
For American camps, claim a 10-per-cent discount at saveoneverytravel.com. "Some camps are prohibitively expensive, but many offer reduced rates in special circumstances," says Jakobi. "Nothing's free, but there are options for all wallets."
Let's get creative
Hanging from a zip-wire isn't everyone's cup of tea. For 15 to 18 year olds who are more interested in treading the boards, The Cambridge School for Visual and Performing Arts (01223 345 698; csvpa.com) offers intensive summer residentials, with drama classes given by seasoned professionals. The course costs £1,019 per week.
Meanwhile, PGL (0844 371 0101; pgl.co.uk) enables children to split their time between creative activities and physical adventure. Shropshire-based camps see tweens and teens perfecting their dance moves every morning, then trying out anything from motorbiking to fencing in the afternoon. Its film-making and photography courses operate on the same basis, costing from £569 for seven nights.
Another option is Camp Cooper (03333 44 00 77; internationalsummercampuk.com), near Perth in Scotland, which costs from £750 for a week and allows seven to 17 year olds to choose from "electives" in fields such as journalism and art.
Call it a day
Children and parents who are reluctant to separate overnight can cut their teeth with day schemes. Camp Beaumont (01603 857 454; campbeaumont.co.uk) is one of Britain's most experienced summer holiday operators for under 17s. Day camps offer more than 40 sporting and creative activities, running weekdays through the summer from 8.30am to 5.30pm. Camps are based at 10 schools in London and the Home Counties, costing from £161 per week.
At The Academies (08443358217; theacademies.co.uk), day camps for three to 17 year olds cost from £30 per day across the UK. Their tiniest campers can be "Groovy Gardeners" or "Mad Scientists"; six to 13 year olds enjoy sport, art and performance activities; and teens gain coaching qualifications to boost CVs and Ucas forms. Budding musicians, aged 11 to 17, can rock out with KZR! Music (01442 863 906; kzrmusic.co.uk) at The Hemel Hempstead School in Herts. Two days, 10am-4pm, £120.
The fun way to learn a language
"Camps that teach French, Spanish, German and Chinese are increasingly popular," notes Jakobi. They can be expensive, though. Junior and Teen Camps (00 41 26 915 0505; jtcamp.ch) in Flims Laax, Switzerland provides seven to 16 year olds with language tuition, as well as ice skating, DJ lessons, formal dinner dances and more, at Sfr6,550 (£4,520) for a 17-day residential camp in August.
A little cheaper, but still Sfr1,450 (£990) for a week, is Camp Suisse (0845 519 1031; camp suisse.com), which has language tuition in French, Spanish or German alongside outdoor adventure and sports activities in the Swiss Alps. Alternatively, 12 to 17 year olds can spend a week in Beijing or Shanghai with That's Mandarin (00 86 21 6152 0017; thatsmandarin.com) from CNY8,900 (£870). These international camp fees include airport transfers, accommodation, meals and courses, but not air fares.
Contact and care
Packing your precious cargo off into the (relative) unknown can be hard. Help your child by taking a positive approach, says Jakobi. "You can't run and get them as soon as there's a problem; it can require a little tough love. Parenting is about giving children roots and the ability to fly – and camp provides both. It helps them gain independence in a stable environment." That noted, the decision to go to camp should always be the child's, and while parents can encourage, they should never push.
Remember that summer camps are designed with children of all types in mind. Most partner them with a grown-up who will make sure they brush their teeth, tuck them into bed every night and give them a hug if they're homesick. If you want to speak to your child while they're away, check camp policy. Most frown on mobiles, so you're unlikely to be texting during the day. Calls may be restricted to certain times, but letters are generally encouraged.
How to choose
It's important to do your research. Involve your child in the selection process (though not necessarily the short-listing), to ensure they're interested in the programme and feel comfortable. "If a child is shy, you wouldn't send them to a camp with 400 kids," Jakobi points out.
Family-run Mill on the Brue in Somerset (below; 01749 812 307; millonthebrue.co.uk) could be a better option, where eight to 15 year olds are split into groups of no more than 12 (from £560 per week).
When it comes to individual requirements, "most can be met," says Jakobi. "Halal food is easily provided and there are single-sex camps in America." Don't make the mistake of thinking what's right for an adult is best for a child. "Youngsters often feel comfortable in a tent or a dorm. There may be fewer issues of homesickness and loneliness here."
Call and ask questions to find out as much as you can and scour sites such as mumsnet.com for further insights and recommendations.
Safety first
With so many outdoor activities on offer, it is important that you look for providers that are licensed by the Adventure Activity Licensing Authority (bit.ly/camp safety), monitored by Ofsted (ofsted.gov.uk) or accredited by BAPA. Most providers have comprehensive websites with information on staff training, campers-to-staff ratios (which should be about 10 to 1 for children aged eight to 14), and staff CRB checks. If you can't find this information online, telephone to check.
Make sure you consider the unexpected, too. Ask whether staff have first-aid qualifications, if the camp is in contact with local doctors and hospitals, and what insurance policies are in place. Your child may need additional cover.
Join our new commenting forum
Join thought-provoking conversations, follow other Independent readers and see their replies