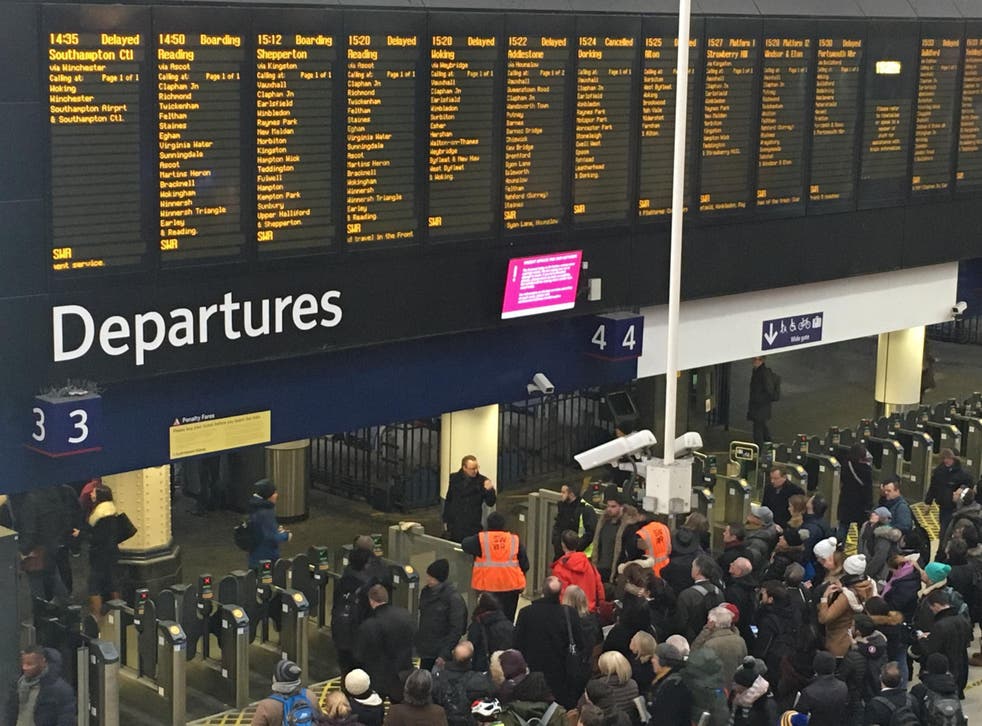 UK weather: Travellers face days more disruption by air, rail and sea
More flights cancelled on Saturday and Network Rail warns of flooding to lines
Travellers to, from and within the UK face a fifth day of severe disruption due to extreme wintry weather.
After close to 1,000 flights were cancelled on Friday, several hundred more have been grounded on Saturday. Exeter, Bristol, Cardiff, Birmingham, Edinburgh and Glasgow are experiencing significant cancellations. After easyJet cancelled around 300 UK flights on Friday, another 66 are grounded today — about half of them to or from Bristol. Many ski flights to Geneva are among the cancellations.
​Flybe has grounded all flights to and from Cardiff, and cancelled dozens more.
Almost all flights serving London City were cancelled, though some inbound flights were diverted to nearby Southend.
The UK's busiest airport, Heathrow, is getting back to normal after severe disruption on Friday. Despite the airport ordering the cancellation of around 300 flights in a bid to minimise delays on surviving services, planes were departing well after midnight.
One Saturday, only a few dozen flights have been cancelled, including three British Airways round-trips to New York JFK, and both Philadelphia flights; the north-east US has been suffering from atrocious weather.
The Heathrow Express rail link is operating a reduced service, and the cheaper, slower Heathrow Connect service is not running.
Just after 6am, the first flight to arrive at Dublin for nearly two days touched down. The Qatar Airways flight from Doha was followed by several Aer Lingus transatlantic flights, but dozens of departures between the Irish capital and the UK are cancelled for the day. Almost all services to and from Cork airport were cancelled, though some arrivals were diverted to Shannon.
Gibraltar airport is closed following a rockfall which damaged equipment at the airport. Flights are being diverted to Malaga.
With planes and crews out of position, many flights are being heavily delayed. British Airways passengers in Faro spent the night in Portugal; their flight to Gatwick is 13 hours late. A TUI flight from Barbados to Birmingham was diverted to Manchester in the early hours of the morning. And TUI passengers in Goa in India are enjoying an extended holiday after the overnight flight from Manchester was delayed by 19 hours.
An estimated 75,000 British travellers are stranded at airports from Shannon to Shanghai after their flights were cancelled. While rescue flights are being laid on for package holidaymakers whose homeward charters were cancelled, other passengers must try to get seats on other flights.
As a result, it could take a week for everyone to get where they need to be. The typical Ryanair or easyJet flight has only eight empty seats; with so many flights being cancelled, there is little slack in the system.
If an airline cannot provide passengers whose flights have been cancelled a seat within a reasonable time — typically two days — European passengers' rights rules stipulate that it must look for seats on a different airline.
Because the root of the problem is adverse weather, passengers whose flights are cancelled or heavily delayed by bad weather are not entitled to cash compensation. But the cancelling airline has a duty of care to provide meals and, if necessary, overnight accommodation to stranded travellers.
After four days of no Anglo-Scottish trains, a passenger service successfully crossed the border. Despite what Virgin Trains East Coast called "significant snow drifts and high winds," a train left Edinburgh Waverley station at 1.09pm. It called at Dunbar on schedule, but once in England it was forced to slow down. It eventually arrived in Newcastle about 50 minutes late.
Bad weather is also affecting the west coast link from Glasgow to Carlisle. Network Rail snowploughs have encountered snow drifts 10 feet deep.
​ScotRail aims to operate on most other main routes. However, icicles on the overhead wires between Glasgow and Wemyss Bay have interrupted services. The Borders Railway and the far north line from Inverness "will remain suspended until we are able to clear the drifting snow and check that the routes are safe for passenger trains".
In northern England, most lines across the Pennines are closed. The train operator Northern is telling passengers: "Only travel if absolutely necessary and check your journey beforehand." Some Virgin Trains East Coast and CrossCountry services south from Newcastle and Leeds are cancelled. On the west coast main line, Virgin Trains has lifted all ticket restrictions for the day.
On East Midlands Trains, there is a reduced service from London to Sheffield, and no trains to Skegness for a fifth day.
On Greater Anglia, branch lines in Norfolk and Suffolk remain closed, while the main lines from London to Southend and to Colchester, Ipswich and Norwich are closed because of pre-planned engineering work.
In Wales, Arriva Trains is telling passengers in the southern half of the country: "Only consider travel if absolutely essential. Be aware that 'Do not travel' notices may be issued at very short notice."
The Oxford to Worcester route across the Cotswolds is cancelled, and disruption is widespread in the south of England.
The Great Western line from London Paddington to Plymouth and Penzance was temporarily blocked south-west of Exeter because of flooding at Dawlish. The line was closed in 2014 for two months after storm damage.
On South Western Railway, nothing is running from London Waterloo further south-west than Bournemouth or Salisbury, and the line to Portsmouth is interrupted at Petersfield in Hampshire by planned engineering work.
Eurostar has cancelled two round-trips from London St Pancras to Paris on Saturday, and one return journey on Sunday.
Irish Sea ferries are delayed or cancelled, with only three of the five Holyhead-Dublin ferries running, with delays of five or six hours.
Stena Line has a similar story, and has cancelled one Fishguard-Rosslare round trip.
Register for free to continue reading
Registration is a free and easy way to support our truly independent journalism
By registering, you will also enjoy limited access to Premium articles, exclusive newsletters, commenting, and virtual events with our leading journalists
Already have an account? sign in
Register for free to continue reading
Registration is a free and easy way to support our truly independent journalism
By registering, you will also enjoy limited access to Premium articles, exclusive newsletters, commenting, and virtual events with our leading journalists
Already have an account? sign in
Join our new commenting forum
Join thought-provoking conversations, follow other Independent readers and see their replies