Woman refused boarding for flight due to nut allergy
Exclusive: Passenger forced to pay £1,500 for new flights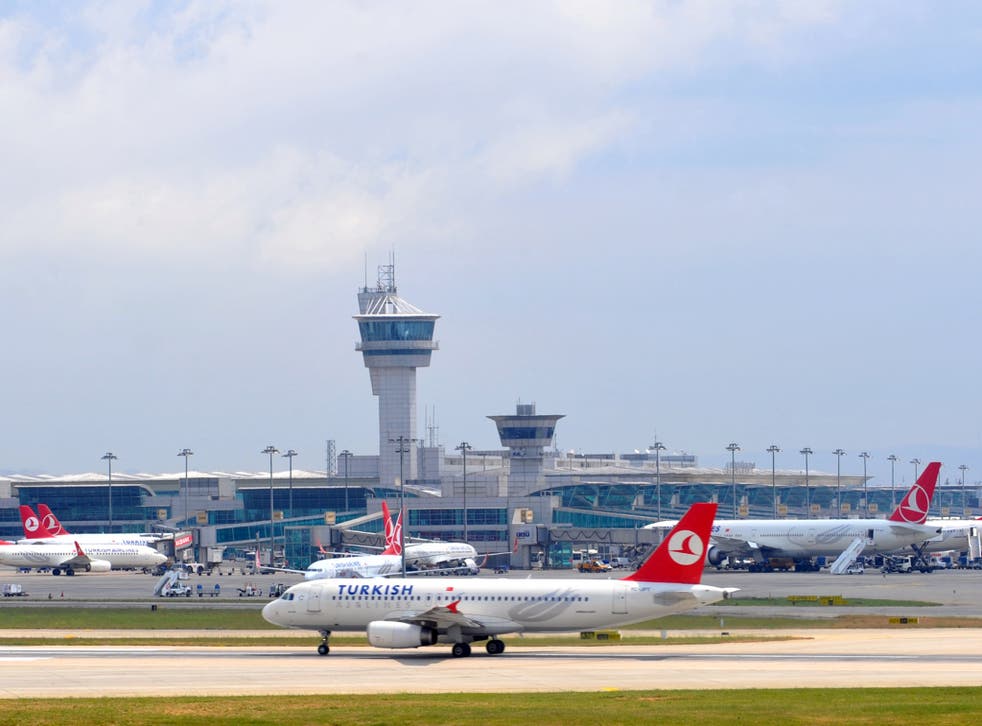 A passenger says she was left feeling "devastated" and "helpless" after Turkish Airlines denied her boarding and forced her to pay almost £1,500 for new flights, because she told them she had a nut allergy.
Norine Khalil, a 32-year-old dietician and nutritionist living in Toronto, was returning to Canada from Istanbul after celebrating her sister's wedding when the incident occurred.
On the outbound flight, she had informed an attendant of her allergy at the bag drop desk. The Turkish Airlines employee put a note in the system, "and that was that," Ms Khalil told The Independent.
However, the return journey on 16 September was a different story.
"I followed the exact same procedure," she said. "We had checked in online once again, so when dropping off baggage to the staff member behind the counter, I notified him of the nut allergy.
The worst ever inflight meals

Show all 8
"He couldn't understand me due to the language barrier, so he referred me to the woman sitting at the counter next to him – she too was having difficulty understanding."
Ms Khalil was passed on to another male member of staff, who had a lengthy phone conversation before informing her she couldn't eat anything on board flight TK17.
"I agreed and said it was fine, I pack my own food for flights anyway," she said.
The man said the airline required Ms Khalil to sign a statement to the effect that she promised not to eat on board the aircraft, before telling her she couldn't fly at all following another phone call.
"He eventually returned and told me I couldn't fly because they require 24 hours' notice of an allergy," said Ms Khalil, who pointed out that no such requirement is advertised on the Turkish Airlines website. "All he said to me was, 'this is what operations have told me, if you have any issues you can contact customer relations.'"
With no alternative, Ms Khalil and her husband went to the airline's helpdesk to change their tickets, only to be told they would have to pay $1,800 (£1,442) to rebook on the next flight, which wasn't until the following day.
Ms Khalil called the experience "an ordeal".
"I have been flying my entire life, and have never had an experience like this before.
"I was devastated when the entire ordeal was happening, and felt completely helpless in that no one was even listening to me when I explained that I was following the exact same procedure in Istanbul as I did in Toronto."
She added: "They put a huge damper on what was a beautiful vacation that we had been looking forward to. The stress of finding and paying for accommodation for one more night in Istanbul took a major toll on me and my husband."
Turkish Airlines offered no assistance, no help with finding overnight accommodation and no adjustment to the regular ticket pricing, according to Ms Khalil.
In addition to the outlay for new flights and a hotel room for the night, Ms Khalil also lost income from having to reschedule her following day's clients.
Support free-thinking journalism and attend Independent events
"We deserve not only compensation for the financial loss this caused, but also for the emotional toll it took on us," she said. "I felt discriminated against, and I felt that my rights were completely violated in this situation."
On Turkish Airlines' website, the only allusion to allergies is the following: "Be sure that you inform us of any allergies you may have for your in-flight meal." There is no mention of having to inform the airline when booking a ticket, nor a stipulation of a 24-hour cut-off point before the flight.
A Turkish Airlines spokesperson told The Independent: "Turkish Airlines has been contacted by the passenger who has shared her full experience.
"We take allergy attacks extremely seriously and our priority is always to ensure our passengers are safe to enjoy a pleasant flight.
"This matter is in the hands of our customer relations and customer services management team who are treating it with the utmost importance."
The airline came under fire earlier this year when a young man and his girlfriend were kicked off their UK-bound flight due to his nut allergy.
Register for free to continue reading
Registration is a free and easy way to support our truly independent journalism
By registering, you will also enjoy limited access to Premium articles, exclusive newsletters, commenting, and virtual events with our leading journalists
Already have an account? sign in
Register for free to continue reading
Registration is a free and easy way to support our truly independent journalism
By registering, you will also enjoy limited access to Premium articles, exclusive newsletters, commenting, and virtual events with our leading journalists
Already have an account? sign in
Join our new commenting forum
Join thought-provoking conversations, follow other Independent readers and see their replies