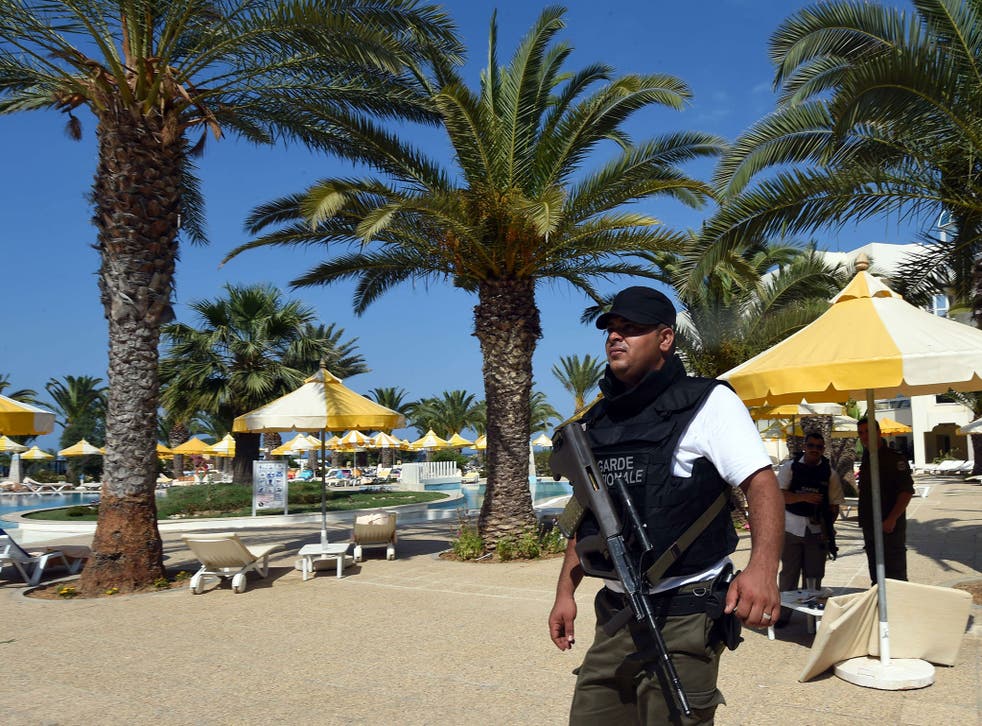 Two massacres in three months… so why does the Foreign Office insist Tunisia is no more dangerous than Spain or the Dordogne?
Even after two massacres of tourists to Tunisia, the latest Foreign Office advice stops short of putting it on the government's holiday blacklist
Simon Calder
Monday 29 June 2015 18:51 Comments
For several hundred thousand British people who have booked holidays in Tunisia this year, the wording of the Foreign Office travel advice in response to Friday's massacre on the beach was critical. Had the government warned against travel to the country, they would have been able to claim refunds or switch destination without penalty. As it is, most of them face heavy cancellation fees if they decide not to go.
The revised travel advice was placed on the FCO website shortly before 11pm on Saturday night, and it took me until midnight before I could properly decode it. The statements it contains make Tunisia sound a dangerous place - warning that "Further terrorist attacks in Tunisia, including in tourist resorts, are possible". It identifies the likely perpetrators as "individuals who are unknown to the authorities, and whose actions are inspired by terrorist groups via social media." And it points out that Tunisia shares a long, leaky border with Libya - a failed state with many weapons, seen by some as a crucible for Jihadists.
But even after two cold-blooded massacres of tourists to Tunisia in three months, the latest Foreign Office advice stops short of putting the North African nation on the government's holiday blacklist. Certainly, it urges people to stay clear of the dangerous fringes, where tourists do not roam. But the entire area where visitors are likely to spend their time, from Djerba along the coast to Tunis and Carthage, and inland to the mosque of Kairouan, is marked on the map in a reassuring green - for "go"?
Collectively, the rational response to the slaughter on the beach is to travel to Tunisia in greater numbers. The people who hate the civilised world are seeking to deploy the tried and tested technique of targeting tourists to undermine a nation's economy. Allow that to happen, and we inadvertently increase the impact of the attack - and arguably raise the probability of a repeat.
The Tunisian tourist authorities may latch on to the Foreign Office advice as validation of claims that the nation is safe. They may also point out that atrocities can happen anywhere, as Londoners are all too aware as the 10th anniversary of the 7/7 bombings approaches. And they may note that France and Spain are rated alongside Tunisia as presenting a "high threat of terrorism".
Yet even as someone who will happily return to Tunisia as soon as possible, I cannot accept that Benidorm and the Dordogne share the same risk profile as a poor country that shares a long, leaky border with the failed state of Libya - where a Kalashnikov, like human life, is cheap.
Right now, British travellers have heightened sensitivity to risk. So the Foreign Office should introduce a more nuanced system. At present it appears there are four grades of danger, in ascending order: a "a general threat of terrorism," "a high threat of terrorism," "we advise against all-but-essential travel," and "we advise against all travel." Let's call them 1, 2, 3 and 4. The last two will trigger an evacuation, which is perhaps why the Foreign Office's intricately worded current advice seems intended to give Tunisia a 2.9 - stopping just short of sending the rescue planes in.
Why not formalise a finer calibration? Our two most-popular countries, Spain and France, do not have a history of tourist-related terrorism; Egypt and Turkey do. So if the western European pair score 2, the eastern Mediterranean couple might be graded 2.5. And if the Foreign Office won't compile an index of attacks on tourists, and presenting them in a digestible form, then I might.
An excellent site called AirSafe.com allows air passengers to compare and assess safety records of airlines and aircraft models. Users appreciate that just because the A380 or Boeing 787 have never suffered a fatal accident the risk is not nil. They also understand that the Boeing 737 has had dozens of crashes simply because it is the most popular plane ever produced. And they can also derive reassurance from the extraordinary rarity of crashes that flying is extremely safe. As are Mediterranean holidays.
Even as the victims of the appalling slaughter are brought home to rest, it is important to say that the vast majority of visits to Tunisia bring rewards to the traveller and the local community.
Register for free to continue reading
Registration is a free and easy way to support our truly independent journalism
By registering, you will also enjoy limited access to Premium articles, exclusive newsletters, commenting, and virtual events with our leading journalists
Already have an account? sign in
Join our new commenting forum
Join thought-provoking conversations, follow other Independent readers and see their replies