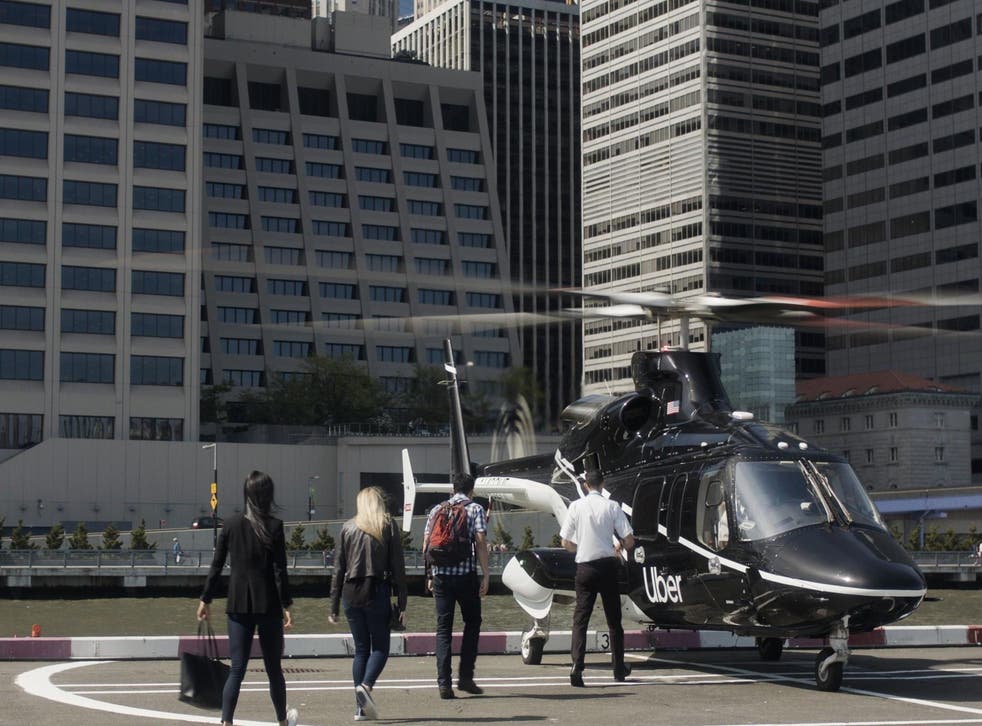 Uber launches helicopter service between New York's Manhattan and JFK airport
The flight is expected to cost $200 for an eight-minute ride
Joanna Whitehead
Thursday 06 June 2019 12:21 Comments
Uber has announced a new helicopter service operating between New York City and John F. Kennedy (JFK) International airport.
The Uber Copter, due to begin operations on 9 July, will transport passengers between Lower Manhattan and JFK in just eight minutes at an estimated cost of $200-250 (£158-197).
At present, the journey can take at least an hour by car, increasing to more than two hours in rush hour.
Public transport options between the city and JFK include the subway and Long Island Railroad and take between 50 and 75 minutes.
Uber Copter pledges to reduce the total journey time to 30 minutes, an estimate that includes ground transportation.
Travel destinations: 52 places to go in 2019

Show all 52
The average ride price will be between $200 and $225 per person, Nikhil Goel, Uber Elevate's head of product, told the New York Times.
Similarly to the ride-hailing app, Uber Copter prices will be "dynamic" and largely dictated by demand.
While the prospect of leaving New York's traffic choked streets behind may appeal, the service will only be available to Uber's Platinum and Diamond members, however – the top two tiers of the company's loyalty programme, Uber Rewards.
Premium customers will be able to book Uber Copter on demand or up to five days in advance.
Helicopters seat up to five passengers and will operate between Monday and Friday during the afternoon rush hour.
Restrictions will also be imposed upon baggage, as the helicopters lack the space and weight capacity to carry excess luggage.
Uber Copter passengers will only be allowed one carry-on bag weighing no more than 18kg and one personal bag.
The helicopters will depart and land from a heliport close to the Staten Island Ferry on Manhattan Island, and depart and land near terminal eight at JFK.
Passengers will be collected and dispatched by car in Manhattan, while at JFK they'll be driven from the helicopter tarmac directly to their terminal, or collected at their terminal and transported to the Uber Copter.
Eric Allison, the head of Uber Elevate, said: "This is a trip that so many travellers make a day, and we see an opportunity to save them a huge amount of time on it.
"Our plan is to eventually roll out Uber Copter to more Uber customers and to other cities, but we want to do it right."
Register for free to continue reading
Registration is a free and easy way to support our truly independent journalism
By registering, you will also enjoy limited access to Premium articles, exclusive newsletters, commenting, and virtual events with our leading journalists
Already have an account? sign in
Join our new commenting forum
Join thought-provoking conversations, follow other Independent readers and see their replies