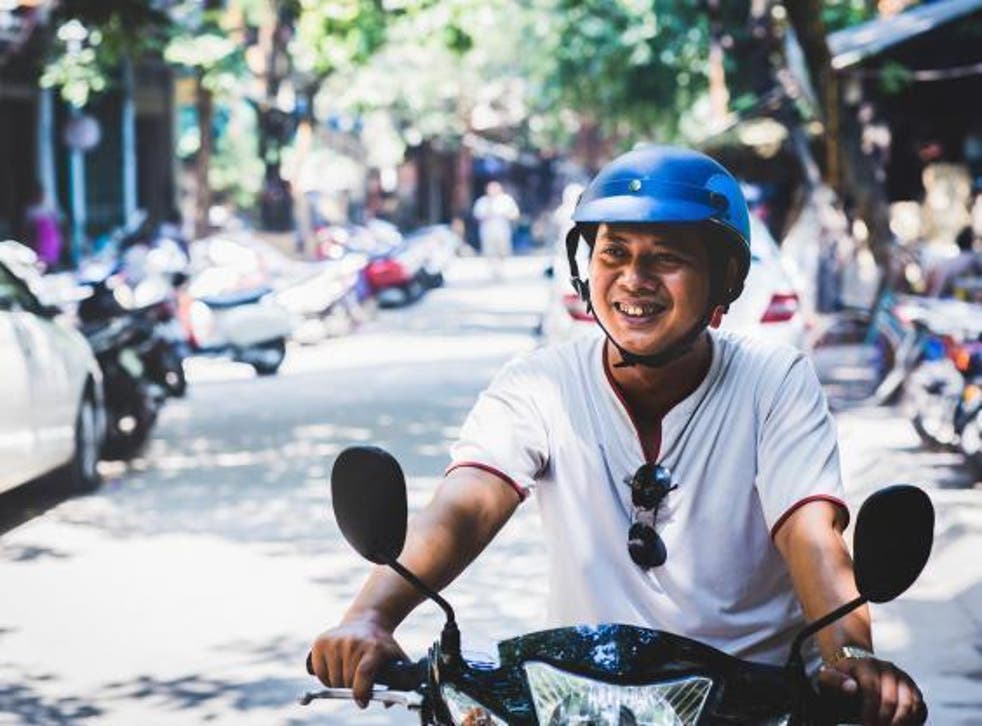 What Uber looks like around the world from Bali to Brazil
Not every Uber is a Toyota Prius; in other countries you'll find your ride is a motorbike or a car equipped for cyclists
Kashmira Gander
Tuesday 07 March 2017 11:37 Comments
When Neha Jalan tried to order an Uber in Bangkok last year, alongside the normal cars and premium service she noticed an option she didn't recognise: UberMoto.
A motorbike taxi service wouldn't be for everyone, but Jalan picked it, because it was cheaper.
"I was hesitant at first but the ride was fantastic," she told The Independent. "The guy provided me with a helmet, and I had a backpack already. It was a lot cheaper than a normal Uber, and it was quick as we were able to navigate through traffic. And it was hassle-free - just like a normal Uber, but more fun. I used it every time I needed a ride after that."
To anyone who's hopped into a ubiquitous Toyota Prius in the UK, her story may come as a surprise. But UberMoto is an increasingly popular option in Southeast and South Asia, where bikes can zip through heavy traffic and back-streets in moped-friendly cities. Last year, UberMoto was rolled out in Hanoi and Ho Chi Minh City, to compete with the wildly popular existing taxi service, GrabBike. India and Indonesia have UberMotor, a similar service, which competes not just with GrabBike but Go-Jek, an app that's been dubbed Indonesia's hottest startup. The Bangkok service, however, is currently unavailable following pressure from regulators.
Meanwhile in Amsterdam and São Paulo, UberBikes are cars equipped with bike racks to pick up weary cyclists.
Before launching their left-field services, Uber researches the market and consults locals in major cities. "They know what will work in their city, and they have a considerable autonomy to think about what new products will work, test them and then launch," a spokesperson for Uber told The Independent.
He added: "In 2016, between September and December alone, visitors from 73 countries took rides with Uber in Indonesia."
"In Vietnam over the same time period, visitors from 66 countries took an Uber in HCMC and from 62 countries in Hanoi."
Caitlin Gout is one of the customers who used the service in while living in Vietnam last year.
"I would get bikes to and from work and around the city," she told The Independent. "I felt safe, and since I'd never been on the back of a bike before, it was a novelty. It was much faster moving through traffic than a car. Some drivers would offer me a disposable face mask because of pollution, and all bikes provided a helmet, though I preferred to use my own. My only issues were when it was raining: drivers would provide ponchos but it still wasn't ideal to be on a bike in the rain."
Launching in 2009, Uber expanded rapidly from San Francisco to operations in over 500 cities across the world. However, its meteoric rise hasn't been without controversy. Most recently, swathes of customers deleted Uber from their phones after former employee Susan Fowler made a sexual harassment allegations against employees at the firm, which the cab firm is investigating. And this month, CEO Travis Kalanick was forced to apologise after a video of him berating one of his own drivers was shared online.
Register for free to continue reading
Registration is a free and easy way to support our truly independent journalism
By registering, you will also enjoy limited access to Premium articles, exclusive newsletters, commenting, and virtual events with our leading journalists
Already have an account? sign in
Join our new commenting forum
Join thought-provoking conversations, follow other Independent readers and see their replies