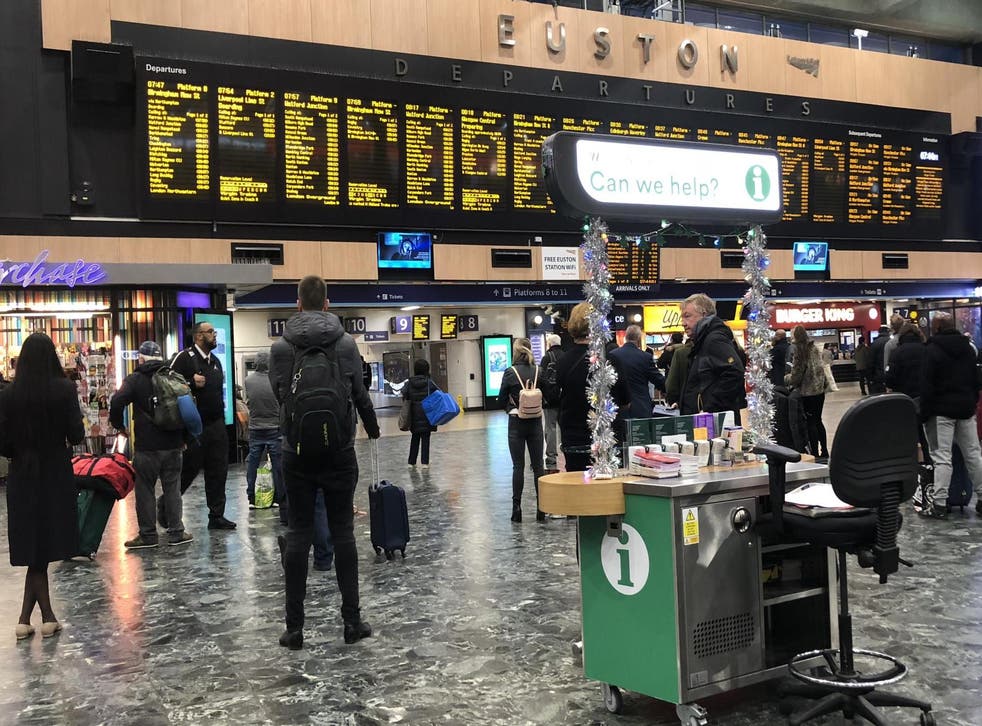 UK travel latest: Train freeze hits Christmas getaways as bad weather and volcanic activity disrupt European flights
Usual festive shutdown of trains under way, exacerbated by widespread and long-lasting engineering projects
As the drone debate at Gatwick Airport took an existential turn – was there actually ever an unmanned aerial vehicle in the skies of Sussex? – a volcanic eruption closed down another European airport, adding to travellers' woes.
After Mount Etna erupted, the nearby Catania airport closed down. The UK Foreign Office said: "Local authorities are monitoring the situation and providing updates via their website (in Italian). If you intend to travel to affected areas, you should follow their advice."
Elsewhere in Europe, adverse Atlantic weather in the vicinity of Madeira disrupted flights, with passengers on a heavily delayed easyJet flight from Gatwick to the Portuguese island being warned that they might well end up back at the same airport in the early hours of Christmas morning. They were told: "If your flight is unable to land in Funchal then we have planned for it to divert to Porto for refuelling.
"In Porto you will have the opportunity to disembark and make your own onward arrangements or remain on board and return back to your departure airport where your flight would unfortunately be cancelled as weather conditions are not set to improve for several days."
Anyone touching down at Gatwick would find that rail conditions are not set to improve for several days. The normal Christmas Day and Boxing Day shutdown of trains is under way (with a handful of train operators running skeleton services on 26 December), exacerbated by widespread and long-lasting engineering projects.
While big maintenance projects on motorways are traditionally lifted for Christmas and the New Year, on the railways, the festive season is seen as prime time for engineering works.
This is the time of year when demand is lowest – Network Rail says it is half as busy as normal – and therefore when wholesale line closures will affect the least passengers. So 25,000 workers will be deployed on rail projects across Britain, costing £148m.
The work is intended to produce faster and more reliable journeys, and boost the capacity of the UK's Victorian-era rail network. But the short-term pain for long-term gain is considerable.
Main lines to and from three London terminals – Victoria, Paddington and Liverpool Street – are to be severed for most or all of the rest of the year.
The main line connecting Brighton and Gatwick with London Victoria is disconnected until 2 January 2019 because of work at Battersea, where the line crosses the Thames.
An alternative route via London Bridge is available, but is likely to be extremely busy.
Great Western Railway passengers from South Wales, the Cotswolds and the west of England will be intermittently cut off from London Paddington until the New Year.
East Anglia is the region suffering the biggest impact of all.
The main line from Norwich, Ipswich and Colchester to London Liverpool Street is closed until 2 January. Passengers will have to take a train to Ingatestone in Essex, then a bus, then take their chances on the London Underground.
Immediately after Christmas, the effects of engineering works will be exacerbated by strikes involving members of the RMT union in a dispute over the role of guards.
South Western Railway, which runs to and from Britain's busiest station, London Waterloo, will be affected on Thursday 27 December and New Year's Eve.
On Northern Rail on 29 December, the 20th Saturday strike in a row on the same issue will see the majority of trains cancelled with very few services running after 5pm – affecting travellers from Merseyside to Tyneside.
In the skies, disruption caused by the closure of Gatwick Airport for 33 hours is continuing, with some long-haul flights arriving hours late.
Birmingham Airport was closed on the evening of 23 December because of an air-traffic control fault, with 27 flights diverted or cancelled.
UK news in pictures

Show all 50
A planeful of passengers in the Caribbean who were due to arrive back at Gatwick on the morning of Christmas Eve will now not touch down until Boxing Day.
They are on TUI flight 45 from Punta Cana in the Dominican Republic.
A spokesperson for TUI told The Independent: "We would like to apologise to customers on flight TOM045 from Punta Cana to London Gatwick which is delayed due to technical issues.
"We know this is not the Christmas our customers were expecting and we are currently in the process of contacting all affected customers and updating them on the situation."
Under European air passengers' rights rules, each holidaymaker will be entitled to €600 (£540) in compensation, in addition to hotel accommodation and meals until their homeward flight.
Journeys to Portugal between 26 and 28 December may be disrupted by a strike by immigration officials.
The Foreign Office says travellers should allow extra time to clear border controls when entering or exiting Portugal.
Meanwhile, Christmas Day travellers in the UK have a wider choice of transport options than usual.
Support free-thinking journalism and attend Independent events
While there are only two domestic flights in the UK on 25 December – Heathrow to Manchester in the morning, Manchester to Heathrow in the afternoon – more bus services than ever are running on National Express and its rival, Megabus.
Between Birmingham and Manchester, for example, both operators have five buses each way, taking about two hours with a fare as low as £13.
Very little local transport is operating on 25 December – no Tubes will run in London – but one shining exception is the Isle of Wight, where for the 10th Christmas Day in a row, buses will be running on all the major routes.
Join our new commenting forum
Join thought-provoking conversations, follow other Independent readers and see their replies