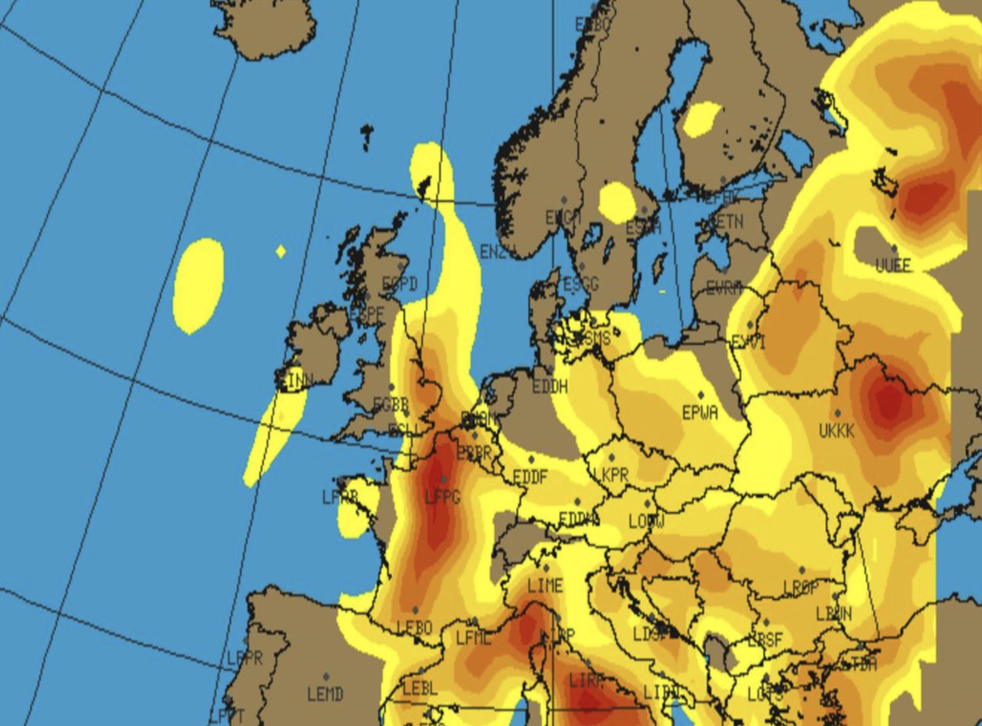 UK weather: Thunderstorms threaten busiest-ever day in Britain's skies
Eurotunnel Shuttles still delayed, but backlog is clearing
The skies of Britain will be busier than ever, according to the air-traffic control organisation, NATS. Almost 9,000 flights are scheduled to take off from or land at UK airports in the 24 hours from midnight.
The key hour was 6.40am to 7.40am, with one aircraft movement every nine seconds.
The busiest airports in the UK are all in the London area: Heathrow, Gatwick and Stansted, which between them account for 3,000 flights. But, Manchester, Edinburgh and Birmingham will also be extremely busy.
But, bad weather may affect the final count for flights on Friday. Eurocontrol in Brussels warned: "Widespread thunderstorms are forecast so we can expect significant flight delay across the network."
According to NATS, the key UK routes are not full of sun-seekers: the top three destinations from Heathrow are to Dublin, New York and Frankfurt.
The next four busiest are all from Gatwick, to the Spanish trio of Barcelona, Malaga, Palma de Mallorca and Faro in Portugal.
For airlines, though, even busier days are still to come. The first weekend in August will be the peak for two leading UK airlines: Friday 3 August for Virgin Atlantic, and Saturday 4 August for easyJet.
The British Airline Pilots' Association issued a warning on Thursday night about "the growing trend in drunken disruptive behaviour".
The union says that passengers who cause diversions face heavy fines or even jail, and is calling for alcohol licensing laws at airports to be brought into line with with standard retail licensing laws.
Motorists booked on Eurotunnel are still facing long waits at the Channel Tunnel terminal at Folkestone. Shortly after 9am, the car-carrying firm tweeted: "There is still 1h30 mins wait pre check-in, and 1h30 wait on our passenger service from Folkestone.
"Sorry for the inconvenience caused to your journey."
The five-hour delays that faced drivers on Thursday night were caused, according to the company, by "restricted shuttle capacity caused by the extreme and prolonged high temperatures".
The backlog was cleared partly by operating more than the usual one shuttle per hour through the night, and by reducing the number of bookings for today.
Hundreds of motorists who had booked to travel out on Friday and back the same day or on Saturday have been told their tickets have been cancelled.
Eurotunnel says: "If customers wish to cancel the outbound trip from Folkestone on 27 July and keep the return leg, this is possible; complete the online form and indicate your specific requirements."
Unlike flights, ferries and trains, there are no European passengers' rights rules for the car-carrying service. So, motorists who have faced long delays or had their journeys cancelled will get no compensation.
Eurostar passenger trains from London St Pancras to Paris and Brussels through the Channel Tunnel are unaffected.
Register for free to continue reading
Registration is a free and easy way to support our truly independent journalism
By registering, you will also enjoy limited access to Premium articles, exclusive newsletters, commenting, and virtual events with our leading journalists
Already have an account? sign in
Register for free to continue reading
Registration is a free and easy way to support our truly independent journalism
By registering, you will also enjoy limited access to Premium articles, exclusive newsletters, commenting, and virtual events with our leading journalists
Already have an account? sign in
Join our new commenting forum
Join thought-provoking conversations, follow other Independent readers and see their replies