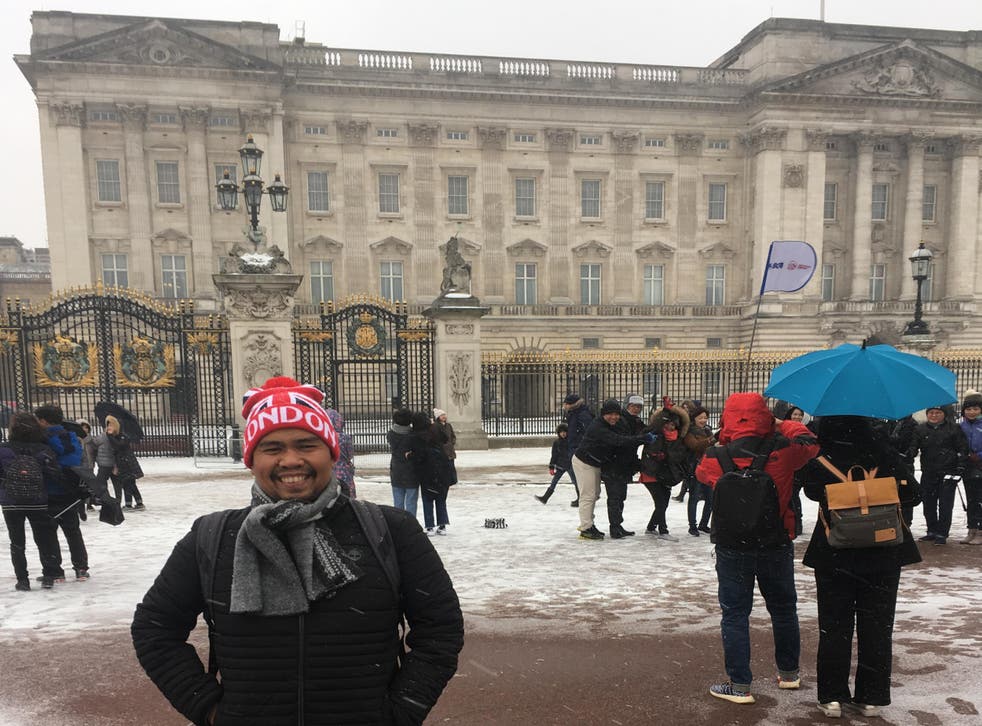 UK weather latest: British travellers stranded abroad tell their stories
Though others, including some plane passengers, were hit by the unusual weather: 'At one stage the captain offered to pay for fuel with his personal credit card'
The coach party of Indonesian visitors I met outside Buckingham Palace on Thursday morning could not have been happier. They were in London, a great world city, and the sights of the capital were dusted in snow – something Jakarta, 400 miles south of the equator, never experiences.
Their joy was shared by few others. Never has there been so much disruption for UK travellers in March. Since the Siberian freeze arrived on Tuesday, colliding with Storm Emma migrating north from Portugal, more than 1,000 flights to, from and within Britain have been cancelled. As a result of the wholesale shredding of flight schedules, more than 50,000 British travellers are wondering when and how they will get home from abroad.
At least they may be enjoying some sunshine; Trish Parks emailed from Madeira to say she is beginning a week's stay on the island at easyJet's expense, after her flight was cancelled on Wednesday.
On the same day, Wendy Berliner experienced a mystery tour stripped of any magic. Ms Berliner, a former colleague of mine who is now joint chief executive of the Education Media Centre, spent eight hours going from Heathrow to Heathrow. Her flight to Aberdeen turned up in North-east Scotland just as the runway there was temporarily closed for snow clearance.
"We circled for about 40 minutes waiting for it to reopen. Fuel ran short, Edinburgh and Glasgow were too busy to take us, so we were diverted to Manchester. As we began our descent to Manchester it closed. So we flew on to Liverpool where we spent the next two hours waiting to be refuelled."
Since British Airways has not served Liverpool for decades, it has no agreements with ground handlers; Ms Berliner said at one stage the captain offered to pay for fuel with his personal credit card.
By the time the tanks were topped up, she says, Aberdeen had reopened but BA decided to get the plane and crew back to base.
Back at Heathrow, they spent two hours waiting to be allowed off the plane. British Airways says: "Due to extremely poor weather conditions in Scotland we were unable to land at the airport. Our highly trained flight crew took the decision to divert the flight to Liverpool to refuel and wait for an opportunity to try again. Unfortunately all airports in Scotland were then closed, and we were unable to continue the flight to Aberdeen.
"We decided that the best option for customers was to return the flight to Heathrow, where we looked after and assisted those on board with their onward journey. We have apologised to our customers for the disruption to their journey."
Once disarray on the railways is added to runways, millions of travellers this week have their own tales of misadventure and missed appointments. The trans-Suffolk line from Ipswich to Lowestoft has been closed for most of the week, and it is tempting to draw comparisons with the Trans-Siberian.
London and Moscow both have a "Great Eastern" station: Liverpool Street and Yaroslavl respectively. While trains have been leaving the Moscow terminus to rumble through the winter to Novosibirsk (-22C last time I looked), Irkutsk and all stations to Vladivostok, British rail passengers could not reach Saxmundham, Beccles and Lowestoft.
Yet every nation chooses a degree of preparedness for extreme weather, and the amount it is prepared to invest in resilience. Russia has to take extreme cold extremely seriously because it arrives with grim predictability each winter. And because the Trans-Siberian is a lifeline for communities across the world's biggest nation, it has all the machinery and manpower necessary to keep the track open come snow or sunshine. Just in case.
"Just in case" has been the watchwords at Heathrow this week, too, where many hundreds of flights have been proactively cancelled to improve the odds that the rest will take off more or less on schedule (even if they do end up, like Wendy Berliner's plane, on a round-Britain tour). I don't know how my Indonesian friends planned to head home, but they may have been booked on Emirates via Dubai or Singapore Airlines on Friday – and found their flight cancelled, just in case.
The week has been a monumental muddle for travellers. The cold on the cusp between February and March is a once-in-a-generation event; as a nation, we can muddle on. After all, resilience is expensive. But the danger is that the rest of the world may conclude that Britain is closed for business. And pleasure.
Register for free to continue reading
Registration is a free and easy way to support our truly independent journalism
By registering, you will also enjoy limited access to Premium articles, exclusive newsletters, commenting, and virtual events with our leading journalists
Already have an account? sign in
Register for free to continue reading
Registration is a free and easy way to support our truly independent journalism
By registering, you will also enjoy limited access to Premium articles, exclusive newsletters, commenting, and virtual events with our leading journalists
Already have an account? sign in
Join our new commenting forum
Join thought-provoking conversations, follow other Independent readers and see their replies