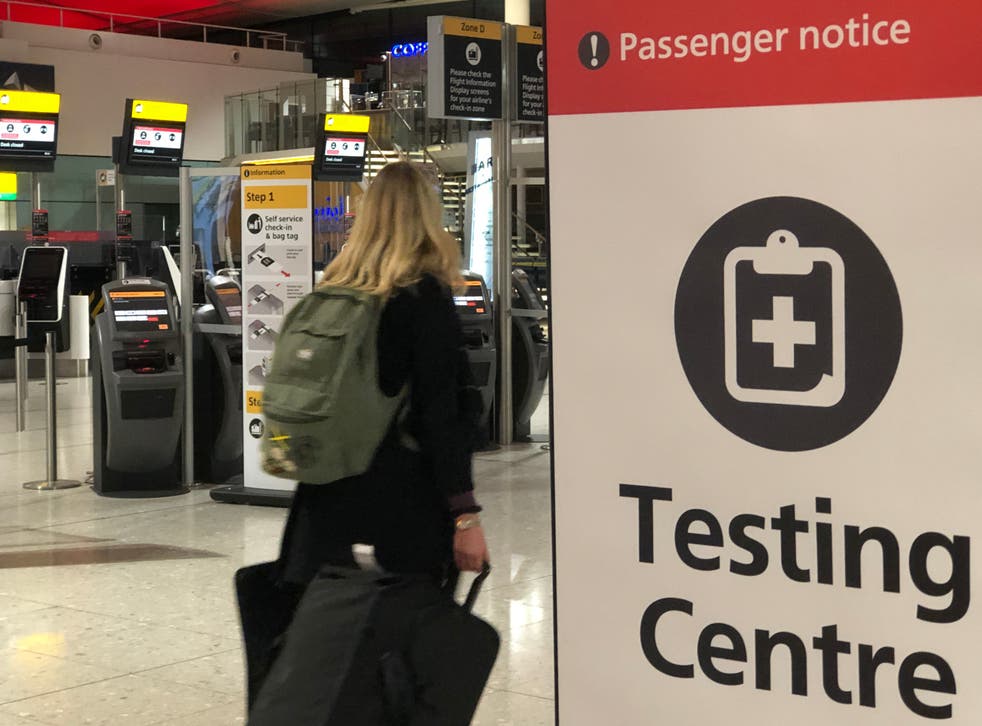 Union announces Heathrow strikes and claims airport will 'grind to a halt'
Employer says 'extensive contingency plans' will avoid disruption
Heathrow airport will "grind to a halt" during series of strikes in December, the Unite union has claimed.
Union members including firefighters, engineers, campus security, baggage operations, operational and airside workers voted 85 per cent in support of industrial action at the UK's busiest airport.
They plan to stop work for 24 hours on 1 and 14 December, with a 48-hour pre-Christmas stoppage on 17 and 18 December.
The dispute is over what Unite calls Heathrow Airport Ltd's "plans to fire and rehire its 4,000 workers on vastly reduced pay".
Unite said the strike "will effectively close the airport".
The union's regional coordinating officer Wayne King said: "Workers are taking strike action as a direct result of Heathrow Airport's brutal proposals to fire and rehire them on greatly reduced wages.
"The airport is using the Covid-19 pandemic as a smokescreen to permanently cut workers' pay.
"Unite has put forward several alternative suggestions to reduce staffing costs on a temporary basis, all of which have been summarily rejected by management.
"The way that workers, who are already suffering extreme levels of stress and anxiety, are being treated by HAL's management, demonstrates that they have apparently learned all their skills of tact and diplomacy from Donald Trump.
"This strike action will undoubtedly cause a great deal of disruption to passengers and cargo deliveries using the airport but this is purely a result of the company's appalling treatment of workers."
A spokesperson for Heathrow said: ""It's very disappointing that Unite has decided to take strike action during the worst crisis to hit the aviation sector.
"Our focus has been to protect jobs – which is why we've offered every frontline colleague who wants one a job at a market rate salary above the London Living Wage, even despite a loss of over £1.5bn to our business so far this year.
"We do not believe this strike action is necessary, but we will now activate extensive contingency plans which will keep the airport open and operating safely throughout this period."
Brexit briefing: How long until the end of the transition period?
The airport says its offer avoids compulsory job cuts.
Separately, the GMB union has said that 3,000 ground staff employed by Swissport are to be made redundant – and that the government is partly to blame.
Nadine Houghton, GMB National Officer, said: "This is a devastating blow for thousands of our members.
"Some of the blame must lie with the government for ignoring the needs of the economy before making a screeching U-turn at the last minute.
"But ultimately thousands are now facing the prospect of a joyless Christmas with no job thanks to Swissport's intractable attitude."
A Swissport spokesperson said: "In response to the severe and sustained impact of the outbreak, we announced plans in June to reduce the size of Swissport's workforce by up to 4,556 across the UK.
Following an extensive national consultation with representatives from GMB and Unite we were able to reduce this figure significantly, by around 1,300 jobs. We have now unfortunately confirmed circa 2,020 compulsory redundancies and circa 1,181 voluntary redundancies.
"In response to a sharp drop in flight volumes, following confirmation of renewed lockdown measures, we will be utilising the Coronavirus Job Retention Scheme (CJRS) across the whole of the UK for those colleagues due to return to work in November.
"As the CJRS has been extended to protect viable jobs, unfortunately we cannot make use of the CJRS in the case of the confirmed circa 2,020 compulsory redundancies. Sadly we know the level of flight volumes necessary to make these jobs viable doesn't exist right now. We are facing several years of difficult recovery and we must focus on the jobs we have managed to mitigate in order to remain a stable and reliable partner."
"This has been a very difficult decision to make and we understand it will be immeasurably harder for those leaving the business. This is not in any way a reflection on the quality of work from our skilled and dedicated colleagues. The fact is, this is the most challenging period our industry has faced for decades and unfortunately, it's not a situation that hard work alone can address."
Join our new commenting forum
Join thought-provoking conversations, follow other Independent readers and see their replies