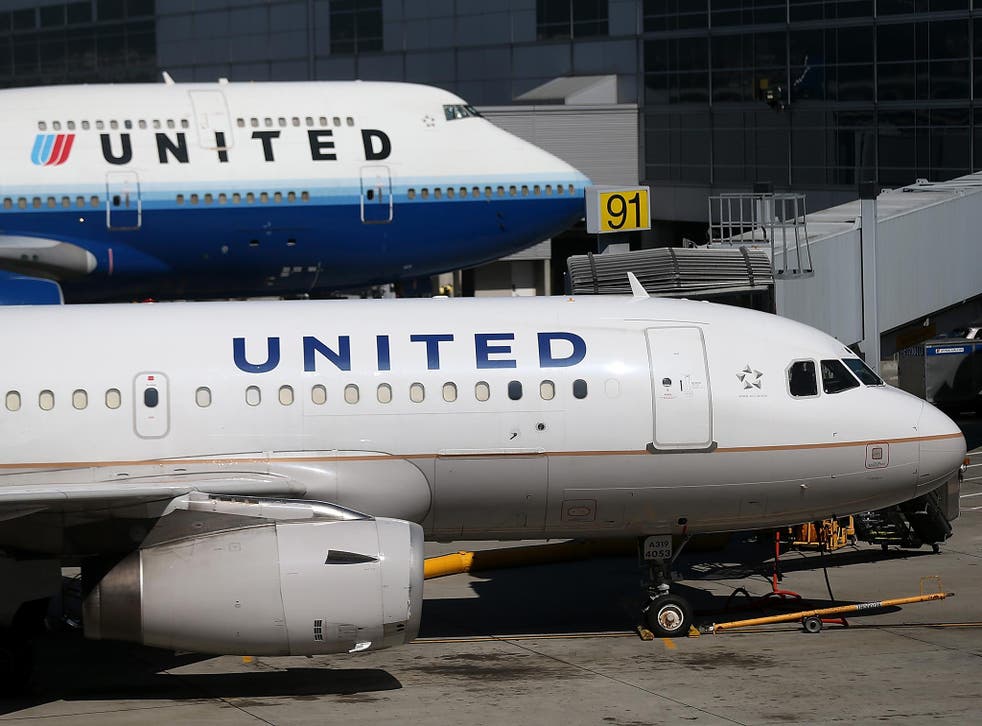 United Airlines facing wave of legal claims after it cancels thousands of mistake fares
Flyers thought they had bought first class London to America tickets for just £50
One of the world's biggest airline is facing a wave of legal claims after it cancelled thousands of bookings for transatlantic flyers who thought they had bagged the bargain of the century.
For a few hours on Wednesday afternoon, United Airlines' Danish website was selling first class and business class flights from the UK to New York and California for less than £50 return.
At the root of the problem, says United, was a "an error a third-party software provider made when it applied an incorrect exchange rate". The Independent understands that the rate of exchange from Danish currency to Sterling on the fare component was out by a factor of 1,000.
Buyers who set their country of origin as Denmark were able to book seats at a fraction of normal fares, which are typically £5,000 for a business-class return from Heathrow to New York or £7,000 to Los Angeles.
Word of the "mistake fare" spread quickly, accelerated by social media. While many prospective buyers were unable to take advantage of the deal because of the exceptional load on the website, thousands made bookings before the fault was identified.
But after it had fixed the fault, the airline said: "United is voiding the bookings of several thousand individuals who were attempting to take advantage of an error."
United said it had "properly filed its fares", and implied that British travellers were attempting to take advantage of what is known as a "mistake fare".
It said: "Most of these bookings were for travel originating in the United Kingdom, and the level of bookings made with Danish Kroner as the local currency was significantly higher than normal during the limited period that customers made these bookings."
Sometimes airlines choose to honour "mistake fares" - but this rarely happens when lucrative seats in first and business class are involved, as in this case.
Airlines' terms and conditions are constructed to allow a carrier to cancel bookings where an error has clearly been made. But the frequent flyer forum, Flyertalk, told users "There is a very high probability that you can have your tickets reinstated if you complain to DOT [the US Department of Transportation]".
It claims the law insists: "The seller of air transportation cannot increase the price of that air transportation to that consumer, even when the fare is a 'mistake'."
Most of the contributors to the forum demanded that United should honour the tickets. One said: "It doesn't matter what conversion they used for their purposes - if it's wrong then that's their fault. Many contracts are contain conversion of currency rates and it's not up to the benefiting party to point this out if it's wrong."
Another said: "Errors happen all the time and have a cost. Most of the time they are minor and/or not viable. Unfortunately for United this is both."
But one passenger conceded that the airline had a reasonable defence: "I don't know what the law says, but please don't say people had no way to know that the fare they paid was wrong."
Hoover's great flight giveaway mistake
Back in 1992, the cheapest transatlantic air fare was around £250 return. So when a domestic appliance manufacturer promised a pair of "free" flights for anyone who bought a vacuum cleaner for £119, the British hoovered up the deal. As sales of Hoovers first went through the roof, the South Wales manufacturer put out a series of press releases boasting how production had been stepped up with round-the-clock working to meet demand
Supplying the free tickets proved a much trickier business. In common with other travel promotions at the time, the principle was to entangle the offer in so many strings that most customers would give up and go away - or rather, not go away.
Tricky rules included having to fit in with absurdly limited time-frames for flights, and buying travel insurance and accommodation through specific providers.
But the organisers reckoned without the tenacity of Brits who found themselves with unwanted electrical goods and the unsatisfied promise of a trip to New York. With BBC's Watchdog sharpening its teeth, Hoover's US parent, Maytag, was forced to buy thousands of scheduled seats and took a financial hit estimated at £20m.
Register for free to continue reading
Registration is a free and easy way to support our truly independent journalism
By registering, you will also enjoy limited access to Premium articles, exclusive newsletters, commenting, and virtual events with our leading journalists
Already have an account? sign in
Register for free to continue reading
Registration is a free and easy way to support our truly independent journalism
By registering, you will also enjoy limited access to Premium articles, exclusive newsletters, commenting, and virtual events with our leading journalists
Already have an account? sign in
Join our new commenting forum
Join thought-provoking conversations, follow other Independent readers and see their replies