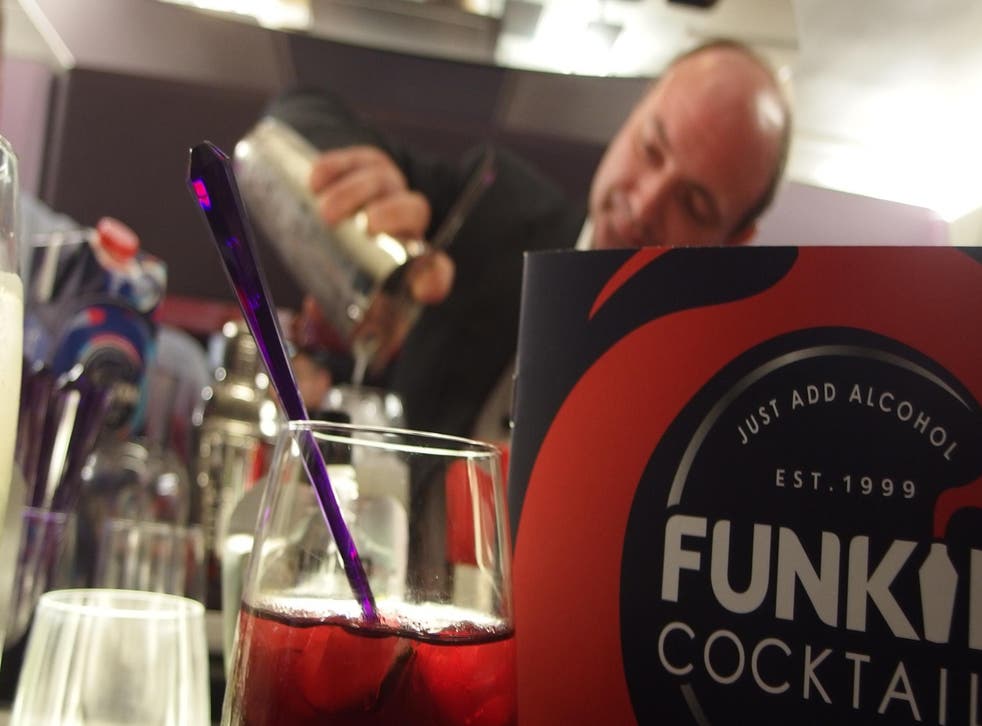 Plane talk: Can two simple words really get you an upgrade on your airline seat?
Revenue management may be a dark art, but claims that name-dropping will get you from lower- to upper-class are wide of the mark
Simon Calder
Travel Correspondent
Saturday 03 March 2018 17:11 Comments
The ceaseless quest for upgrades, I contend, began in 1952. Before that, there was one class of flying: astronomically expensive. But 66 years ago in May, TWA introduced "tourist class".
These days, TWA is sadly no more. One of its former rivals was Virgin Atlantic, which is flourishing and offers three classes: economy, premium economy and upper-class. And apparently moving from lowest to highest is just a matter of name-dropping: "Call reservations and drop the name 'revenue management'."
For this information, I am indebted to the writer Tilly Bagshawe, who made the revelation in an interview with Bloomberg. The article was headlined: "Two words guaranteed to get you a business class upgrade."
Travel blogger Gilbert Ott debunks a widely publicised flight upgrading tactic
"Tilly and her family divide their time between their homes in Kensington and Los Angeles and their beach house on Nantucket Island," her website explains. In the interview, she talked about her frequent flights – eight round trips a year – between Heathrow and Los Angeles.
"We have never bought an upper-class seat; if ever we've flown anywhere up front, we've used miles to upgrade from economy," she said.
How fortunate to have amassed so many flying club miles with the airline. With Virgin Atlantic economy tickets, I have always found it frustratingly tricky to accrue significant numbers of these frequent-flyer points, let alone the number you need for a double upgrade on a round trip to California: 101,200, requiring 10 return flights to California. But Ms Bagshawe evidently has a healthy balance of miles, plus a convivial relationship with Virgin Atlantic revenue managers.
Revenue management is a dark art. The aspiration of these aviation experts is to fill every seat on the plane, and to extract the highest possible price while doing so. As part of their control of the inventory, they decide how many upper-class seats should be made available for upgrades.
On the last Friday before Christmas, the answer is probably nil; on a weekend transatlantic flight in August, when almost everyone is a leisure passenger, there may be plenty of availability for the award-winning upper-class, which offers 6ft 8in lie-flat beds.
In the hyper-competitive transatlantic airline market, revenue management is a largely thankless task. But it is evidently enlivened by talking to passengers such as Ms Bagshawe.
She says: "Not everyone knows that this department exists, and by mentioning it you reveal yourself as someone who knows how things work and understands how seats are released.
"Say to the agent: 'Have revenue management released any first-class seats for miles upgrades yet?' When they say no, ask them to check or just be put through to revenue management so you can ask when they will release some, as well as how many seats are left."
No matter that Virgin Atlantic has never sold a first-class seat, because it has only ever offered a business cabin known as upper-class. The revenue managers are clearly helpful men and women who will happily reveal what you might imagine to be commercially confidential information – such as 20 upper-class seats remaining unfilled on a particular departure.
Ms Bagshawe recommends you then say: "You have 20 seats unsold? Why aren't you releasing them?
"Often by the end of the conversation they say, 'OK, we'll release one for you,' or they might tell you to call back tomorrow. Doing that, we've had a pretty much 100 per cent success rate."
When I called Virgin Atlantic reservations and asked to be put through to revenue management, my success rate was exactly zero per cent.
A helpful person in the call centre explained: "Revenue management do not take calls either externally or internally." And a spokesperson for the airline told me: "This article has absolutely zero truth to it."
I am sorry to say that I have not read any of Tilly Bagshawe's novels, but I understand she is an accomplished writer of fiction.
Register for free to continue reading
Registration is a free and easy way to support our truly independent journalism
By registering, you will also enjoy limited access to Premium articles, exclusive newsletters, commenting, and virtual events with our leading journalists
Already have an account? sign in
Join our new commenting forum
Join thought-provoking conversations, follow other Independent readers and see their replies