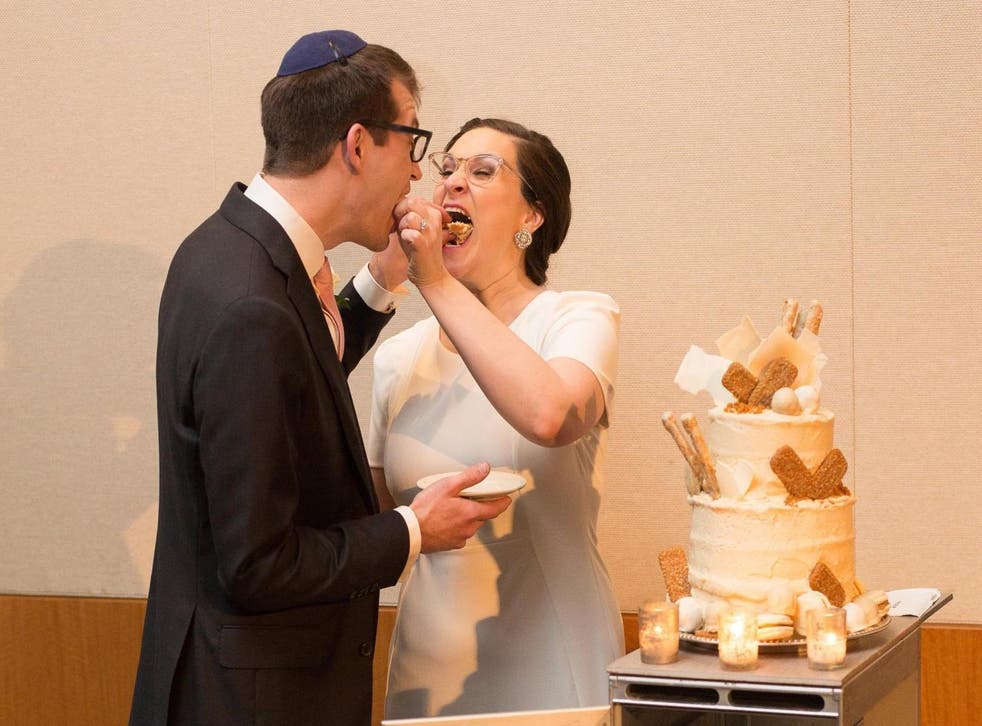 US couple marry in Delta Air Lines-themed wedding
Wedding included airline-themed hors d'oeuvres, a Sky Priority mat and even oxygen masks
Ronan J. O'Shea
Tuesday 24 April 2018 10:52 Comments
As wedding settings go, the interior of a plane may not seem like the most the most obvious option for couples planning their nuptials.
However, for one US pair, the love of Delta Air Lines runs so deep that they decided to theme their wedding around the airline's Delta Diamond loyalty scheme.
"I actually told him I'd rather have Diamond Status than the diamond ring," bride Bess Wohlner, who recently married Jeremy Simons, told Delta Airlines news hub.
Delta's Diamond programme is the airline's highest loyalty scheme, with benefits including complimentary upgrade priority and premium boarding, as well as Clear membership, which lets members ease through security.
Members also get lounge access and priority baggage handling.
The couple from Memphis used airport code table assignments and boarding lanes to line the dance floor. Simons, who comes from a Delta-loving family, said choosing one airline to fly with as a business traveller was "like deciding I would marry Delta."
Wohlner and Simons met at rabbinical school in 2009 and regularly flew out of Los Angeles on assignments together. Wohlner agreed to go on a 47-hour Delta mileage run (a trip undertaken solely to earn air miles) with Simons, purchasing trips from one city to the next without ever leaving the airport.
However, they parted ways for some years before bumping into one another on a New York to Tel Aviv flight, and returned smitten.
"I knew it was love when he handed off one of his upgrades and delivered his first class meal to me from the front of the plane," said Wohlner.
The pair announced their engagement with a "Diamond Status" save the date and incorporated the airline into almost every detail of their wedding. Guests were greeted with Tumi amenity kits from the airline's first class cabin and bridesmaids wore navy blue dresses and red accessories (the colours of Delta cabin crew uniforms).
The officiant was a fellow Delta Medallion member who flew aboard the airline's inaugural A350 flight last October, while the airline loaned Simons a branded mat to walk down the aisle, similar to Delta's Sky Priority service.
Guests' seating assignments were distributed on "bag tags", placing them onto 12 tables organised by cities meaningful to the couple, and hors d'oeuvres were served with onboard service wear and Delta-branded cups and napkins.
During the reception, the couple's cake came out on an airline drinks trolley, and they also had a photo booth with a green screen simulating an aeroplane interior, plus oxygen masks and decommissioned business class seats from their living room.
The newlyweds are now honeymooning around the world, stopping off in Scotland, Amsterdam, Sri Lanka, Sydney, Melbourne, Vancouver and Seattle.
Register for free to continue reading
Registration is a free and easy way to support our truly independent journalism
By registering, you will also enjoy limited access to Premium articles, exclusive newsletters, commenting, and virtual events with our leading journalists
Already have an account? sign in
Join our new commenting forum
Join thought-provoking conversations, follow other Independent readers and see their replies