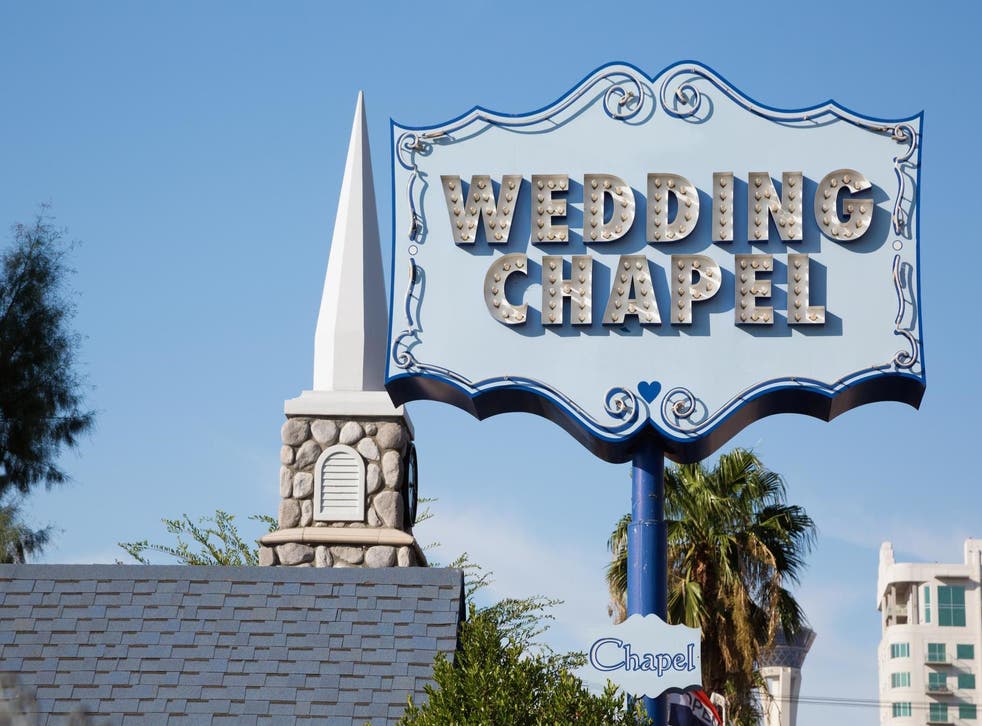 Valentine's Day 2018: Las Vegas airport launches 'pop-up' wedding service
Elvis Chapel and Viva Las Vegas Wedding Chapel among venues taking airport wedding licences
Lovebirds visiting McCarran International in Las Vegas could benefit from an unusual pop-up at the airport this week – a wedding licence service.
Clark County, which issues wedding licences in the city, has opened a pop-up marriage licence bureau by the a baggage carousel for visitors to Las Vegas who are planning to get married.
The temporary pop-up, open until 17 February, has already been used by a number of customers keen to get hitched in Sin City.
The office's licences cost $77 (£55.47), and can be used at venues around the city including Elvis Chapel and the Viva Las Vegas Wedding Chapel, which has an E&P Chapel in honour of Elvis and Priscilla Presley, and a Doo Wop Diner.
Las Vegas remains the USA's wedding capital, with over 80,000 marriage licences issued in 2016.
However, the number of marriages throughout the USA has dropped over from a rate of 8.2 per 1,000 people in 2000 to 6.9 in 2016, with Nevada's marriage rate dropping in line with the trend nationwide.
"Quickie" weddings in Las Vegas are legally valid in the UK for both same-sex and opposite-sex couples. The government's website advises that you must "follow the correct process according to the law in the USA" and ensure that "it would be allowed under UK law".
"The days around Valentine's Day and the Presidents' Day weekend are always some of our busiest," said County Clerk Lynn Goya. "This pop-up marriage license office will make it easier for couples flying here to pick up a marriage license."
The pop-up will be open 9am to 5pm from 9 to 17 February, and will be located in the baggage claim area in Terminal 1. The temporary office will only issue marriage licenses, and will accept credit card payments.
Couples going to Las Vegas to get married are still being encouraged to fill out a marriage licence pre-application, found on the County website at ClarkCountyNV.gov.
More than 1,500 marriage licenses are issued during the days leading up to and including Valentine's Day; about twice the number of licenses issued during a non-holiday period.
The County Clerk's office said in a statement: "The wedding industry is an important component of our tourism economy, as people coming to Clark County to attend a wedding or get married generated more than $2 billion in economic activity including on lodging, entertainment, dining and other non-gaming activities in Clark County in 2016."
And they say romance is dead.
Join our new commenting forum
Join thought-provoking conversations, follow other Independent readers and see their replies