Italy bans huge cruise ships from Venice city centre
Ships over 55,000 tonnes will have to dock in Marghera, on the mainland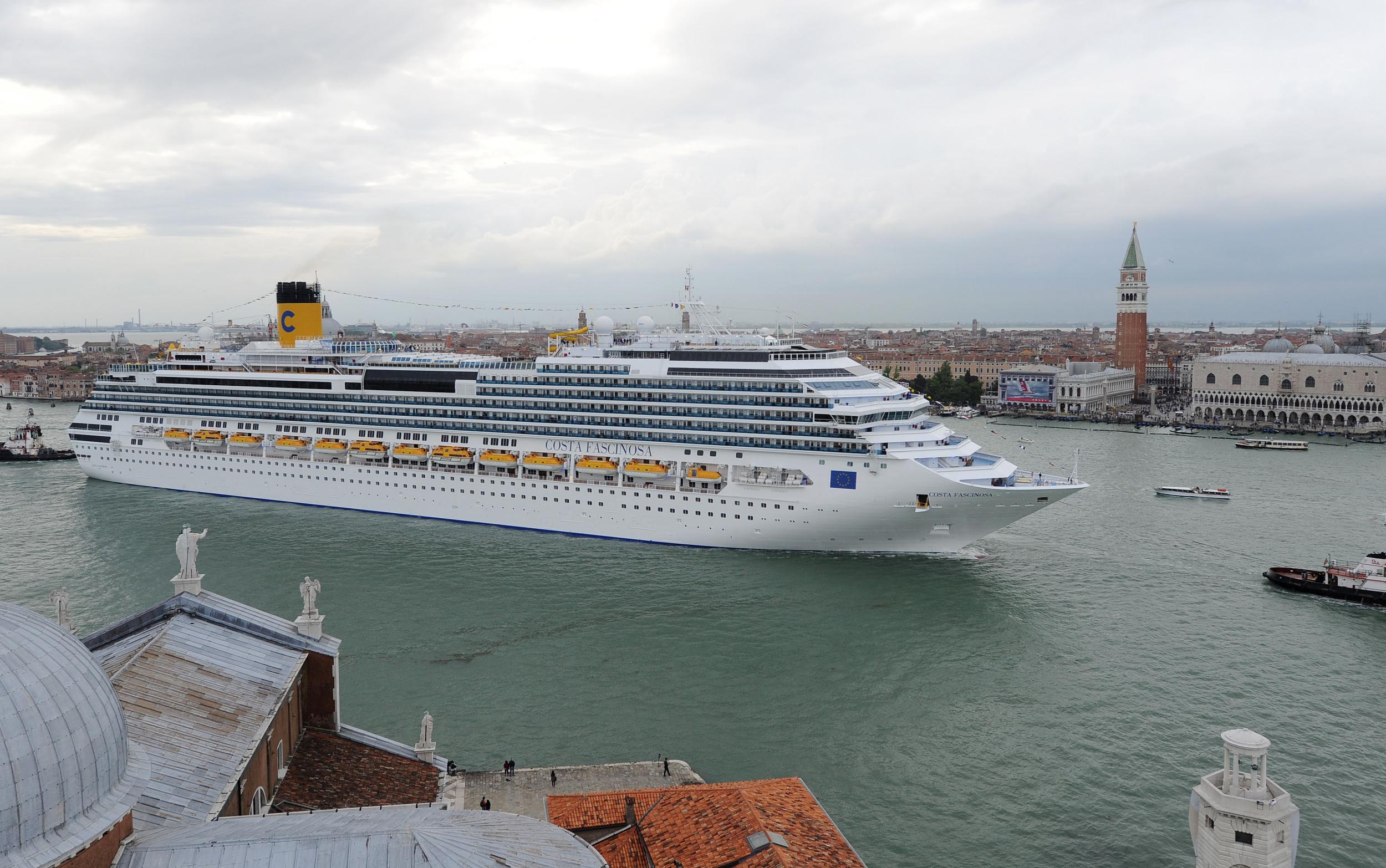 It has been a primary source of the tensions overboiling between locals and tourists in Venice, and now the matter of giant cruise ships sailing past St Mark's Square seems to have reached an uneasy resolution.
By the year 2021, an Italian government committee chaired by transport minister Graziano Delrio has decided, cruise ships over 55,000 tonnes will no longer be able to pass through St Mark's Basin and dock in the city.
Instead, they will sail through the Venice lagoon at a distance from the city, cut through at Malamocco (on the far end of the Lido, where the controversial Mose flood barrier is located), and dock on the mainland at Marghera, the industrial centre of the Veneto region.
The ruling of the "Comitatone" – essentially "committee to end all committees"– has put an end to years of disputes about the cruise industry's role in the destruction of Venice.
Many locals say that the enormous ships – which sail right past Piazza San Marco and the entrance to the Grand Canal, before entering the Giudecca Canal and running alongside the famous Zattere waterfront, eventually curling round into the port at the back of the city – are damaging the historical infrastructure, as well as polluting the waters.
Others, however, have argued that the cruise industry provides essential income to a city whose economy, these days, is almost entirely based on tourism.
Marghera, with its factories belching fumes into the air that can be seen for miles around, is not likely to go down well with tourists seeking an Instagrammable entry into the lagoon city.
The building works which must take place are expected to take between three and four years.
Venice mayor Luigi Brugnaro called it a "great result" for residents, and added he was happy that the compromise took account of the cruise income that the city receives, that "we absolutely couldn't afford to lose."
"It should be clear to Unesco and the world as a whole that we have a solution to having 'grandi navi' in the lagoon, taken with both the regional and government authorities," he said.
Luca Zaia, governor of the Veneto region, said that Marghera would be able to welcome "luxury tourism that brings value" to the area.
Ships of under 55,000 tonnes, however, will be allowed to continue along the present route.
Venetians seemed cautiously optimistic about the news – if slightly confused.
"I still don't understand what they're planning," one, who wished to remain anonymous, told The Independent.
Join our commenting forum
Join thought-provoking conversations, follow other Independent readers and see their replies