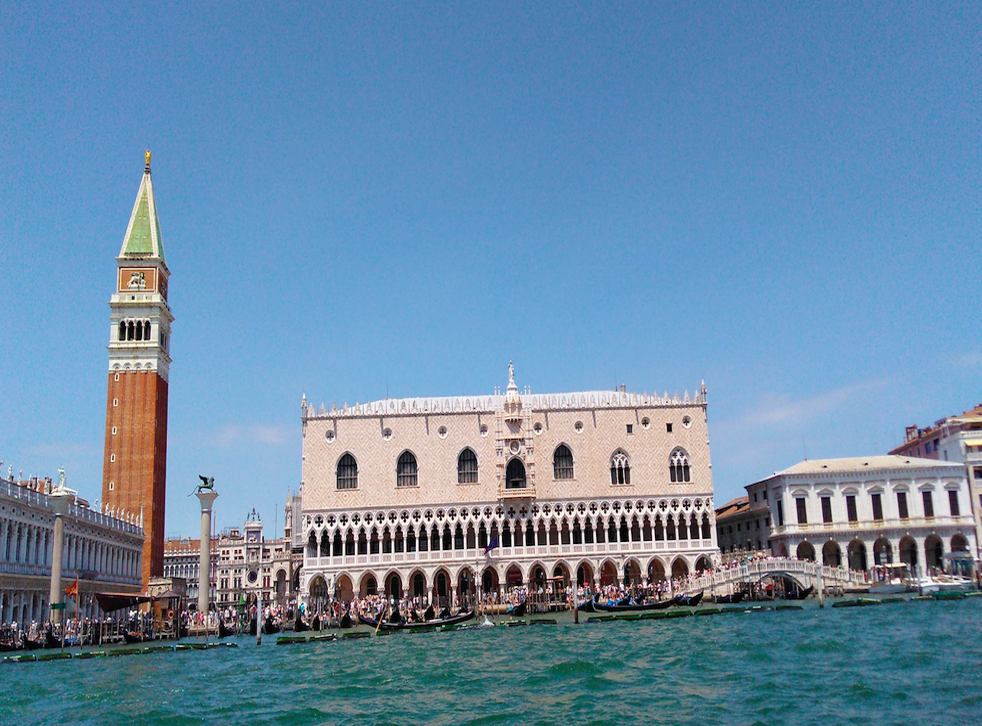 Venice to fine tourists up to €450 for bad behaviour
Want to leave a 'love lock' on a bridge? That'll be €100
Julia Buckley
Friday 28 July 2017 12:11 Comments
€100 for littering. €100 for indulging in any kind of horseplay that could be considered annoying. €400 for damaging, writing or sticking anything on buildings, benches, trees and pavements. €200 for wandering around in your bathers or going shirtless.
Those are the fines Venice has announced to back up its carrot-and-stick behavioural campaign, #enjoyrespectVenezia. Mayor Luigi Brugnaro unveiled them this week with a stern warning to visitors.
"The aim is to create more of a deterrent to people who think they can come to the city of venice and do what they want, not respecting the city, urban decorum, and public safety," he told The Independent in a statement.
"Amid episodes of bad behaviour and rudeness, this council has decided to fulfil its duty around the saving and preservation of 'urban safety'."
The city already had fines in place for bad behaviour, but they were much lower, with the average around €50. Now, €450 is the upper limit, and is reserved for people caught swimming in the canals and the waters around Piazza San Marco.
Merely bathing in the water nets a €100 fine.
€400 fines are doled out to buskers and people who perform or make art for tips without a permit; as well as anyone who makes too much noise – whether a loud TV, music or a screaming match – overnight, as well as at siesta time, from 1-3pm (or 1-3.30pm in summer). Begging will also be hit with a €400 fine.
Other things that could get tourists in trouble include attaching "love locks" to monuments and bridges (€100), using public transport without a valid ticket (€150), lying down or standing on benches (€100), climbing on trees, buildings and monuments (€200), getting changed in public (€250) and having a bike, even if you're wheeling it on foot (€100).
Picnicking and littering – even jettisoning liquid on the ground – nets a fine of between €100-200, depending on where you do it.
But it's not all negative. The #enjoyrespectVenezia campaign is also providing ideas on how to be a more responsible tourist, and creating maps highlighting public toilets and picnic areas. The aim is to release the jam around Piazza San Marco and the Rialto Bridge, where most tourists want to go, and inspire them to visit less popular areas.
Venice is struggling to cope with unprecedented numbers of visitors and widespread poor behaviour, and local tempers are boiling over this summer. Paola Mar, the councillor responsible for tourism, told The Independent that August is "like a war" in the city.
Register for free to continue reading
Registration is a free and easy way to support our truly independent journalism
By registering, you will also enjoy limited access to Premium articles, exclusive newsletters, commenting, and virtual events with our leading journalists
Already have an account? sign in
Join our new commenting forum
Join thought-provoking conversations, follow other Independent readers and see their replies