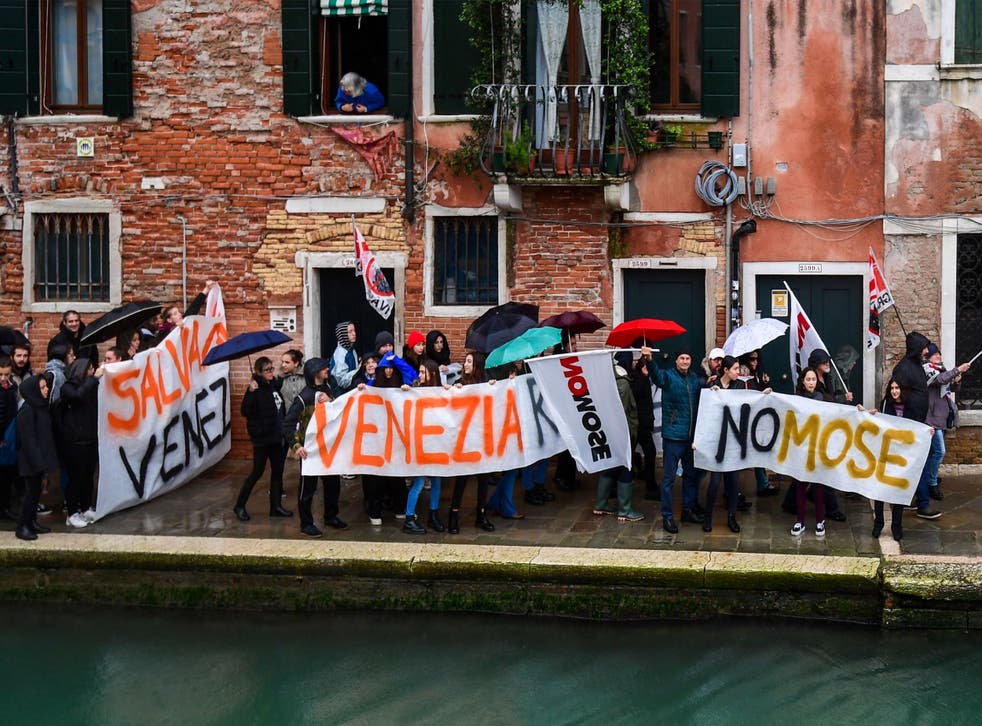 Venice residents protest against cruise ships after severe floods
'Venetians have just endured a deep wound,' says protester
Helen Coffey
Monday 25 November 2019 17:31 Comments
Following some of the worst flooding on record, thousands of Venetians were out in force to protest against large cruise ships entering the city.
Between 2,000-3,000 protesters were stirred into action by the No Grande Navi (No Big Ships) collective, which wants to have large cruise liners banned from docking in Venice.
Environmental groups and activists also took to the streets.
Protesters chanted "Venice resist" and called for the resignation of Venice mayor Luigi Brugnaro.
"Venetians have just endured a deep wound," activist Enrico Palazzi told AFP. "The flooding brought this city to its knees and revealed its extreme fragility to the world."
Venice flooding in pictures: City hit by highest tide in 50 years

Show all 15
Cruise critics claim the huge ships create waves that erode Venice's foundations.
Calls were also made to scrap Mose, a multi-billion euro flood barrier project to protect Venice against "acqua alta" (high water) events, that has been persistently delayed and dogged by overspending and corruption scandals since it began in 2003.
Although Venice is well-versed in high tides, this month has seen waters reach heights of 1.87m (6ft), the worst it's been since 1966.
The city's mayor has said the severe flooding this year is a result of climate change.
"Now the government must listen," Mr Brugnaro tweeted. "These are the effects of climate change... the costs will be high."
Progress was made of the issue of cruise ships earlier this year, when the Italian minister for transport, Danilo Toninelli, announced ships would be rerouted away from the centre of Venice to ports such as the outlying Fusina and Lombardia terminals. Both these terminals are still within the Venetian lagoon.
By 2020, a third of cruise ships are to be diverted away from central Venice.
Register for free to continue reading
Registration is a free and easy way to support our truly independent journalism
By registering, you will also enjoy limited access to Premium articles, exclusive newsletters, commenting, and virtual events with our leading journalists
Already have an account? sign in
Join our new commenting forum
Join thought-provoking conversations, follow other Independent readers and see their replies