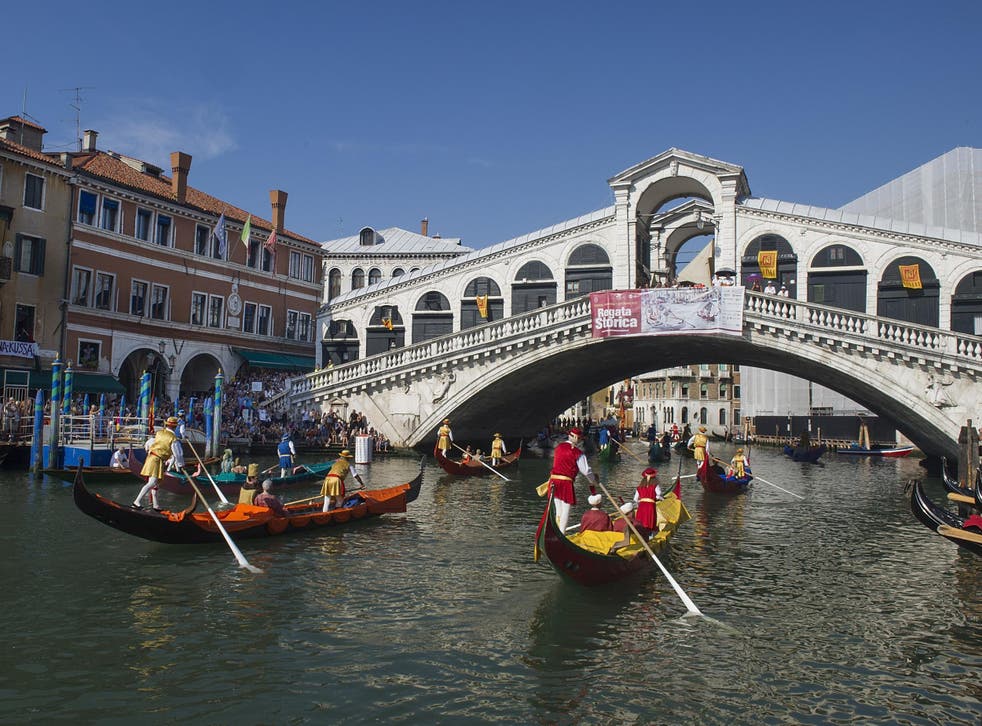 Venice bomb plot: Four arrested for planning to blow up Rialto Bridge
A neighbour said the four suspects were 'extremely well behaved boys'
Italian police have arrested four people in Venice suspected of planning an attack on the Rialto Bridge.
The group had been under surveillance for a year, said police. On intercepted phone calls they had praised last week's London terror attack and had pledged allegiance to the Islamic State group.
Three men from Kosovo – Fisnik Bekaj, 25, Arjan Barbaj, 28, and Dake Haziraj, 26 – and an unidentified minor were arrested at an address in Calle de la Mandola, in the historic San Marco district near the Palazzo Fortuny art gallery. The street is one of the main pedestrian thoroughfares to the Rialto Bridge.
In an intercepted phonecall, one of the men is reported to have said: "You'll go straight to paradise with all the non-believers in Venice… blow up the Rialto." The other person on the call agreed: "Put it there and then… boom."
Police said they had studied how to put a bomb in a backpack and were studying in a "scientific and almost medical" way of the most effective way to kill using a knife.
"We must die," another is reported to have said. "If I swear allegiance [to ISIS] tomorrow and they give me the order, I'll be obliged to kill."
Reporting on the raid this morning, local newspaper Il Gazzettino said they were known as "extremely well behaved boys".
​Manuela Malandra, wife of the apartment administrator, said: "The only thing that seemed a bit strange to us for their young age was that they were always alone, surrounded by men. We never saw women going into the apartment. But otherwise, they were extremely well behaved boys."
Today, things are "business as usual" in Venice, gondolier Alessandro Dalla Pietà told The Independent.
"People are talking about it but nothing's different - the tourism 'machine' never stops."
The Rialto is the oldest of Venice's four bridges, and dates back to the 12th century in its current form. One of Venice's main tourist sites, it reopened last winter after an 18-month, €5m renovation.
Join our new commenting forum
Join thought-provoking conversations, follow other Independent readers and see their replies