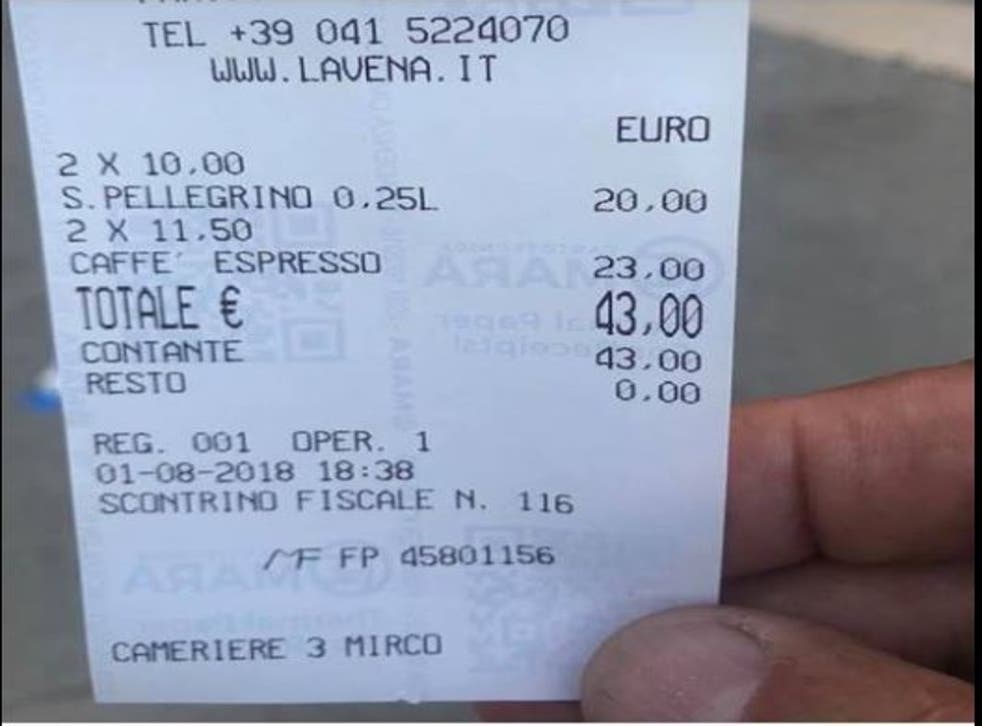 Venice café sparks anger after charging tourists €43 for two coffees and two bottles of water
A table in the city's renowned St Mark's Square comes at a premium
Joanna Whitehead
Wednesday 08 August 2018 07:43 Comments
A visitor to Caffe Lavena in Venice's St Mark's Square was left stunned after receiving a €43 (£38) bill for two coffees and two bottles of water.
Juan Carlos Bustamente, a 62-year-old political campaigner based in Italy, was astonished after being presented with the hefty charge and posted a photo of the substantial bill on Facebook to express his outrage, which has been shared nearly 10,000 times.
The eye-watering price was due to a surcharge imposed upon customers wishing to sit outside the historic cafe, which occupies the sunniest corner of the famed piazza, opposite St Mark's Basilica.
Established in 1750, Caffe Lavena's celebrated location enables customers to sit in the sunshine, listen to the orchestras that perform there, and watch the world go by.
Those wishing to forgo the scenery can purchase a coffee at the bar inside for €1.25, according to The Telegraph.
This isn't the first time the pricey coffee institution has faced criticism for its exorbitant fees.
British tourists charged €526 for lunch in Venice
In 2013, four customers who were charged €95 for four espresso coffees with liqueur also took to social media to share their indignation.
And they're far from alone. On TripAdvisor, some 25 per cent of reviewers rated the café as either "terrible" or "poor".
One recent visitor wrote: "We naively didn't look at the menu before ordering water and coffee for a family of five. €78!!! Including €11 per latte and €9 for a glass of milk for a three-year-old. Avoid at all costs. A massive rip off."
Other visitors felt that the experience was worth it, however: "On our final night in Venice, we splurged on a pudding and an Irish coffee. The bill came to €47, but soaking up the evening atmosphere and listening to the live music was a memory I will forever treasure," wrote another reviewer.
The case of four Japanese tourists who claimed to have been charged €1,100 for a plate of fried fish, four steaks and a bottle of wine in a restaurant near St Mark's Square at the beginning of the year led the city's mayor, Luigi Brugnaro, to agree to investigate the matter of extortionate pricing in The Floating City.
But with 60,000 tourists visiting Venice every day in high season, the demand for such bucket-list experiences is unlikely to diminish anytime soon.
Register for free to continue reading
Registration is a free and easy way to support our truly independent journalism
By registering, you will also enjoy limited access to Premium articles, exclusive newsletters, commenting, and virtual events with our leading journalists
Already have an account? sign in
Join our new commenting forum
Join thought-provoking conversations, follow other Independent readers and see their replies