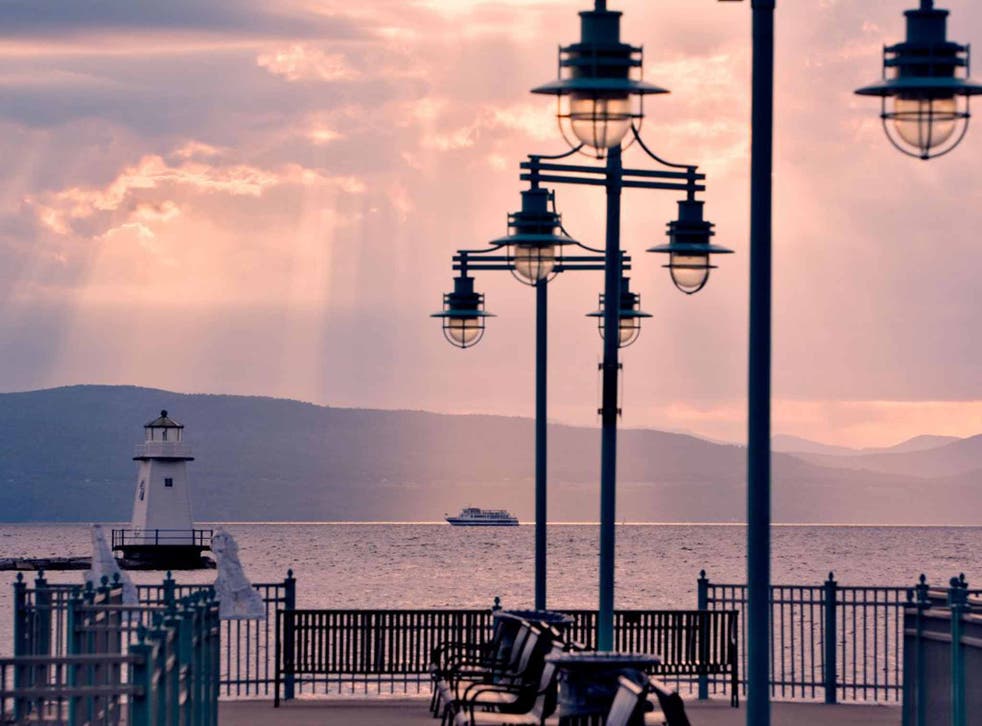 Vermont and Bernie Sanders: In 'Bernieland', they're not afraid to make waves
The little New England towns are picture-postcard pretty, helped by two things: no urban sprawl and the ban on billboard advertising
"Feel the Bern" say the bumper stickers in Vermont, celebrating that one of their two senators, Bernie Sanders is making waves as a Democrat contender for the US presidency. He may seem an improbable candidate: aged 74, and on the far left of American politics – he was once a member of the Young People's Socialist League – but Vermont is a rather special place, and he has been a successful mayor of its largest city, Burlington. So what's it like in "Bernieland"?
Well, it's different from any other US state, and hugely rewarding. Everything about it is tiny. I spent New Year in Montpelier, a little gem of 8,000 people and the least populous state capital in the Union. Vermont is the sixth smallest state in land area and, with 625,000 residents, it is second smallest in population. Only Wyoming has fewer souls.
Vermont is beautiful, extraordinarily so. There is natural beauty all over America, but the little New England towns are picture-postcard pretty, helped by two things: no urban sprawl, and the fact that billboard advertising is banned. One of America's least attractive features, crass commercialism, is toned down. There is a "we're not just in this for the money" feeling to the state, which shows through in many ways. For example, in Montpelier, the best quality supermarket is cooperatively-owned: the Hunger Mountain Co-op. It is a bit like Whole Foods, but staffed by locals who want to talk about their new novel, and it sells mostly food from local farmers, craft beers and niche foreign products – yes, they had Marmite and Fever-Tree tonic.
One of the best places to eat in Montpelier is the New England Culinary Institute, which trains chefs and catering workers and which has a restaurant where students hone their skills.
Another highlight is the Ben & Jerry's ice cream factory in Waterbury, a few miles down the road. Ice cream is perhaps Vermont's most famous export. Yes, the group is now owned by Unilever, but part of the deal was that it should carry on its sense of a cultural and social mission. They do a very good tour, of which the high point was my guide explaining that the three-pint allocation of free ice-cream that all employees could take home every day could be bartered. They aren't allowed to sell it, and three pints a day is quite a lot to eat single-handed, but she had exchanged hers for everything from an oil change at the auto-shop to, apparently, avoiding the issue of a speeding ticket. You see what I mean about people pulling together?
In pictures: US Elections 2016

Show all 15
So, what do you do aside from seeing how ice-cream is made? There's downhill skiing at some 20 resorts, including Stowe and Killington. There are lots of cross-country places, including in Montpelier and, in summer, there is sailing on Lake Champlain, which is huge and goes right up to the Canadian border. There is hiking, biking, and there's horse-riding. This is outdoors America, not city America or Disneyland.And, right now at least, it is political America, for Bernieland is a place where there is such a thing as society.
Join our new commenting forum
Join thought-provoking conversations, follow other Independent readers and see their replies