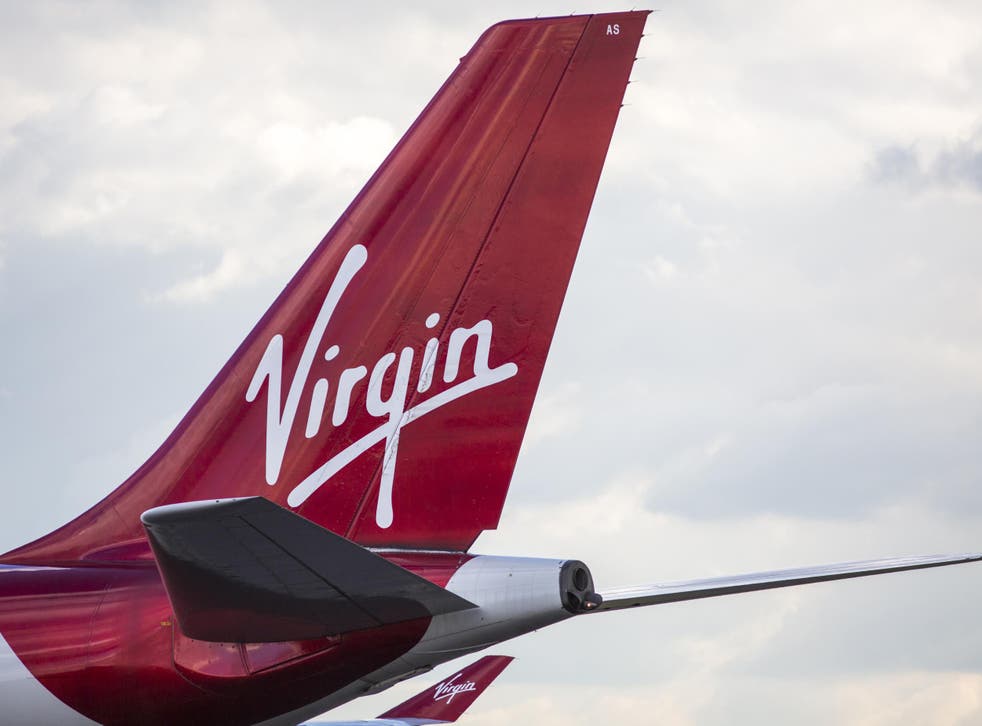 Virgin Atlantic to cut checked baggage for cheapest fares
Hand-baggage-only ticket is aimed at 'making long haul travel affordable and accessible for millennials', airline claims
Simon Calder
Travel Correspondent
Wednesday 07 March 2018 20:14 Comments
For the first time in its 34-year history, Virgin Atlantic is telling travellers who want the cheapest fares that they can take only cabin baggage.
The airline that Sir Richard Branson founded has unveiled "economy light", a ticket that subtracts checked luggage from the present offer. It will be available from spring 2019.
"The new economy light ticket will always offer Virgin Atlantic's lowest fare," says the airline, "making long haul travel affordable and accessible for millennials".
Compared with rivals, the cabin baggage allowance is meagre. It is broadly the same as Ryanair's. The maximum dimensions are 23x36x56cm with a weight limit of 10kg.
On British Airways, which is launching similar hand-baggage-only fares in April, cabin luggage can be one-third larger and weigh up to 23kg.
In addition, both airlines allow a smaller item — though Virgin Atlantic's rules say a handbag or small backpack must be "as you would normally use it (in other words, not just being used to contain items that would otherwise be regarded as baggage)". Passengers can also carry "a small amount of duty free goods".
Those travelling on the cheapest tickets will be assigned seats in the main economy cabin at check in.
The existing economy class is rebranded "classic economy", with an added benefit of the right to select seats free of charge at any time after booking.
A new "economy delight" section will offer three extra inches of legroom. Passenger prepared to pay the premium will also get priority check-in and boarding.
Craig Kreeger, the airline's chief executive, told The Independent: "All of our economy products — light, classic and delight — still include free drinks, the same food, the same frequency of service from our cabin crew. On board, economy is economy.
"But there are customers who have different expectations and want a choice, but not really compromising on any of the stuff on board."
In a dig at British Airways' "densification" process of adding extra seats, Mr Kreeger said: "Unlike some other airlines, we've been actually taking seats off aircraft to create extra legroom."
World news in pictures

Show all 50
The new configuration means Virgin Atlantic will effectively become a four-class airline, with economy, economy delight, premium economy and its business product, Upper Class. When the carrier was first launched in 1984, it had only economy and Upper Class.
"Virgin Atlantic was started by Richard [Branson] with the fundamental belief that we could do things better for customers", said Mr Kreeger.
"The idea that we could now create a match of how customers would like to fly in economy and give them choices with the great Virgin experience on board regardless of the price they paid I think is totally in keeping with the Virgin Atlantic spirit."
Virgin Atlantic's partner, Delta, has already launched "basic economy" fares on transatlantic flight, but has no weight limit for cabin baggage.
The aviation analyst John Strickland said: "Airlines like Virgin are witnessing the passenger appeal of long-haul low-cost services, especially out of Gatwick, and they see these new fare offers as an opportunity to tap into additional very price-sensitive traffic.
"Equally, of course, it provides a defence against loss of traffic to long-haul low-cost carriers as well as making their lives more difficult by reducing any price advantage they may have."
Register for free to continue reading
Registration is a free and easy way to support our truly independent journalism
By registering, you will also enjoy limited access to Premium articles, exclusive newsletters, commenting, and virtual events with our leading journalists
Already have an account? sign in
Join our new commenting forum
Join thought-provoking conversations, follow other Independent readers and see their replies