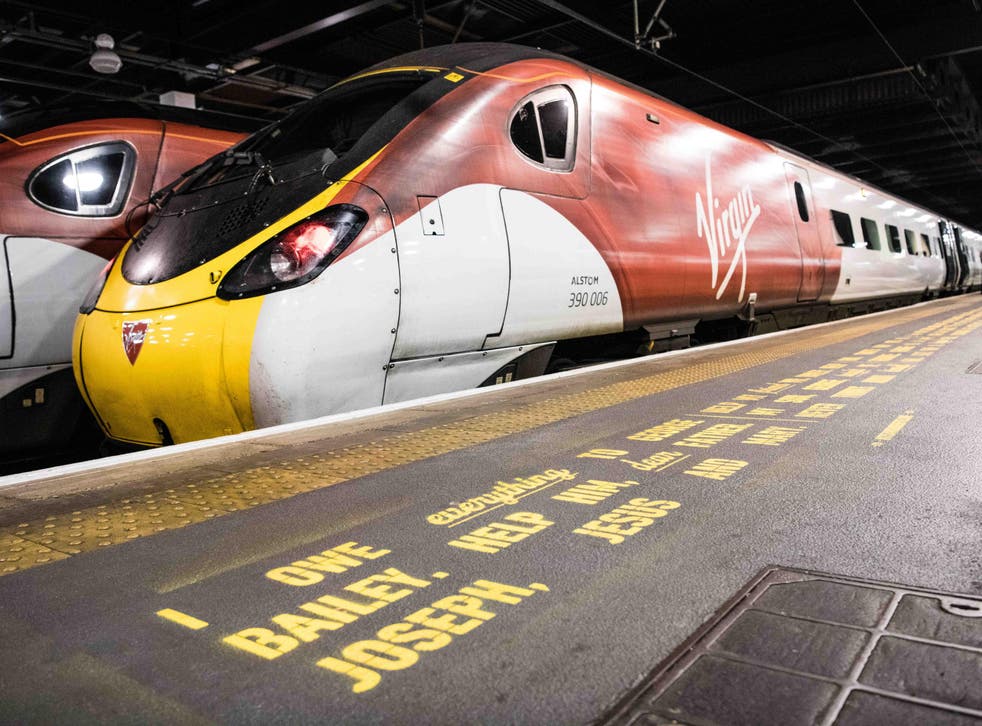 Virgin Trains paints It's a Wonderful Life quotes on platforms to help people struggling with mental health issues
The project aims to inspire people to be kind to one another
Virgin Trains is painting quotes from Christmas favourite It's a Wonderful Life on platforms across the UK as part of a new campaign.
The quotes will be on every platform along the London to Glasgow route, with the aim of showing how powerful small acts of kindness can be.
Launched in partnership with the charity Rethink Mental Illness, the "It's a Wonderful Line" initiative will also include links to online guides that include simple steps for how to help someone struggling with poor mental health.
The 7.5km of script will be gradually unveiled during the festive period, painted over the course of 14 nights in 14 locations.
The 1946 film has remained a Christmas viewing staple since its release. Telling the story of George Bailey, played by James Stewart, it shows how life gradually grinds him down to the point where he thinks the world would be better off without him. However, before he takes the fatal step an angel shows him what would have happened if he'd never been born, and the number of people whose lives he has touched for the better.
"It's a Wonderful Life is a story of hope, redemption and kindness, which teaches us that having someone there for you when you need it the most is one of the greatest gifts you can receive," says Natasha Grice, executive director of people at Virgin Trains.
"Many of our people have been personally affected by the issues raised in this campaign or know someone who has been. This is why we wanted to get as many of our staff involved as possible, working to create a message of kindness that will touch as many of our customers as we can.
"We want everyone to know there's help out there, and that if you're not affected by poor mental health, it's really easy to help someone who is."
Quotes from the film include those from the scene in which members of George Bailey's community pray for him in his hour of need: "I owe everything to George Bailey. Help him, dear Father.
"Joseph, Jesus, and Mary. Help my friend, Mr. Bailey
"Help my son, George, tonight."
Throughout December, customers can watch the feature film on Beam1, Virgin Trains' free on-board entertainment service.
Volunteers from Rethink Mental Illness, which directly supports almost 60,000 people with mental health issues each year by providing advice, information, services and groups, will also be fundraising at stations during the campaign.
Join our new commenting forum
Join thought-provoking conversations, follow other Independent readers and see their replies