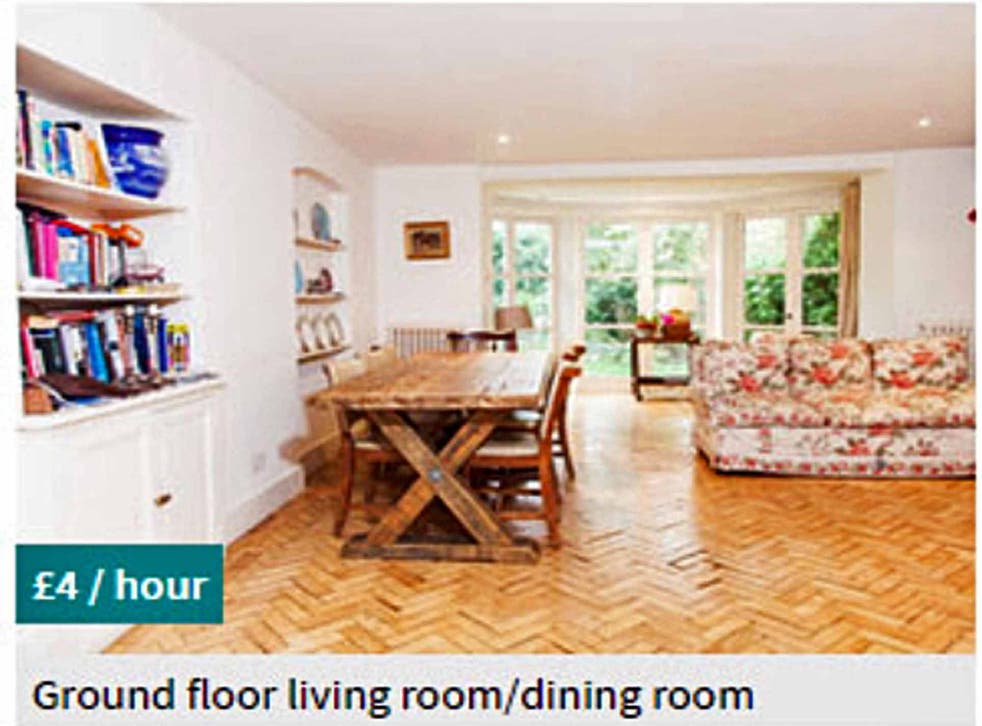 Vrumi's rooms by the hour: Do by day what Airbnb does by night
Simon Usborne meets the entrepreneurs behind a new start-up who want to see you renting your study or living room by the hour
Simon Usborne
Monday 19 January 2015 21:00 Comments
Yours for £2 an hour: a large barge, moored within a pigeon's poo of Tower Bridge. Includes cat but "not ideal for someone who gets seasick easily". Or how about a garden shed in Kensal Rise, for £5 an hour. Or, for £800 a night, a grand dining room in Kensington with attached drawing room. "The atmosphere is that of a traditional club mixed with slightly ethnic taste which works very well," the anonymous owner suggests.
Vrumi is the latest well-funded start-up to plunge into the apparently booming sharing economy, doing by day what Airbnb does by night. Founded by a hedge-fund gazillionaire and his friend, a publisher turned champion of poetry and libraries, the site matches the space most of us leave empty between 9 and 5 with people who could use it for, well, whatever.
"We've had interest from someone who wanted a place for a brainstorm for a day, a writer who wanted somewhere quiet, and a group of students," says William Sieghart, the poetry guy, who isn't sure what the students wanted to do in someone else's rented room.
"Or say you're a masseur, a physio or a tutor," he adds. "Maybe on Thursday you need to be in Notting Hill, but somewhere else on Friday, and you live in a completely different part of town. Finding a place where your clients are is an attractive proposition."
Chic new hotels for 2015

Show all 5
The venture is a departure for Sieghart, who was last seen in these pages warning against the demise of libraries in his report, commissioned by the Government. The big brother of big-shot journalist, Mary Ann Sieghart, and husband of Molly Dineen, the filmmaker, he sold his own contract-publishing company for a rumoured £47m in 2002, and went on to launch the Forward Poetry Prizes and National Poetry Day.
Roddy Campbell is the hedge-fund guy, and has been funding hedges since 1984. He and Sieghart are mates, and say they conceived Vrumi over a drink, launching the online marketplace this month.
No shortage of financial clout or connections, then, but can a company inspired by Airbnb hope to get close to its global success, while also escaping the pitfalls of a new way of doing business? Moreover, is offering a marketplace for rooms available for rent by the hour an invitation to those conducting extra-marital affairs – or worse?
"The most important thing about Airbnb is the peer feedback," says Sieghart. "I think feedback will be vital for us in establishing that users or use are appropriate. But I also think it's far more attractive to rent to someone in the daytime rather than them using your bed."
Back to the website, where 43 spaces have so far been added to the books, all of them after word-of-mouth appeals by Vrumi's small team at their base in Berkeley Square (where rented offices cost rather more than £2 an hour). All the properties are in London, with a notable westward leaning, but there are plans to expand nationally and beyond if things take off.
A stunning, £7.50-an-hour bathroom in Notting Hill, is advertised as "perfect for beauty therapy" but looks so nice – oak-topped tub, fireplace, chaise longue – that I would be tempted to pay that just for a posh bath and a read (also: "happy to negotiate a lower hourly rate for a regular user"). Round the corner, a study on offer for £5 an hour (£200 for a 40-hour week) gives a clue about who might want to rent out a room and why. "I work in the financial services and my partner is a civil servant," Patrick, the host, writes. "Our children are away at university so our study is left empty during term-times."
Sieghart hopes the flexibility of the model will appeal to freelancers, creatives and fellow starter-uppers. "Often people have to commit to somewhere for a long time when renting an office," he says. Would he consider opening up his own home to paying guests? "Absolutely. I've got small enough children and I'm married to someone who works from home so it would be problematic now, but when we're an empty nest, it would be great."
Register for free to continue reading
Registration is a free and easy way to support our truly independent journalism
By registering, you will also enjoy limited access to Premium articles, exclusive newsletters, commenting, and virtual events with our leading journalists
Already have an account? sign in
Join our new commenting forum
Join thought-provoking conversations, follow other Independent readers and see their replies