Wellness holidays: From meditation weekends to high-tech rejuvenation
Whether you want to take care of your body, soothe your mind, or just indulge in some rest and relaxation, there will be a break to suit, writes Caroline Sylger Jones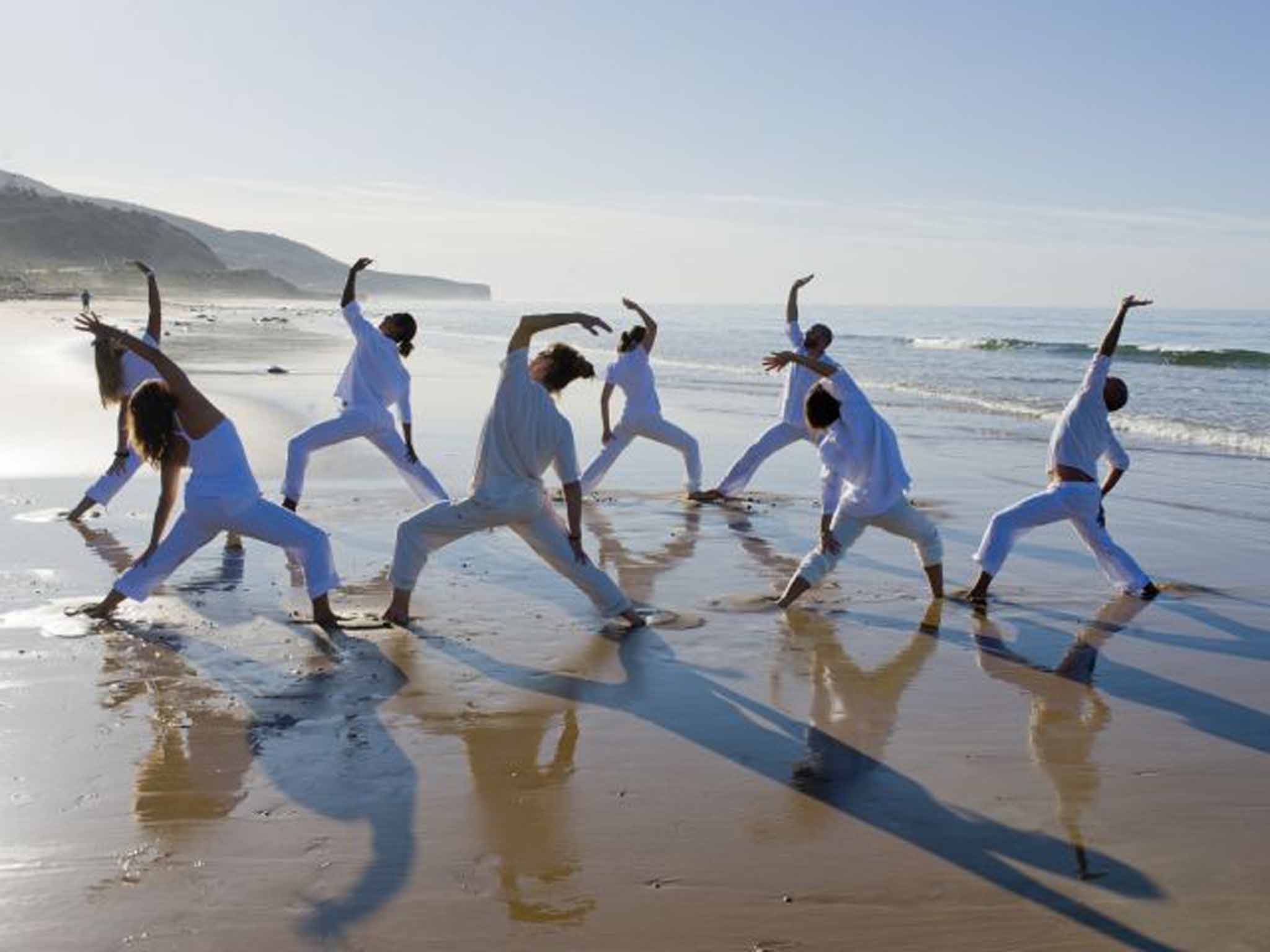 The wellness industry is, according to the Global Spa & Wellness Summit, worth more than the entire British economy – over £2 trillion. Even if you regard this as far-fetched, there is no argument about the increasing array of treatments available in ever more luxurious surrounds.
From Kamalaya on the Thai island of Koh Samui (00 66 77 429 800; kamalaya.com), which opens a new state-of-the-art fitness centre this year, to SwaSwara (00 91 8386 257132; swaswara.com), an authentic Ayurvedic experience in Karnataka, India, spas spend huge amounts of time and money creating just the right look and feel to soothe minds, while their holistic programmes take care of our bodies. Get the therapist right, however, and a simple room can be all you need for a transforming experience. For example, the sole treatment room at Hotel Tresanton (01326 270055; tresanton.com) in Cornwall is home to respected facial reflexologist Graham Sluter, who treats insomnia, stress and hormonal imbalances as well as making your skin look good.
Among group retreats, the most successful ensure they offer genuinely tasty cleansing meals, rather than predictable "brown" veggie fare, and that healthy cooking workshops can help us learn how to eat well back at home. Last year, there was much discussion in the media over whether sugar or fat is worse for us. While cutting out fatty foods is comparatively straightforward to plan – if not to execute – knowing just how to eliminate or regulate our intake of the sweet stuff is more complex. As nutritionist Max Tomlinson put it during a week with Hellenic Healthy Holidays (07970 008727; hellenichealthyholidays.com) on the Ionian island of Kefalonia: "When blood sugars are fluctuating, you're either high as a kite or downright nasty."
In pictures: Wellness holidays
Show all 6
Boutique holistic holiday company in:spa (020 3235 0120; inspa-retreats.com) now has a sugar-detox option on its weeks in Morocco, France and Spain, while The Body Retreat (020 3701 1603; thebodyretreat.co.uk) starts its dedicated five-day Sugar Detox Retreats for women this month in the Somerset countryside. The price of £1,250 includes accommodation, meals, gentle exercise, two body treatments and cooking, hypnotherapy and Neuro Linguistic Programming (NLP) workshops.
We may want less sugar, but what we need more of is silence, especially when, according to Ofcom, we spend more time on digital devices (eight hours and 41 minutes a day) than we do asleep (eight hours, 21 minutes).
Introductory meditation weekends at Buddhist retreats get booked out well ahead, but The Orange Tree (01751 417219; theorangetree.com) in Yorkshire includes mindfulness and silent meditation on most of its weekend retreats. The next available is a Relaxation Weekend from 30 January, £225 per person for two nights, all-inclusive. Meanwhile, the ever-inventive Reclaim Your Self (020 8350 8943; reclaimyourself.co.uk) has Digital Detox weekends from £325 per person, all-inclusive, in a stately home in Bedfordshire or a 16th-century house in Suffolk. The weekends combine yoga and healthy eating with mindfulness and talks on how to manage your online life.
There are also an increasing number of options for those recovering from serious illnesses and conditions. Long-stay support is available in the tropics at The Farm at San Benito (00 632 884 8074; thefarmatsanbenito.com) in the Phillippines, where recuperating guests can bring their children. Puyssentut (00 33 5626 00863; puyssentut.org) offers week-long post-cancer retreats at a restored chateau in the countryside of south-west France. Closer to home, Grayshott Spa (01428 602020; grayshottspa.com) in Surrey has launched its Nurture and Support programme to care for people after cancer treatment (from £1,325 per person for four nights).
Whether your motivation is health, fitness or peace of mind, there is sure to be a spa or holiday out there for you.
British Isles
There are plenty of great options for some rejuvenation close to home. The transformative coaching and raw food retreats at Split Farthing Hall (01845 597 041; splitfarthinghall.co.uk) in Yorkshire will be available in the south of England from April. Full details of the new retreats remain under wraps until the end of this month, but they will take place in country locations in Sussex and Hampshire, with prices starting at £515 for three nights.
Yeotown (01271 343803; yeotown.com), an elegant converted farm in north Devon, has started offering its five-day Yeotox retreat every week, while Newbold House in Scotland (01309 672 659; newboldhouse.org) now runs private wellbeing retreats in a grand Victorian mansion, each tailored to an individual's needs, with options including yoga, meditation, bread-making, gardening and foraging.
For authentic ayurvedic treatments in contemporary lodges head to The Clover Mill in Worcestershire (01886 880 859; theclovermill.com), or for some spa action, head to Essex's Lifehouse Spa, with its Chiva Som-trained experts (01255 863 400; lifehouse.co.uk).
Asia
With a soothingly hot climate and the world's most unflappable therapists, Asia remains a favourite escape for travellers in search of relaxation. You can learn tai chi in China, soak your cares away in an onsen (Japanese thermal hot spring) or meditate in the unpopulated landscapes of Mongolia.
The new kid on the luxury block is Vana (00 91 11 4060 0000, vanaretreats.com), a wellness retreat with an ayurveda centre and a peaceful vibe, which opened last year on a 21-acre estate in Dehradun, northern India. Ampersand Travel (020 7819 9770 ampersandtravel.com) is offering 11 days here from £2,897pp including flights, transfers, use of all resort facilities and two spa treatments.
Also in India, the serene Ananda in the Himalayas (00 91 124 451 6650; anandaspa.com) near Rishikesh has started up a dedicated Yogic Cleanse programme that uses ancient techniques to detoxify both your body and mind.
Absolute Sanctuary (00 66 77 601 205; absolutesanctuary.com) on Koh Samui in Thailand now runs Pilates Reformer Bootcamps to help tone and strengthen your body. The Healthy Holiday Company (020 8968 0501, thehealthyholidaycompany.co.uk) has a seven-night pilates and spa programme based here for £1,960pp full board, with a full pilates reformer programme, three massages, flights and transfers.
A spa break doesn't have to mean sticking to the tourist trail. Reclaim Your Self (020 8350 8943; reclaimyourself.co.uk) is running the first Jivamukti yoga retreats in the Mongolian desert this July (from £1,500pp for six nights, all-inclusive, except international flights).
Africa & Indian Ocean
Only a few hours' flight from the UK, yet with a lovely warm climate, Morocco continues to sprout new healthy holidays. Enjoy a meditation week at La Pause in the Marrakech Stone Desert with Mindfulness Journeys (00 33 6 38 02 73 03; mindfulnessjourneys.com), go on a Wellbeing Weekend in a Marrakech riad with Satvada Retreats (0203 695 2375; satvada- retreats.co.uk) or take a fitness break at yoga and spa resort Paradis Plage, just outside Agadir, with Fitscape (0845 458 0723; fitscape.co.uk).
Elsewhere, The Four Seasons Resort Maldives, at Landaa Giraavaru, has built a yoga pavilion in a jungle clearing dedicated to Christopher Harrison's therapeutic AntiGravity Yoga. Healing Holidays (020 7843 3597; healingholidays.co.uk) has seven nights at Landaa Giraavaru; the £4,015pp includes half board, three anti-gravity yoga sessions, flights and transfers.
Over in Bali, the School of Life programmes at Spa Village Tembok (00 60 3 2783 1000; spavillageresort.com) include daily creativity classes as well as yoga and treatments. Prices from $364 (£240) per room per night for a four-night retreat.
Europe
Europe is graced by a number of classy retreats, particularly in Spain. Olive (00 34 619 120 195; oliveretreat.com) in Andalucia runs gentle weeks of cleansing food and relaxation in a converted farmhouse.
For high-tech rejuvenation, the sleek macrobiotic clinic SHA (00 34 966 81 11 99; shawellnessclinic.com), in Alicante, has doubled in size to feature all sorts of wizardry including an Alzheimer's Prevention and Cognitive Function Stimulation Unit; while on Ibiza, 38 Degrees North (07527 407589; thirtyeightdegreesnorth.com) launches DNA Fit Ibiza in April. It tests a client's DNA before arrival so they get a bespoke programme to suit their fitness, injury risk, recovery potential and nutritional needs.
Elsewhere, Yobaba Lounge (07834 96 3000; yobabalounge.com) in France offers yoga, meditation and vegan food at a shabby-chic village chateau, while Zening (00 357 26 332 777, zeningcyprus.com), is a beachside yoga hotel in Cyprus that starts accepting children this year.
The Americas
Take your pick from surfing and yoga in Costa Rica, dancing in the Caribbean or detoxing on Brazil's Costa Verde. In Pagatonia, head to Peuma Hue (00 54 9 294 450 1030; peuma-hue.com), a rural estate that offers yoga, tango classes, bodywork and a fire-heated hot-tub as well as kayaking and hiking.
For high-altitude wellbeing, HighLives Travel (020 8144 2629; highlives.co.uk) has a 10-day Culture, Calm and Cuisine trip to Peru that includes a traditional ceremony with an Andean shaman and a three-day spa retreat. From £4,200pp for 10 days, excluding flights.
For weight loss, sign up for the gruelling schedule at The Ashram in the Santa Monica Mountains of California (00 818 222 6900; theashram.com), or get an all-over MOT at the Rancho La Puerta (00 800 443 7565; rancholapuerta.com) near San Diego. Health and Fitness Travel (020 3397 8891; healthandfitnesstravel.com) has seven nights at Rancho La Puerta from £2,685pp; with full board, all fitness classes, activities, flights and transfers.
New for 2015
This month sees the opening of Villa Stéphanie within the grounds of Brenners Park Hotel and Spa in Baden-Baden (00 49 7221 9000; villastephanie.com). It describes itself as "dedicated to the world of spa", and will have 12 guest rooms and suites.
On the Isles of Scilly, Karma St Martin's resort (01720 422368; karmaresorts.com) will bring the holistic Karma Spa brand from Bali to UK shores in late March. Guests can expect Asian-inspired treatments and cottage-like rooms.
Having pushed back its scheduled 2014 opening, The Gainsborough Bath Spa (thegainsboroughbathspa.co.uk) is now set to open in the spring. It will be the only hotel to have access to Bath's natural thermal waters.
Phoenix and the Wolf (0333 200 7195; phoenixandthewolf.com) starts spiritual retreats in Wales from March, followed by pilates breaks in Tuscany and life-coaching sessions in the Lake District later in the year.
UK-based company Shh (020 3691 8755; sensualhealingharmony.com) runs luxury healing breaks to help women reconnect with their sexuality. It will launch its first retreats in California later this year.
Click here to view the latest travel offers, with Independent Holidays.
Join our commenting forum
Join thought-provoking conversations, follow other Independent readers and see their replies