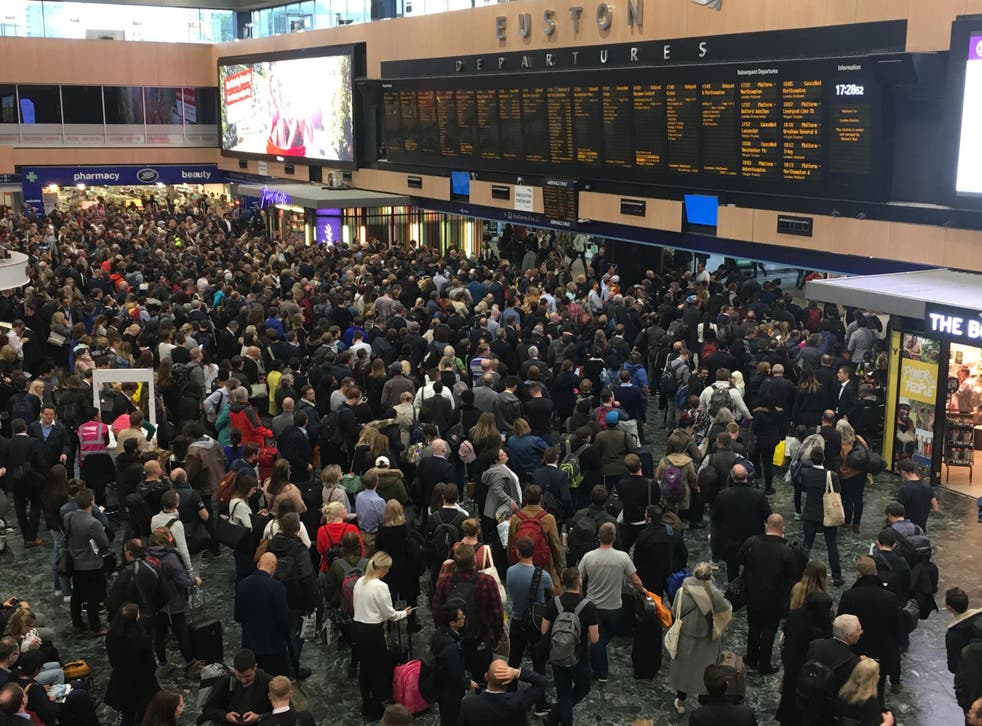 Labour conference: Politicians and media stranded in Liverpool as west coast main line trains stop running
Jeremy Corbyn tweeted: 'Couldn't make this up. We need public ownership of our railways'
Wednesday 26 September 2018 16:50 Comments
Politicians and members of the media face a long and difficult journey from the Labour Party conference in Liverpool due to a near-shutdown of the west coast main line.
The line from London Euston serving the West Midlands, northwest England, north Wales and Scotland, is claimed to be Europe's busiest "mixed use" railway. But a signalling fault near North Wembley closed all lines.
At 12.30pm a broken cable cut off the power to the signals. At 2pm, the National Rail website warned travellers: "All lines are currently blocked."
Virgin Trains inter-city services to and from Liverpool, Manchester, Birmingham and Glasgow were at a standstill, along with London Northwestern "outer suburban" trains.
Only London Overground services, which run on slower tracks beside the main line, remained operating.
On hearing the news, Jeremy Corbyn tweeted: "Couldn't make this up. We need public ownership of our railways."
It is not clear if the Labour leader realised that the fault was the responsibility of Network Rail – a public body under the control of the Department for Transport.
James Dean, chief operating officer for Network Rail's London North Western route, said: "We restored power to the signals at Wembley at 2.30pm.
"Trains are moving again but it will take some hours before they are all running to the normal timetable.
"We are really sorry to everyone impacted by this."
Although the lines re-opened in mid-afternoon, schedules are in disarray, with staff and rolling stock out of position.
At the start of the rush-hour from London, all five long-distance services between 4.20pm and 4.40pm from Euston were shown as "delayed".
Several of the normally hourly trains from Liverpool were cancelled, and those that ran were delayed by up to an hour.
Passengers between London and Birmingham are being told to use Chiltern Railways between Marylebone and Snow Hill. Services are expected to be extremely busy.
Euston is the fifth-busiest station in Britain, and handles an average of 120,000 passengers per day.
The terminus was closed for three successive weekends in late August and early September for track replacement at North Wembley, location for today's fault.
At the time Martin Frobisher, managing director for Network Rail's London North Western route, said: "This work will result in better, more reliable journeys in future."
Register for free to continue reading
Registration is a free and easy way to support our truly independent journalism
By registering, you will also enjoy limited access to Premium articles, exclusive newsletters, commenting, and virtual events with our leading journalists
Already have an account? sign in
Join our new commenting forum
Join thought-provoking conversations, follow other Independent readers and see their replies