Where are the foodies going in 2014?

Show all 8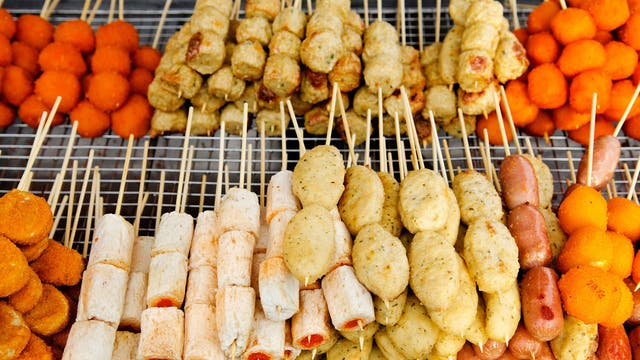 Where are the foodies going in 2014?
From Malaysia to the Lake District, Lonely Planet's Robin Barton reveals this year's culinary hot spots
Robin Barton
Sunday 02 February 2014 01:00 Comments
#1 destination: Penang, Malaysia
Everyone's talking about it right now because… Malaysian hawker food has spread worldwide via food trucks and pop-ups but nothing compares to hitting Penang. Its food reflects the intermingling of the many cultures that arrived after it was set up as a trading port in 1786, from Malays to Indians, Acehenese to Chinese, Burmese to Thais. State capital Georgetown is its culinary epicentre.
Make sure you try… Char kway teow (flat rice noodles with shrimp, bean sprouts, egg and sweet Chinese sausage), hokkien mee (egg noodles in a pork broth with prawns, egg, bean sprouts and water spinach), and asam laksa (thick noodles in a spicy fish broth with tangy asam, a sour tamarind paste).
But think twice about… Sago grubs – the 4cm-long larvae of a South-east Asian beetle.
The hot restaurant… Explore the sprawling Esplanade Food Centre, where hawker faves combine favourably with a seafront location.
Is there a good market? A pasar malam is an open-air night market – such as Jelutong on a Friday and Macallum Street Market on a Monday. The highlight is always the food: at 2am a different world of stalls serves peppery pork-rib soups, skewered fish balls and sweets such as chendol (cold coconut-milk dessert).
What should I drink? Air bandung – rose syrup and evaporated or condensed milk. It makes a great accompaniment to Malay food.
The flavour of the street… Try Nazlina Spice Station, a cookery school which also offers guided tours of food markets.
Useful words… Sudah makan? Have you eaten yet?
#2 destination: Victoria, Australia
Everyone's talking about it right now because… The annual Melbourne Food and Wine Festival at February's end showcases Australia's cosmopolitan cuisine.
Make sure you try… Meat pies at the footy and a chicken parmigiana at the pub. Both are staples, if prosaic. The region's real treats have been introduced by Victoria's immigrant communities: pizza as good as Naples', Greek souvlakia, and endless Vietnamese dishes.
But think twice about… Chiko Rolls: dodgy, deep-fried savoury rolls that debuted at the Wagga Wagga Agricultural Show in 1951.
The hot restaurant… Acclaimed chef Dan Hunter's Brae in Birregurra, a tiny town an hour's drive inland from beach town Apollo Bay via the Otways eucalyptus forest. With fruit trees, olive groves and space for livestock, Brae is as close as you'll get to a local, seasonal Australian cuisine in an idyllic setting.
Is there a good market? Queen Victoria Market lies on the north side of Melbourne's CBD. Its heart is the grid of fresh fish and meat counters, where you can pick up some locally caught prawns (or bugs and yabbies if you want to get adventurous) for a barbie.
What should I drink? Forget Foster's: with more than 30 indie breweries across the state, Victoria's craft-beer scene is Australia's most exciting, producing hopped-up pale ales for summer and seasonal specials. Many breweries feature a bar: drop into Bridge Road Brewers in Beechworth, Holgate Brewhouse in Woodend, and Melbourne's Mountain Goat (Richmond) and Kooinda (Heidelberg West) breweries for a pot or two (see below). Too early for a cold one? Australian coffee enjoys an unmatched authority overseas.
The flavour of the street… The fad for upmarket Mexican food is ebbing but food trucks are here to stay: broadsheet.com.au details Melbourne's fast-moving scene.
Useful words… Pot: a 10fl oz measure of beer. Flat white: the standard style of coffee. How ya goin'?: customary greeting
#3 destination: North-west Spain
Everyone's talking about it right now because… Its restaurants, along the Asturian, Galician and Cantabrian coasts and deeper in the Basque Country, have dominated recent "best restaurant" lists. Asador Etxebarri, Arzak and Mugaritz conjure traditional Basque ingredients into delectable new forms.
Make sure you try… Nothing holds a place in the Basque heart like dry, salted bacalao (cod). Try esqueixada, a salad of raw, desalted bacalao with tomatoes, olives and onions.
But think twice about… Galician goose barnacles (percebes), Spain's most highly prized (and priced) crustacean. Rampant over-harvesting is reducing numbers.
The hot restaurant… San Sebastian, the Basque city acclaimed by Ferran Adrià as one of the finest places to dine on Earth, is still at the top of its game. If you miss out on Arzak, stop for pintxos (Basque tapas) and beer at a bar such as Astelehena.
Is there a good market? San Sebastian's chefs scour the city's La Bretxa for produce.
What should I drink? Chocolate caliente – hot cocoa so thick that it is barely able to be poured from the urn. In Cabrales, cider from Asturian orchards is the go-to drink.
The flavour of the street… Pintxos in San Sebastian's bars: try croquetas of clams, piquillo peppers stuffed with oxtail or a classic gildas (an olive, an anchovy and a pickled pepper on a cocktail stick).
Useful words… Menu del dia – by law all restaurants in Spain are required to offer a three-course menu of the day; its price is always less than the same items à la carte.
#4 destination: Deep south, USA
Everyone's talking about it right now because… The spiced, smoky flavours of Cajun and Creole cooking and finger-licking favourites of fried chicken, barbecue and French-influenced bakeries are starting to get global attention, not least in London with new restaurants Jackson + Rye and Q Grill.
Make sure you try… Traditional Southern home cooking might mean fried chicken or pork chops, greens such as collards or turnip tops cooked with a ham hock, sweet potatoes, fried okra, fruit pies and towering coconut layer cakes. In the bayou country of Louisiana, Cajun food marries native spices such as sassafras and chilli pepper with provincial French cooking, while the Creole food of New Orleans is more citified – shrimp remoulade, crawfish étouffée and beignets. Nothing epitomises the mix of European cuisines and American ingredients than jambalaya, a rich one-pot stew of seafood, meat and vegetables native to New Orleans.
But think twice about… The region's deep-fried dishes – such as floured and fried chicken gizzards – are best eaten in moderation.
The hot restaurant… Louisiana local Justin Girouard's breakfast joint du jour, The French Press. The crispy soft-shell crab, smoked duck breast and home-made sausage are to die for.
Is there a good market? There are frequent farmers' markets across the Deep South. From Georgia's peaches to Lousiana's crawfish, this is cuisine best bought fresh from the farm.
What should I drink? A mint julep: bruised spearmint, bourbon, sugar, water and enough ice cubes to spare one to clasp to your brow.
The flavour of the street… Treme, the TV show by The Wire's David Simon (with contributions from Anthony Bourdain), has spawned a cookbook and food-and-jazz tours of its eponymous N'Orleans neighbourhood.
Useful words… Po'boy: a foot-long sandwich filled with fried shrimp and oysters. Grits: a maize-based porridge. Statins: cholesterol-lowering medication.
#5 destination: Lake District, UK
Everyone's talking about it right now because… Cumbria's pubs and restaurants are increasingly recognised as making the best use of local and seasonal produce in Britain.
Make sure you try… Cumberland sausage, traditionally sold in a coil, is the only British sausage to have Protected Geographical Indication. From the sand flats of the north-west, Morecambe Bay's brown shrimps are potted in butter with spices (nutmeg or mace, cayenne pepper), salt and lemon. Saltmarsh lamb is grazed in the marshes of the Cartmel peninsula, eating wild grasses seasoned by the salty air. Look for the local Herdwick variety.
But think twice about… Kendal Mint Cake. A hit of peppermint-infused sugar is just about acceptable if you're about to go fell-running but if not, do you really need all those calories?
The hot restaurant… Simon Rogan's riverside L'Enclume sets the standard for modern British cooking. His dishes use the Lakes' wildest ingredients, including plants such as fat hen, wild berries and fungi, and local products including black pudding.
Is there a good market? Farmers' markets rotate through Kendal, Keswick, Orton and other towns every month.
What should I drink? Local beers such as the award-winning Windermere Pale Ale from Hawkshead Brewery and Keswick Brewing Company's seasonal brews; both breweries offer tours and tastings.
The flavour of the street… Sticky toffee pudding was invented at Cartmel Village Shop, which still claims to make the best in the region – an assertion that deserves extensive taste-testing around the lakes and fells.
#6 destination: Puglia, Italy
Everyone's talking about it right now because… Suiting these austere times, Pugliese cuisine is born of cucina povera (peasant food), with dishes that merge bountiful local fresh vegetables and straight-from-the-sea fish. Specialities include the glorious comfort food riso, patate e cozze (rice, potatoes and mussels) and friselle (dried bread rolls softened with olive oil and served with tomatoes).
Make sure you try… Puglia's sublime orecchiette pasta served with cime di rapa – bitter turnip tops tossed with anchovies. Pugliese pane (bread) is legendary; the best is cooked in a wood-fire. Local sheep and cow's milk cheeses are excellent, including burrata – made by treating mozzarella and placing a bit of cream inside. The outside is impeccably smooth; when you cut it open, you release strips of cheese encasing the cream.
But think twice about… Nothing.
The hot restaurant… Explore Lecce's back-streets for local trattorias for a taste of cucina povera.
Is there a good market? All Pugliese towns and white-washed villages have a market to knock the socks off your local one; Gallipoli's seafood market is worth seeking out.
What should I drink? A glass of primitivo, the local grape; wine, like the rest of Italy's cucina, is not accorded noble status. It's simply an intrinsic part of life. The region also produces much of Italy's olive oil.
The flavour of the street… Venture along the craggy and forested Gargano peninsula on the Adriatic coast to find sandy coves and fishing villages such as Peschici.
Useful words… Get your coffee terminology correct: Caffe corretto is coffee "corrected" with a drop of alcohol. Caffe freddo is cold milk with a shot of coffee. If you have a caffe macchiato, it's espresso stained with a drop of milk. Ristretto is the first dribble of coffee from the machine when making an espresso; the essence of the bean.
#7 destination: Georgia
Everyone's talking about it right now because… Georgia is a great destination for adventurous eaters. Its cuisine has been influenced by its neighbours over the years – you see Persian ways of using fruit to flavour meat stews, and nuts to thicken and flavour sauces – but Georgian cooking is still utterly its own, bold and lusty, full of striking contrasts and sophisticated seasoning but also unfussy.
Make sure you try… Sakhachapure are eateries specialising in the many varieties of cheese-filled breads. Stuff yourself on khinkali, Georgia's fist-sized dumplings, at sakhinkle (dumpling houses). From the Kakheti lowlands, look for mtsvadi, skewered chunks of meat, grilled over coals and served lightly dressed with pomegranate juice.
But think twice about… "Georgian Snickers": strings of nuts dipped in a gummy, sweet paste of reduced grape juice.
The hot restaurant… Restaurant Salobie on the road to Mtskheta is a good place to try out traditional cuisine such as spiced-meat khinkali dumplings, mtsvadi, khachapuri (cheese-filled bread) and red-bean lobio.
What should I drink? Wine: 500 of the world's 2,000 grape varieties are from here.
The flavour of the street… The Pheasant's Tears wine bar in Sighnaghi – known as the City of Love in Georgia – is where to taste natural Georgian wines. Visitors can tour its winery in Kakheti by horseback.
Useful words… Georgian is not the easiest of languages, so sound out the basics: Hello: gah-mahr-joh-bah. Please: too sheh-eedz-leh-bah. Thank you: gmahd-lohbt. It was delicious: dzah-lee-ahn gehm-ree-eh-lee ee-q'oh.
#8 destination: Oaxaca, Mexico
Everyone's talking about it right now because… Outside Mexico, the nation's cuisine has made the jump from fast-food street stalls to destination restaurants serving mariachi-free takes on Mexican classics (with prices to match). Oaxaca, in the south, is one of the country's culinary capitals with a distinctive repertoire of its own and an enthralling history to explore.
Make sure you try… Forget tacos and burritos; Oaxaca's dishes are the very embodiment of slow food. Oaxaca is the land of the seven moles – simmered sauces with a sweet, sour, smoky and spicy flavour. The most sought-after is chichilo negro, made with its endemic chilhuacle negro chillies. The first mole is said to have been created by a Dominican nun who discovered the magical flavour that the addition of chocolate gave to her guiso (stew) of roasted chilli, clove, cinnamon, pepper, coriander and sesame seeds.
But think twice about… Chapulines – grasshoppers fried with chilli powder.
The hot restaurant… Casa Oaxaca on Garcia Vigil in central Oaxaca is one of Latin America's top restaurants. On the same street, La Biznaga does a good line in cocina mestiza – nouveau-Oaxacan fusion food.
Is there a good market? Lots: the two near Oaxaca's central square are the Benito Juarez and the 20 de Noviembre, just to the south.
What should I drink? Mezcal is the local spirit, distilled from the agave family of plants. It's usually drunk neat. You could be forgiven for preferring to sip an extra anejo (aged) tequila.
The flavour of the street… Mexico's top chefs travel to Oaxaca for the annual El Saber del Sabor festival in September.
Useful words… Buen provecho, amigos!
These are edited extracts taken from 'The Food Book' (£14.99, Lonely Planet), which will be published on 14 February
Register for free to continue reading
Registration is a free and easy way to support our truly independent journalism
By registering, you will also enjoy limited access to Premium articles, exclusive newsletters, commenting, and virtual events with our leading journalists
Already have an account? sign in
Join our new commenting forum
Join thought-provoking conversations, follow other Independent readers and see their replies