The Independent's journalism is supported by our readers. When you purchase through links on our site, we may earn commission.
Where to go in 2016, from Canada to Costa Rica: The top 16 destinations to visit next year
With a world of travel opportunities to discover, The Independent's travel team has distilled the best experiences on offer in 2016
Saturday 26 December 2015 11:15 GMT
Comments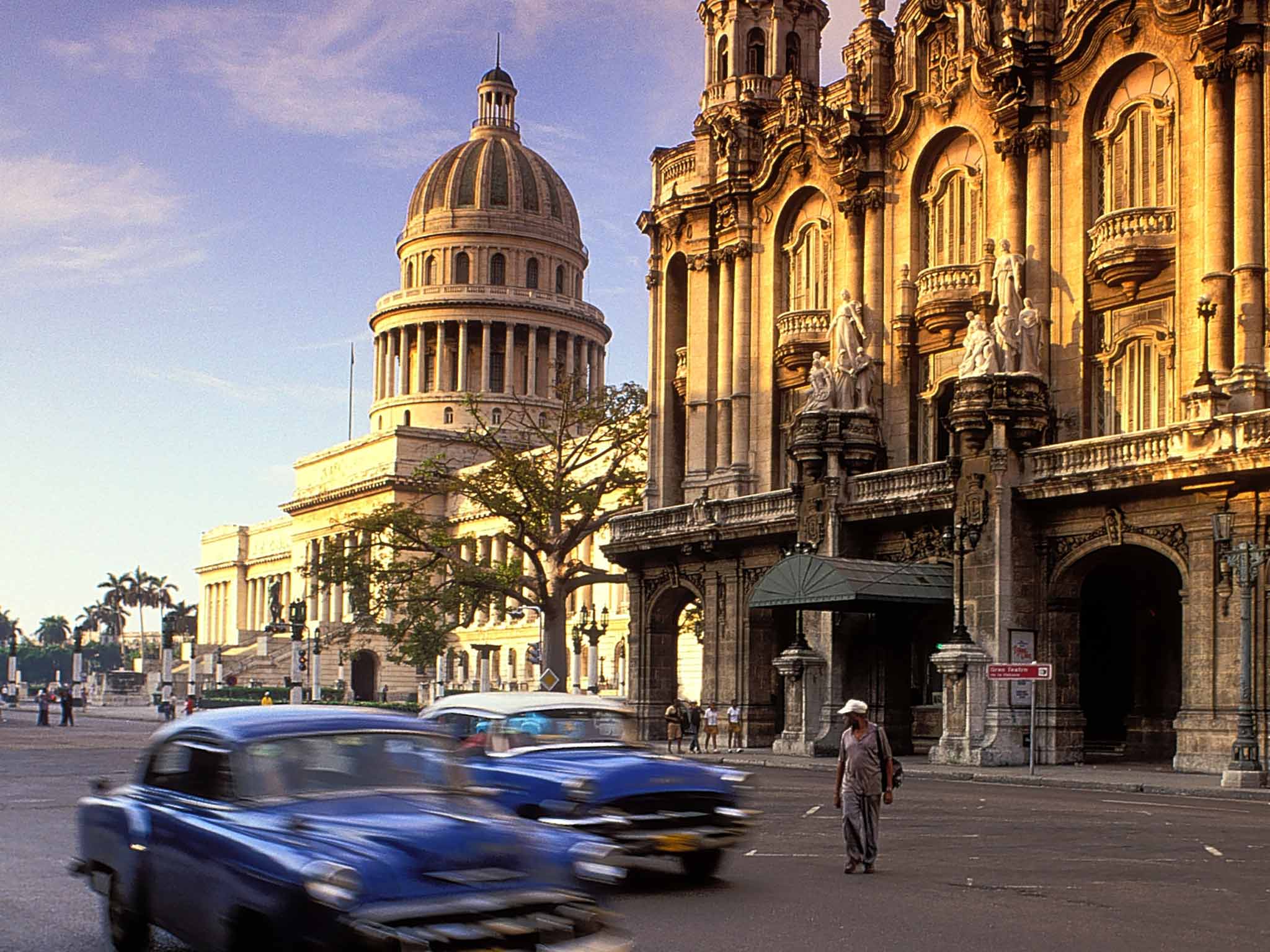 CUBA
A week before Christmas, Washington and Havana reached an agreement to open up scheduled flights between the US and Cuba. By the end of next year, there could be 110 flights a day from Florida and other parts of the US to Havana and Cuba's leading provincial cities. From a global perspective the addition of around six million extra aircraft seats a year across the Straits of Florida is welcome news – no longer will 300 million Americans be barred by their own government from visiting the nearest, most interesting and most beautiful Caribbean island. But from the perspective of British travellers, the effect will be to push up prices and squeeze capacity still further.
If only half those six million extra seats are filled by vacationing Americans, tourism to Cuba will rise by half. The private sector, in the shape of casas particulares (private B&Bs) and paladares (family-run restaurants), can accommodate some of the surge. But the strains are beginning to show. Via Azul buses, which have long offered fairly smooth and reliable transport, are now often sold out. In hotspots such as Old Havana and the Unesco World Heritage town of Trinidad, prices are rising and, in some cases, standards are slipping.
One solution for visitors is to focus on parts of the island where tourists rarely go: the beaches and fishing villages on the north coast of Pinar del Rio in the far west, or the stretch of shore between Moa and Baracoa in the far east. Another is to sign up for a tour with a travel firm that has been selling Cuba for decades – and has the necessary contacts to make sure things run smoothly. Journey Latin America (journeylatinamerica.co.uk) has a 15-day Parakeet: Cuba Beyond the Beach tour that includes flights, transport and family stays for £2,095pp.
Tourist officials in every other Caribbean island are looking with dismay at the warming Cuba-US relations, and British travellers can expect some enticing offers as the dominant American market starts to dry up. Simon Calder
CANADA
You wait for years for another budget airline between the UK and the world's second-largest country, and two come along at once. While Air Transat continues to offer excellent value from British airports to various Canadian cities, the price points are being set by WestJet – the no-frills carrier that celebrates its 20th birthday in February 2016.
The airline (westjet.com) was founded by a British entrepreneur, Clive Beddoe. After dipping a toe in the North Atlantic last summer with a daily Glasgow-Halifax route, WestJet is launching four flights a day from Gatwick to a total of six Canadian cities. Three are the usual suspects: Toronto, Vancouver and WestJet's base, Calgary. But the remainder comprise St John's in Newfoundland, which previously was expensive to reach, and two cities that had fallen off the route map: Edmonton and Winnipeg.
And who's this appearing on the radar? Our old friend Icelandair, which is taking advantage of low oil prices to expand its low-cost flights. Aberdeen is a new UK departure, and Montreal a new Canadian destination for the summer (icelandair.co.uk). SC
SAN SEBASTIAN
The closest big Spanish city to the UK, San Sebastián has an odd feature: it lacks an international airport. Perhaps that splendid semi-isolation is what has helped to keep the city magical. The two great attractions are the luscious, shell-shaped La Concha beach and an Old Town infused with amazing places to eat and drink. Yet Donostia (the city's official, Basque name) is simply not visited as much as it would be if it were easier to reach.
That may start to change this year, though, when San Sebastián gets its year in the sun as joint European Capital of Culture – known locally, if clumsily, as DSS2016EU (dss2016.eu). The party starts on San Sebastián Day, 20 January, when the Capital of Culture year officially begins with a four-day programme of activities – culminating on 23 January with a spectacular visual show.
Ryanair (ryanair.com) has plenty of availability to Biarritz in France for around £40 each way. This is the best place from which to access the fabulous scenery at the west end of the Pyrenees – take the train from the plane to the border, then the Metro clattering beside the coast to San Sebastián. SC
BRAZIL
Many travellers have a simple policy about Olympic host cities: avoid them like dengue fever in the three years building up to the Games, because the location will be doing just that: building up, with all the disruption that the biggest sporting event on the planet inevitably entails. And as for the event itself? Well, everyone knows that air fares and hotel prices triple before, during and after the Games as the fans flood in. So, Rio 2016 is off-limits, right?
As the last Olympics in London demonstrated, it doesn't actually work like that. Sure, there are contingents of sports fans who will be paying the £2,175 currently being asked by British Airways (ba.com) for a return flight to Rio to tie in the with Games. Certainly many hotels are either showing "full" or charging outlandish rates. But if you take a relaxed attitude, there will be bargains to be had between 5-21 August, when the Games take place. And even if you don't know one end of a pole-vault pole from the other, it could be the time to explore other parts of Brazil, such as the wildlife-rich Pantanal. July and August are ideal months to visit, and the distortions caused by Rio 2016 mean that demand is likely to be diminished. Bespoke Brazil (bespokebrazil.com) can design trips in search of jaguars, giant otters and piranhas that take advantage of promotional deals. SC
UNITED STATES
"The best idea we ever had. Absolutely American, absolutely democratic, they reflect us at our best rather than our worst," is how the writer Wallace Stegner described the US National Parks (nps .gov). In the centennial year of the system that protects and celebrates everything from the independence trail in Boston to the Grand Canyon, one state stands out: Utah, conveniently linked from the UK by a new Delta flight from Heathrow to Salt Lake City (delta.com).
Many who have been lucky enough to sample a number of the 59 National Parks end up with two firm favourites: Bryce Canyon and Zion, offering unworldly landscapes and Native American culture. Both are included in the Grand American Adventures 13-day family trip, which starts in Las Vegas and ends in San Francisco, and also includes Yosemite and Monument Valley. Prices start at £1,459pp (bit.ly/Utah2016). SC
AUSTRALIA
With the pound rising by one-third against the Australian dollar over the past two years, the world's sixth-largest country is currently more affordable for the British tourist, but there's more than benign exchange rates to enrich a visit in 2016. Starting on 30 December, the BBC's latest landmark natural history series focuses on the Great Barrier Reef. Sir David Attenborough returned to the world's largest coral reef system nearly 60 years after his first visit to film the three-part documentary. The reef's coral cays, tropical islands and luminous inhabitants will undoubtedly lure visitors. Hamilton Island (hamiltonisland.com.au) in the Whitsundays is tempting guests with the chance to sleep under the stars on a floating "swag" as part of its Reef Sleep experience. Costing from A$425 (£200), it includes pontoon accommodation, meals and snorkelling before daytrippers arrive.
Aquatic adventures continue across the continent in Western Australia, where humpback whale swimming tours will be introduced on Ningaloo Reef, home to the largest population of the cetaceans in the world, from June. A select number of operators has been granted licences to operate the ecologically sensitive tours, including Exmouth-based Charter 1 (charter1.com.au) from A$385pp (£185).
Back on land in South Australia, the Kangaroo Island Wilderness Trail is an ongoing project to create one of Australia's greatest multi-day walks in Flinders Chase National Park, taking in such famed formations as Remarkable Rocks and Admirals Arch. The 63km, five-day trail is expected to launch in September (bit.ly/KangarooSkip).
From April, Field of Light will illuminate another Australian icon – Uluru. The artist Bruce Munro will install more than 50,000 solar-powered lights across the landscape of the Red Centre that will glow as the sun sets each evening for a year (brucemunro.co.uk). Sophie Lam
INDIA
Now that the Indian government has finally extended its e-visa scheme to British passport-holders, approved tourists can expect to receive their visa within a few days.
So, what's in store for those thinking about a visit in 2016? On screen, The Jungle Book has been updated by Disney as a 3D live animation with voices from Bill Murray, Ben Kingsley and Scarlett Johansson, due for release in April. Rudyard Kipling's novel was set in the wildlife-rich forests of Madhya Pradesh where Wild Frontiers (wild frontierstravel.com) is offering a 12-day Jungle Book group tour, visiting three national parks on the look-out for real-life Shere Khans, Baloos and more. It costs from £2,795pp excluding flights.
Released later in the year, Gurinder Chadha's Viceroy's House was filmed at Umaid Bhawan Palace (tajhotels.com; doubles from R21,150/£210 B&B) on the outskirts of Jodhpur in Rajasthan. It stars Gillian Anderson and Hugh Bonneville and focuses on Lord Mountbatten's last six months as Viceroy, as India prepared for independence.
More Brits inextricably linked to India include the Beatles, who spent time in Rishikesh in 1968, meditating and making music at the ashram of Maharishi Mahesh. After going into decline, the ashram was reclaimed by the forest. The Uttar Pradesh Forest Department has just reopened it, allowing visitors inside meditation cells once used by George and John (uttarakhandtourism.gov.in).
Uttar Pradesh is making a bid to tempt tourists away from neighbouring Rajasthan with its own heritage trail that takes in Agra, not just home to the Taj Mahal but also the colossal Red Fort and, on the outskirts, the Mughal palace complex of Fatehpur Sikri; Lucknow, where the Raj began and ended; and Chambal National Park, home to Ganges dolphins, gharial crocodiles and a soon-to-be-reintroduced population of lions. Landmarks also include the temples at Sarnath, where Buddha preached his first sermon, Kushinigar where he died, and the ancient holy Hindu city of Varanasi. Greaves India (greavesindia.com) can tailor-make tours of the state. SL
COSTA RICA
Pura Vida is this Central American nation's unofficial slogan, which manifests itself in many ways, not least the vitality of its national parks and nature reserves (visitcostarica.com). Come up close to a live volcano in Arenal National Park, explore Caribbean coral reefs in Cahuita, trek through tropical rainforest in Corcovado, spot sloths and monkeys in Manuel Antonio or look for green sea turtles in Tortuguero National Park. Sandwiched between the surf-washed Pacific and gentle Caribbean coasts you'll find endless opportunities for wildlife encounters up-close and nature-enveloped hikes.
British Airways (ba.com) is resurrecting flights from Gatwick to the central capital, San José, from 4 May. In addition, Thomson (thomson.co.uk/flights) recently resumed its link between Gatwick and Liberia in the north-west, offering easy access to the national parks of Guanacaste province and its Pacific beaches.
The flights are the only direct links between the UK and Central America, meaning that trips to neighbouring countries will also be more easily achieved. For example Tucan Travel (tucantravel.com) is offering a nine-day San José to Panama City trip using the new BA link. A price of £1,519pp includes visits to Manuel Antonio National Park, Monteverde Cloud Forest, Arenal Volcano and San José before heading south across the border to Panama's Caribbean Bocas del Toro archipelago, the coffee plantations of Boquete, and ending in buzzing Panama City. SL
PERU
Another Latin American destination that's about to receive a non-stop link with London is Lima, Peru's cosmpolitan capital. British Airways starts flights from Gatwick on 4 May, in time for visitors to witness Inti Raymi, the festival of the sun that salutes the Incan god Inti on the Winter Solstice, 24 June. The celebrations take place at the ruins of Sacsayhuamán in Cusco, with processions, music, dancing and a mock sacrifice (peru.travel). Real World Holidays (realworldholidays.co.uk) is offering a short five-day trip that takes in the festivities, departing Gatwick on 22 June and including VIP tickets to the event, accommodation, transfers, entrance fees and flights, all for £1,795pp.
Explora (explora.com), the Chile-based luxury adventure lodge group is opening a hacienda on an ancient corn plantation in the Sacred Valley in the second half of 2016. It will offer a luxurious base for treks in the valley and up to Machu Picchu.
Even older than Machu Picchu is the pre-Incan ruined fortress of Kuelap, which was developed in the sixth and seventh centuries by the Chachapoyas. The largest stone structure on the continent, it contains around 450 houses in the Utcubamba Valley in northern Peru. Previously accessed by trekking, it will be connected by a new 4km cable car from Tingo Nuevo early next year (kuelapperu.com). SL
IRELAND
2016 marks the centenary of the Easter Rising, the armed rebellion that fomented fundamental change in Ireland's political landscape, eventually bringing an end to British rule, and thereby establishing the Republic of Ireland. The commemorative programme of events includes a parade on Easter Sunday from Dublin Castle to Parnell Square, concerts at the National Concert Hall during Easter Week and Ravelóid, a festival from 10-12 June that celebrates Irish language and culture at Ardgillan Castle in North County Dublin (raveloid.ie; €99).
Meanwhile, Northern Ireland is drawing attention to its culinary credentials with a Year of Food and Drink (tourismni.com). As well as food festivals and special events, there will be a Breakfast Month in January celebrating the Ulster Fry, a Love Local month in February drawing attention to home-grown brands, a Brewing and Distilling month in April and plenty more.
Belmond (belmond.com/grandhibernian), the train operator of the Venice Simplon-Orient- Express, is launching the Belmond Grand Hibernian in August. The luxury train will transport up to 40 guests in five-star style across Ireland. Itineraries include the two-night Realm of Giants in Northern Ireland, a four-night Legends and Loughs in Cork, Killarney, Connemara National Park and Galway, and a six-night Grand Tour of Ireland that also includes a tour of Dublin. Prices from €3,160pp with all meals, drinks and excursions.
For a different perspective on the Irish landscape, book into a bubble in Co Fermanagh. The Forest Domes are new to the Finn Lough Resort. With transparent walls, they come with four-poster beds, bathrooms (opaque walls), telescopes, record players, armchairs and coffee machines (finnlough.com; from £175 per night B&B for two) and are set in the woods on the shores of Lough Erne. SL
ST HELENA
Out in the Atlantic, more than 1,200 miles from the nearest landmass (Angola), St Helena is one of the world's most remote islands, currently only accessible by sea. Most hop aboard the Royal Mail Ship St Helena for the five-day trip from Cape Town to this British Overseas Territory. That is to change in 2016, when a much-anticipated airport opens.
The big day is 21 May, St Helena Day, though a start date for the first flights hasn't yet been announced. Once South Africa-based Comair (a British Airways code-share partner; comair.co.za) launches its weekly service from Johannesburg, reaching the island will become (relatively) straightforward, if a little less romantic. The last ship sails in July.
So what is there to see on this tiny (10x5 miles) island once you arrive? Plenty of history, for one thing: Napoleon was exiled here from 1815 until his death in 1821, and his residence, Longwood House, is now a museum. There are also dramatic volcanic and coastal landscapes, wildlife (the island is a twitcher's paradise) and the colourful little capital, Jamestown.
Jamestown will be the location of a new hotel, due to open in late 2016, presumably to cater to an influx of new visitors. Part of the Mantis collection (mantiscollection.com), the four-star property will occupy three Georgian buildings. Nicola Trup
TAIPEI
The stylish and vibrant capital of Taiwan will affirm its cool credentials next year when it takes up the mantle of World Design Capital (wdc2016.taipei), hosting a series of design-focused events around the theme "Adaptive City – Design in Motion". These include the International Design House exhibition, as well as less formal pop-up celebrations.
The city will also welcome several new hotels from design-focused chains, such as the Aloft (starwoodhotels.com/alofthotels) and CitizenM (citizenm.com), opening in late 2016 in Beitou and Ximending respectively. The local boutique brand, Amba (amba-hotels.com), will launch its third location in spring, in the Songshan area.
Getting into Taipei from the main international airport, Taoyuan, becomes easier, when the MRT (metro) links the two for the first time. Until now, the airport has only been served by coaches or buses, but the eagerly awaited (and much delayed) new line is due to open in "early 2016".
For those more into travelling on two wheels, Taipei is surprisingly bike-friendly, with dedicated paths and a cycle share scheme. And on 6 March, visitors can watch the first stage of the annual Tour de Taiwan (tourdetaiwan.org.tw) in Taipei, before it moves on to the coast. NT
WROCLAW
You might not know how to pronounce the name of this picturesque Polish city (roughly, "Vrots-wav") but you soon will, as it's firmly on the radar for 2016. As European Capital of Culture (held jointly with San Sebastián), it has a packed calendar of more than 1,000 cultural events across film, music, art, architecture and performance.
The opening weekend takes place 15-17 January, culminating in "The Awakening", the city's biggest ever parade, incorporating light installations, effigies and even trams. Other highlights of the year's programme include the Theatre Olympiad and the European Film Awards, plus literary celebrations organised as part of Wroclaw's tenure as Unesco World Book Capital City (en.unesco.org/world-book-capital-city).
This may be a traditional-looking town – its colourful main square is like a miniature Krakow – but next year's new hotel opening is a little more modern. Launching in summer, the DoubleTree by Hilton Wroclaw (bit.ly/DoubleWroclaw) is set within Ovo, a curvaceous new development of shops, apartments and restaurants. And getting to the city becomes easier from the Midlands on 18 March, when Wizz Air (wizzair.com) begins flying direct from Birmingham twice a week. NT
BARBADOS
In 2016, Barbados will mark 50 years of independence from British rule, and a series of special events will take place, not least on 30 November, Independence Day, when celebrations will include a parade and the illumination of key buildings around the capital, Bridgetown. Held throughout November, the National Independence Festival of Creative Arts (ncf.bb) celebrates drama, dance, music, literature, fine art and more.
Other events include the 80th Round Barbados Race sailing series (mountgayrumroundbarbadosrace.com), which celebrates its 80th edition from 16-24 January; and the Barbados 50, a transatlantic yacht rally to commemorate the independence anniversary. It will set sail from London in July and arrive in Bridgetown in late November.
For non-sailors, Barbados Open Water Festival takes place 2-6 November, with a number of organised swims, kayak and stand-up paddleboard races, and an all-day beach party.
And where to stay while you're there? Wyndham and Hyatt both have new hotels in the pipeline for 2017 and beyond, but next year several existing properties become bigger and better. In spring, Sandy Beach will relaunch as the all-inclusive, refurbished The Sands, and Sandals Barbados is also expanding. NT
WALES
The principality has enjoyed a surge of adventurous openings in 2015, including Surf Snowdonia (surfsnowdonia.co.uk), an artificial surf lagoon, and Go Below Xtreme (go-below.co.uk), an underground zip-line. With so much adrenalin pumping, Wales has named 2016 its Year of Adventure, with ambassadors including Bear Grylls encouraging visitors to make the most of its outdoor (and underground) activities, from surfing to survival skills, with special events to be announced in the coming months (visitwales.com).
Even relaxation calls for a degree of adventure in Wales, not least at Seacotherapy (seacotherapy.co.uk), a new coastal wellbeing retreat, opening in Aberdyfi in May. It will combine beached-based activities (yoga, stand-up paddle boarding, rock pooling and more) with mindfulness practices.
Next year will also see the release of Guy Ritchie's Knights of the Roundtable: King Arthur, which was shot in various Welsh locations including Snowdonia. Visitors can walk in the footsteps of King Arthur (bit.ly/ArthurWalk) and find a stone allegedly bearing the hoof print of his horse Llamrai on the banks of Lake Barfog near Betws y Coed.
2016 also marks 100 years since Roald Dahl was born in Cardiff. A programme of activities is planned for the "City of the Unexpected" event, which will take place across Cardiff on 17-18 September (bit.ly/Dahl100). Chloë Hamilton
ENGLAND
You can hardly move for literary anniversaries in England next year. Anyone would think we'd been saving them up.
The 200th anniversary of Charlotte Brontë's birth is on 21 April. In celebration, a number of exhibits will pop up across the UK, including at the Brontë Parsonage Museum (bronte.org.uk), which was the family home. Author Tracy Chevalier will curate an exhibition titled "I Shall Go Off Like a Bombshell: Charlotte Great and Small". Another exhibition, "Celebrating Charlotte", will appear at the National Portrait Gallery (npg.org .uk), before moving to New York.
William Shakespeare will also be commemorated in 2016, 400 years after the Bard's death, thought to be around 23 April. Shakespeare's Schoolroom (shakespeares-england.co.uk), where the playwright was educated, will open for the first time in April, while the Royal Shakespeare Company (rsc.org.uk) will launch a new immersive theatre experience.
Finally, hop to the Lake District to celebrate the creator of Peter Rabbit and friends. Beatrix Potter was born 150 years ago in London on 28 July, but spent most of her life in the North-west (golakes.co.uk/beatrixpotter). The children's author will be remembered with events at various National Trust venues, including a children's literary festival at Wray Castle, where the writer stayed in the Lake District as a teenager (national trust.org.uk/wray-castle). Near St Albans, Willows Activity Farm (willowsactivityfarm.com) will launch a new Peter Rabbit Adventure Playground on 2 April. For more literary inspiration, see visitengland.com/literature. CH
Click here to view the latest travel offers, with Independent Holidays.
Join our commenting forum
Join thought-provoking conversations, follow other Independent readers and see their replies