Why it's cheaper to park a light aircraft at the airport than a car
If you thought it was expensive to leave your car in Britain as you jet off on holiday, you were right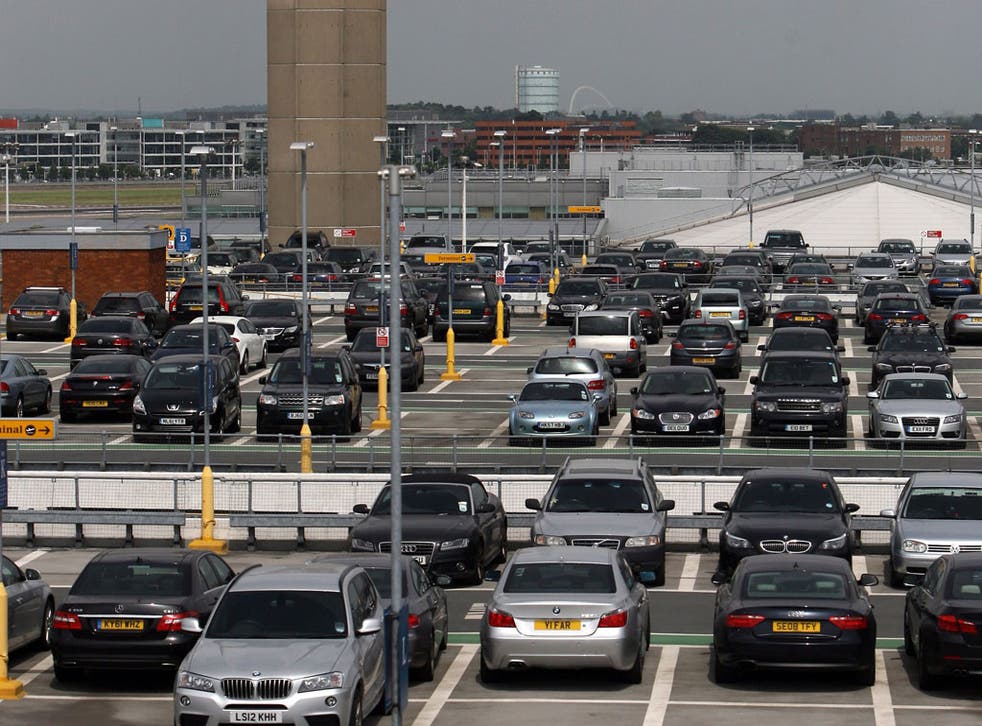 Most of Britain's busiest airports charge more to park a car than a plane. Research carried out by The Independent at the UK's top 10 airports has found that parking a six-seater light aircraft on the apron for 24 hours is cheaper than leaving a Mini for the same time in the short-term car park, exposing the dizzy heights of car parking charges for holidaymakers.
At Liverpool airport, a car costs almost four times as much as a plane.
Britain's most expensive airport parking is at Heathrow Terminal 5, where the 24-hour rate of £51.80 costs more than an off-peak flight to Aberdeen. Heathrow, along with Gatwick and Stansted, does not routinely handle light aircraft. Manchester is by far the biggest regional airport. It charges £35 for 24 hours in the short-stay car park, but only £21 to park a Piper PA-46 – a six-seater light aircraft that weighs just under two tonnes.
While the rule for parking a car is usually "one charge fits all", aircraft are charged by weight. The rate for 24-hours parking of the world's biggest aircraft, the Airbus A380, is almost £4,000 at Manchester. But Emirates, which flies the "superjumbo" between Manchester and Dubai, pays nothing for parking because the first four hours are free for aircraft; the A380 is scheduled to be on the ground for 105 minutes.
Russell Craig of Manchester airport said: "Years ago airports made all their money from the planes. Now at Manchester, aviation income makes up less than half of our revenues. To be able to keep investing, you've got to find new revenue streams and some of that is car parking. But pre-booking is the way to save money. The turn-up prices are what they are."
The greatest difference between plane and car was at Manchester's rival, Liverpool John Lennon Airport. Parking a light aircraft costs £10.72 but leaving a car costs £39.99. This was the cheapest price for a plane and the most expensive for a car found in the survey outside of London. Pilots face a wide range of other fees for using an airport, including air-traffic charges and runway charges.
But airline passengers must also pay anywhere between £13 and £184 in air passenger duty, as well as a passenger service charge that is typically around £10. Motorists' organisations reacted angrily to the premium on parking a car compared with a plane. Paul Watters of the AA said: "These are incredible findings that sadly may not come as a surprise to drivers who often have to pay eye-watering sums for parking in an airport car park. Drivers will probably look enviously at parked aircraft wondering just how it can be that motorists pay more when the space they are using is much less."
Miranda Schunke from Green Flag said: "Getting to and from the airport by car is a necessity for many large families with luggage. It seems you are not safe from these parking costs wherever you jet off. "
Birmingham airport is one of several where motorists are charged even for dropping off passengers. But while drivers must pay £1 for stopping momentarily, plane owners get two hours of free parking. A full day for a plane costs £10.80, less than half the price for a car: £22.50. The smallest aircraft handled by the airport, a Cessna 150, costs just £5.40 for a day.
Edinburgh and Glasgow charge £23.50 and £21.00 respectively to park a car, but around half as much – £11.90 and £11.52 – to park a two-tonne plane. Glasgow does, however, double parking fees for aircraft owners who are not regular users of the airport. Bristol Airport also charges more for car users: £25 in the short-stay against £17 on the apron.
Register for free to continue reading
Registration is a free and easy way to support our truly independent journalism
By registering, you will also enjoy limited access to Premium articles, exclusive newsletters, commenting, and virtual events with our leading journalists
Already have an account? sign in
Register for free to continue reading
Registration is a free and easy way to support our truly independent journalism
By registering, you will also enjoy limited access to Premium articles, exclusive newsletters, commenting, and virtual events with our leading journalists
Already have an account? sign in
Join our new commenting forum
Join thought-provoking conversations, follow other Independent readers and see their replies