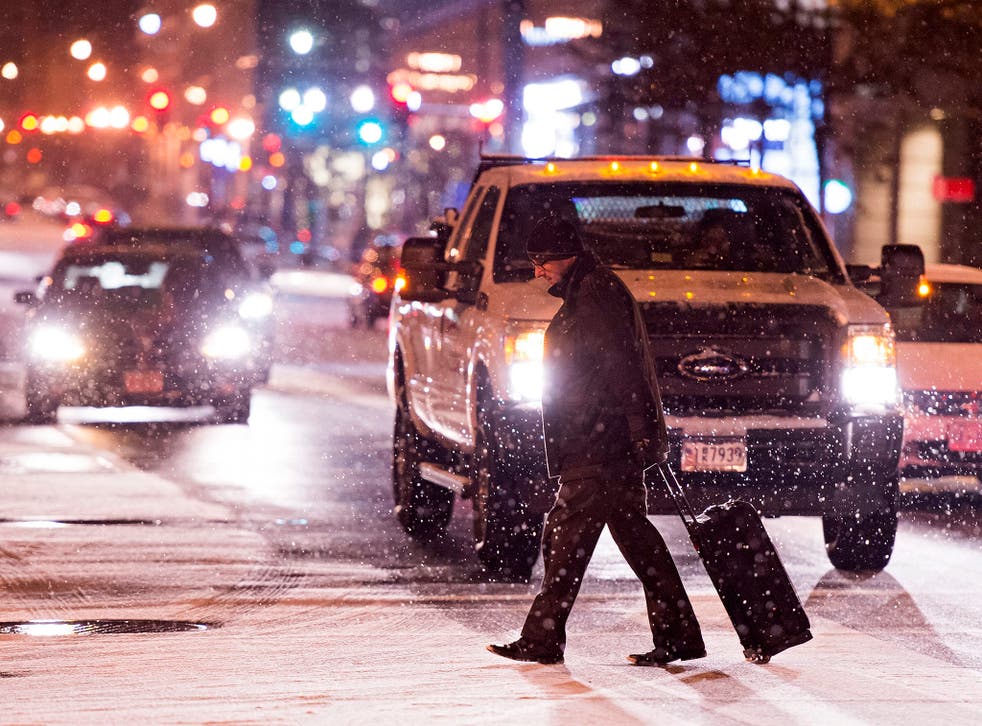 Winter Storm Jonas: Thousands of Britons risk being stranded in eastern US as huge blizzard nears
British Airways has cancelled almost all its flights from the affected airports
Simon Calder
Travel Correspondent
Friday 22 January 2016 12:51 Comments
Thousands of British travellers risk being stranded in the eastern US as Winter Storm Jonas arrives. With heavy snowfall and high winds predicted for New York, Philadelphia and Washington DC, airlines have cancelled thousands of flights - including most transatlantic services to the UK.
British Airways has cancelled almost all its flights from the affected airports on 23 January, apart from two morning departures from New York JFK. There will be no flights from the city's other international airport, Newark. BA has also axed its late flight on 22 January from Washington to Heathrow.
In addition, the afternoon BA departure from London City airport to New York JFK on 22 January has been cancelled, because the aircraft is normally parked for the weekend at the airport. Airlines are always keen to avoid aircraft remaining overnight ("RON" in aviation jargon) at airports that are predicted to be hit by storms.
Services to and from Boston are unaffected.
USA: Supermarkets emptied as Washington DC prepares for winter storm Jonas
Virgin Atlantic says the severe snowfall "may cause significant disruption to our flights".
Passengers booked on UK airlines whose flights from the US to Britain are disrupted are entitled to meals and accommodation until the carrier can get them home. In contrast, US airlines - American, Delta and United - have no such obligation. This applies equally for "codeshare" journeys, where passengers book an American Airlines flight through BA or a Delta flight through Virgin Atlantic.
United, which has a major hub at Washington Dulles airport, has cancelled two evening departures to Heathrow on 22 January, and three flights on 23 January. American Airlines services from Charlotte and Raleigh-Durham on the evening of 22 January have been cancelled.
The storm is expected to continue until 24 January. Affected airlines are inviting passengers booked over the weekend to reschedule free of charge - though with so many flights cancelled, finding alternatives may not be easy.
New York subway trains are going to be stored in tunnels late on 22 January, to avoid them being stuck in their normal above-ground depots. That will disrupt some services that would normally use the affected lines. "Bendy buses" are being withdrawn from the Manhattan streets, and replaced with shorter buses - fitted with all-weather tyres or snow chains.
Washington's Metro system will close completely all weekend. The last train will run at 11pm on 22 January.
Terry McAuliffe, Governor of Virginia, has declared a state of emergency. There are fears of widespread power cuts.
Register for free to continue reading
Registration is a free and easy way to support our truly independent journalism
By registering, you will also enjoy limited access to Premium articles, exclusive newsletters, commenting, and virtual events with our leading journalists
Already have an account? sign in
Register for free to continue reading
Registration is a free and easy way to support our truly independent journalism
By registering, you will also enjoy limited access to Premium articles, exclusive newsletters, commenting, and virtual events with our leading journalists
Already have an account? sign in
Join our new commenting forum
Join thought-provoking conversations, follow other Independent readers and see their replies