The Independent's journalism is supported by our readers. When you purchase through links on our site, we may earn commission.
Winter walking holidays: from UK Christmas strolls to wildlife hikes in Kenya
​Whether you stay close to home or flee to sunnier climes, 'tis the season to embrace the outdoors and work off the festive excess on a hiking holiday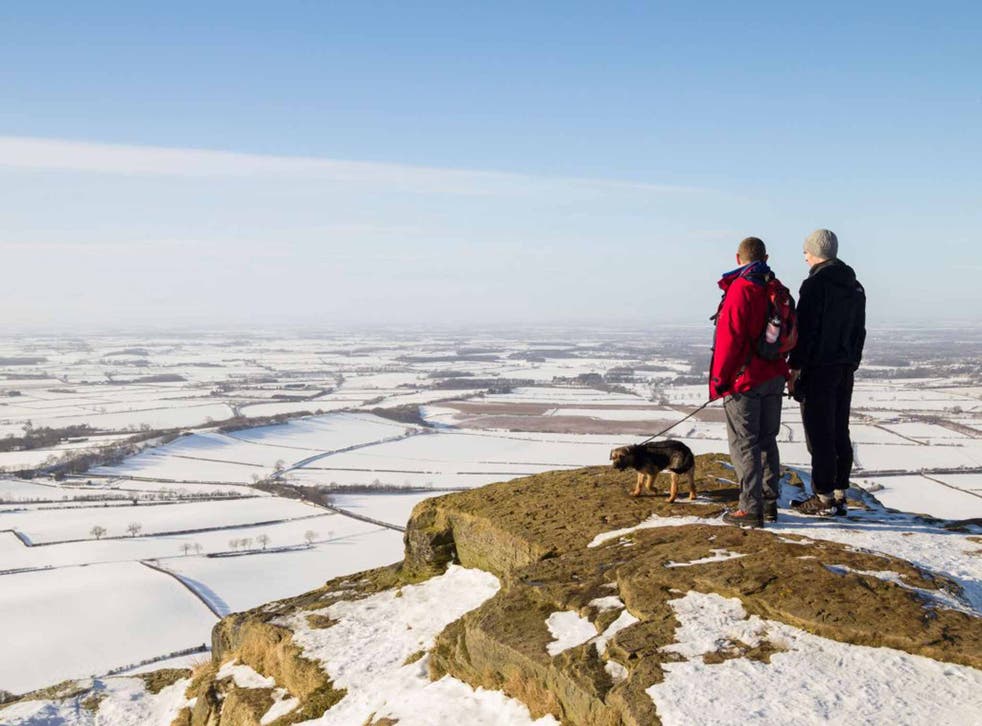 Frost crunching underfoot, countryside crystallised beneath crisp skies, the joy of being scarf-swaddled, rosy cheeked and steamy breathed – there's nothing like a winter walk. There's also nothing like ditching traditional wintriness and jetting off to hike in warmer climes. Either way, with Christmas gluttony fast approaching, it's time to embrace the joys and benefits of taking a stroll.
According to research published last month, walking is better for you than hitting the gym. The London School of Economics found people who walk regularly have lower BMIs and smaller waists than those doing regular sports. "Walking makes us feel good," adds Alison Howell of hiking holiday specialist Foot Trails. "A brisk walk is fantastic exercise for the whole body and a great way to counteract winter eating and drinking excesses."
Walking in the UK in the colder months might seem initially unappealing, but not so, reckons Alison. "Winter is a time to enjoy the peaceful atmosphere, see silhouettes of skeleton trees, keep eyes peeled for hunting foxes, inhale the smell of woodsmoke."
If you're unsure where to start, seek inspiration from the Ramblers' Festival of Winter Walks (19 December to 3 January; bit.ly/WintWalk), a programme of hundreds of free group walks across the country. These range from short, family-friendly strolls to Christmas-themed ambles; for instance, the Festive Walk in Bridgend (20 December; 9.30am) includes mulled wine and mince pies.
The National Trust is also running some cobweb-blowing walks (bit.ly/NTwalk). Join a Boxing Day Pilgrimage in the footsteps of 12th-century monks at North Yorkshire's Fountains Abbey (9.30am; 01765 608888) or take a Holly Hike on New Year's Day at Sheffield Park, East Sussex (11am; 01825 790231).
Of course, the UK's incredible network of footpaths doesn't close for the season. You just need to take more care choosing your route – mud, ice and inclement weather can make trails more dangerous. Also, plan for the shorter days (take a torch) and dress appropriately: sturdy boots, waterproofs, layers, hat. The Thames Path is a good choice (nationaltrail.co.uk/thames-path): well-maintained, easily accessible, usable in all weather and dotted with cosy country pubs should you need a warming dram.
But winter walking doesn't have to mean battling the elements. Plenty of places offer perfect weather at this time. Consider Europe's southern reaches, such as the Canary Islands. With winter temperatures still hitting 20C, an average monthly rainfall of just 5cm and the pound about 12 per cent stronger than last December, Spain is an excellent short-haul option for winter sun. Make the most of this by bagging the country's highest peak: Inntravel's seven-day To the Top of Spain trip (01653 617002; inntravel.co.uk) includes an option to ascend the 3,718m Mount Teide as you hike between villages in Tenerife's untouristy south. From £670pp, excluding flights but with some meals.
Alternatively, head to where it's not winter at all. In Patagonia – experiencing a popularity boost after the recent BBC2 series, Patagonia: Earth's Secret Paradise – it's high summer, the ideal time to hike. Macs Adventure (0141 530 3634; macsadventure.com) offers a six-night W-Trek In Comfort, a chance to follow Chile's classic Torres del Paine hike, staying in lodge-style accommodation en route. The self-guided trip runs between October and April; from £1,085pp, excluding flights but with most meals.
It's also balmy in Colombia, where Walks Worldwide's 18-day Lost City & Beyond trip (01962 737565; walksworldwide.com) combines culture and Caribbean sun with a jungle hike to the deserted Ciudad Perdida – think Machu Picchu without the crowds. Departing 22 February, the price is £3,099pp, with flights. Long-haul or from your doorstep, there's no excuse to stay inside.
Hikes at home
Weather worries deter many people from taking walking holidays in the UK at this time of year and, to reflect this, Foot Trails (01747 820626; foottrails.co.uk) is offering some short trips which are based at cosy log-fire-warmed country inns. Its self-guided Bath City and Country trip explores the hills around the Georgian city which also hosts a popular Christmas market (from now until 13 December; bathchristmasmarket.co.uk). The packages are priced from £259pp for two nights.
Winter weather does not have to render some of Britain's more rugged terrain off limits. Wilderness Scotland's four-night, guided Winter Walking in the Cairngorms trip (01479 420020; wildernessscotland.com) delves into the lochs, glens and forests of Cairngorms National Park without the need for ice picks and crampons. There are also opportunities to spot animal tracks in the snow, and maybe even the Northern Lights. Departures are on 3 and 24 February, 16 and 23 March; from £775pp, including some meals.
Walking can also be a great escape from festive family claustrophobia. HF Holidays (0345 470 8558; hfholidays.co.uk) runs "twixmas" breaks (starting 27 December) at its country houses, designed for those who'd like to spend the time between Christmas and New Year with like-minded hikers. Three nights at its Shropshire base in Church Stretton is ideal for walks on the Long Mynd and costs £328pp, full board.
Challenge yourself
New Year means resolutions, and if you'd like to set yourself some new goals for 2016, Discover Adventure's 100km Sahara Desert Trek (01722 718444; discover adventure.com) might fit the bill. It involves a fund-raising hike across the warm sands with Berber guides and camels. The nine-day trip departs on 27 February; from £1,299pp, with flights.
The eight-day Winter Toubkal holiday with Explore (01252 884723; explore.co.uk) is another testing option that takes in North Africa's highest peak. It is more daunting, but still manageable, in the colder season, when crampons are necessary to reach the 4,167m summit. Departs 27 December, 14 February and 20 March; from £699pp with flights and most meals.
Or you can aim even higher; from December to March it's ideal weather for tackling 5,895m Kilimanjaro. Abercrombie & Kent (01242 547 702; abercrombiekent.co.uk), which arranges six-night guided expeditions along the scenic Machame Route, has a 97 per cent summit success rate. From £4,295pp, with flights.
Snow and ice
Unless you're an experienced mountaineer, it's best to enlist a guide to try off-piste winter walking. Exodus's new, guided eight-day Transylvania Snow-shoeing and Winter Walking trip (0845 287 3788; exodustravels.com) explores the Romanian mountains, castles and (vampire-infested?) forests at their most chilling. Departs 23 January, 6 and 27 February; from £999pp with flights and meals.
Ice-walking adds an extra thrill. Discover the World's five-night Highland Hiking and Aurora Hunting journey (01737 214291; discover-the-world.co.uk) includes escorted glacier treks as well as part of the legendary Laugavegur trail; nights are spent seeking the Northern Lights. Departs November to March; from £744pp, flights extra.
Experience two of North America's most popular national parks on KE Adventure's 13-day Rockies and Yellowstone In Winter trip (01768 773966; keadventure.com). Snow-shoe through Banff, Canada, looking for frosted bison- and wolf-prints in the snow, before hopping across the United States border to Yellowstone National Park. Departs 31 January; from £2,795pp, excluding flights.
Winter warmers
If walking in sunshine is more appealing, then consider a Caribbean destination. At this time of year the islands are warm, but not baking, while also being drier and less humid. Explore Grenada with Telfor Bedeau, a local guide in his seventies who offers bespoke walks – perhaps up Mount St Catherine's or to flora-frilled Lake Antoine (001 473 442 6200; from £30pp).
Dominica is home to the Caribbean's longest walking trail, now reopened following August's Tropical Storm Erika. World Expeditions' 12-day Dominica – Trek the Waitukubuli Trail trip (0800 074 4135; worldexpeditions.com) covers the best bits, tramping up mountains and through rainforests. Departs 27 December, 31 January, 6 March and 17 April; and costs from £1,995pp, excluding flights.
Closer to home, if you can wait until February you can enjoy Mallorca's almond blossom. At this time, On Foot Holidays' eight-night self-guided Mallorca: Palma and the Serra de Tramuntana tour (01722 322652; onfootholidays.co.uk) combines mountain hikes and petal-laden trees, for £865pp, excluding flights.
The Canaries will be warmer still; even in winter months you can expect nine hours of sunshine daily. La Gomera is the hottest choice and Sherpa Expeditions' eight-day self-guided Southern Trails of La Gomera tour (0800 008 7741; sherpaexpeditions.com) takes in the striking scenery of this tiny volcanic isle. From £640pp, excluding flights.
Wild walks
Add an extra frisson to a winter hiking trip by throwing in some wildlife. Although walking isn't allowed in Kenya's national parks, it is in private concessions: the Mara North Conservancy, which borders the Maasai Mara, is fair game (and full of game) for on-foot exploration. Here, January though to March is called "secret season", because it brings clear skies, short grasses, the Loita wildebeest migration and fewer tourists. A four-night stay at the intimate Offbeat Mara camp can include daily ambles into lion country with native Maasai guides (01666 880111; theluxurysafaricompany.com; from £2,330pp, with flights).
Alternatively, try Headwater's 11-night Costa Rica Wildlife Walk (0808 281 1572; headwater.com) for a guided trek amid volcanoes, lagoons and cloud forest teeming with everything from resplendent quetzals to swinging spider monkeys.
The trip departs on 17 January, 7 February, 6 and 20 March and costs from £2,979pp, including flights and full board accommodation.
Where to stay
It's simple to book a bolthole in walking country and strike out, solo. Sawday's lists several, including Greenah B&B in Cumbria (01768 483387; sawdays.co.uk). This 1750s smallholding is run by a climber, serves first-class organic breakfasts and is tucked amid boot-tempting hills and fells. From £92 a night.
Alternatively, search The Landmark Trust's database of historic houses for "landmarks for walking" (01628 825925; landmarktrust.org.uk). Its three properties at Rhiwddolion, a former slate-quarrying hamlet hidden in a Welsh valley near Betws-y-coed, require a 10-minute walk just to reach them, with fine hikes beckoning in the surrounding hills. Ty Uchaf – the oldest of the cottages, thought to date back to 1685 – sleeps two and starts at £131 for four nights.
The clifftop Mullion Cove Hotel (01326 240328; mullion-cove.co.uk) on Cornwall's Lizard Peninsula has the South West Coast Path running right past its door. It has also just launched three-night packages for walkers, which include two packed lunches and a well-deserved cream tea, as well as hiking recommendations. From £308pp, half board.
Register for free to continue reading
Registration is a free and easy way to support our truly independent journalism
By registering, you will also enjoy limited access to Premium articles, exclusive newsletters, commenting, and virtual events with our leading journalists
Already have an account? sign in
Register for free to continue reading
Registration is a free and easy way to support our truly independent journalism
By registering, you will also enjoy limited access to Premium articles, exclusive newsletters, commenting, and virtual events with our leading journalists
Already have an account? sign in
Join our new commenting forum
Join thought-provoking conversations, follow other Independent readers and see their replies