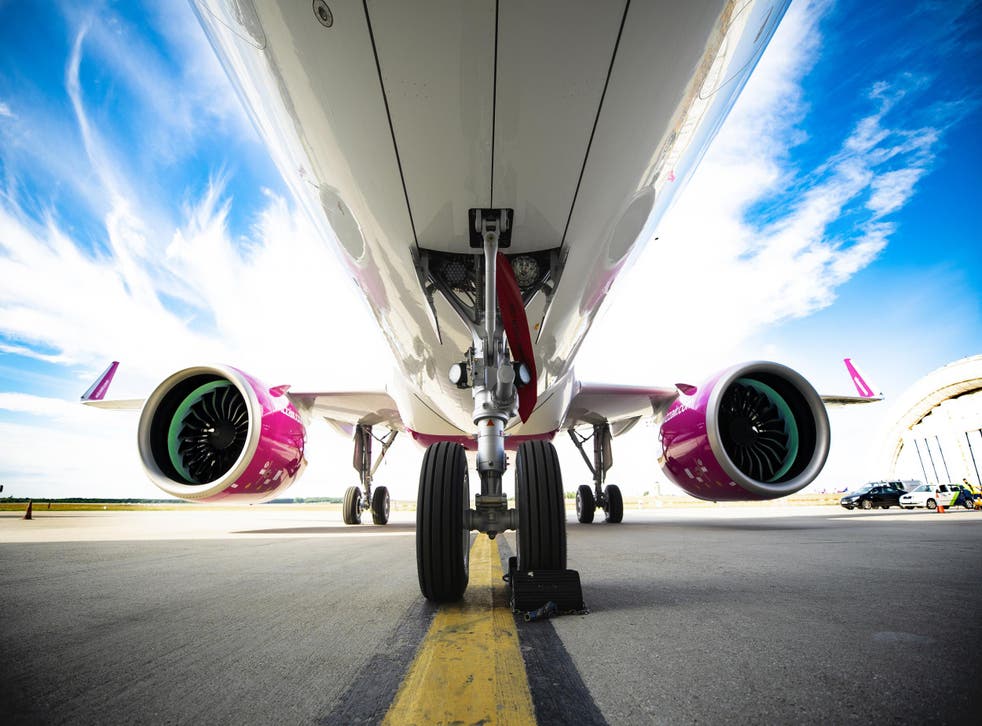 Wizz Air: Could one plane at Gatwick start another low-cost revolution?
Plane Talk: The Hungarian airline is being bold when others are fearful
"It's a strange thing to say at such times," says Owain Jones, "but we've been making some good progress in the UK."
He is the boss of Wizz Air UK, the British subsidiary set up ahead of Brexit by the Hungarian-based airline. And I am talking to him just after he has revealed the latest twist in the long-running saga of no-frills aviation: moving a plane to Gatwick.
"It's a foot in the door: we want to grow at Gatwick."
Nineteen years ago, I had a similar conversation with Ray Webster – then the chief executive of a small British airline called easyJet. It had been set up at Luton in 1995, but had outgrown its nursery and needed more room to expand.
The awful events of 11 September 2001 changed the landscape of air travel dramatically. Our interview in the orange easyJet shed at Luton airport, a few weeks after the terrorist attack on America, came to a sudden halt because Mr Webster needed to drive urgently to Gatwick.
He wanted to secure slots to allow easyJet to build up a presence at the Sussex airport, to challenge the all-powerful incumbent, British Airways, as well as charter carriers such as Britannia Airways, Airtours International and Air 2000 (ask an elderly relative).
The journey proved fruitful. By the time the coronavirus pandemic struck in March this year, Gatwick was by far the biggest base for easyJet.
Last year, easyJet based 67 aircraft at Gatwick and flew almost 19 million passengers to and from the airport – which, incidentally, is nearly half as many as Wizz Air carried on its entire network.
Even though easyJet is slimming down, its relative importance at the airport is increasing – as a result of the disappearance from Gatwick of Virgin Atlantic, the hibernation of Norwegian and British Airways moving so many routes to Heathrow.
Fortress Gatwick, indeed. So why would Wizz Air contemplate setting up links to Athens, Lanzarote, Malta and Naples against a mighty competitor?
After all, easyJet is retreating from airports such as Stansted and Southend where it faces uncomfortable rivalry from Ryanair. In difficult times, it is far better to have a route to yourself.
Even though easyJet is weaker than before, it can still mount a spirited defence of its heartland – simply by launching a series of flights that closely mimic the upstart challenger.
Lonely Planet's UK Travelist

Show all 20
This has been used to great effect to see off rivals, for example when easyJet had the temerity to launch services to Cork, Dublin and Shannon – to which Ryanair made a predictably proprietorial response, duplicating timings and halving fares.
For a few months the only winner was the passenger, as prices dropped to ludicrous levels, until easyJet retired hurt. I can envisage the same happening at Gatwick on those four Wizz Air routes.
Surely the last thing the airline industry needs is a fares war?
Yet Owain Jones is being bold when others are fearful: "We have the lowest unit costs in Europe. We can take on competition."
The entire Wizz Air UK fleet of 11 Airbus jets is flying this month, a 100 per cent record matched by few other airlines.
The boss's main concern is the policy on landing and take-off rights at Gatwick, preventing Wizz Air expanding more quickly.
"We think it's desperately unfair that airlines that have said they are scaling back or completely leaving Gatwick are hanging on to their slots," he told me. "That will deprive the airport of substantial passenger flows."
Winners of National Geographic Travel Photo Contest

Show all 11
Those carriers can argue that they have painstakingly built up their slot portfolios by flying year in, year out; it is only reasonable they should be able to retain their rights through a few tough seasons until the aviation world is through the other side.
Wizz Air, which has hundreds of aircraft on order and needs to base them somewhere, will be looking to build a strong presence at Gatwick.
But new entrants face big problems getting on travellers' radar. Could just one plane at Gatwick spark another low-cost revolution?
The UK boss thinks so. "It's a statement of intent," says Owain Jones.
Join our new commenting forum
Join thought-provoking conversations, follow other Independent readers and see their replies