The Independent's journalism is supported by our readers. When you purchase through links on our site, we may earn commission.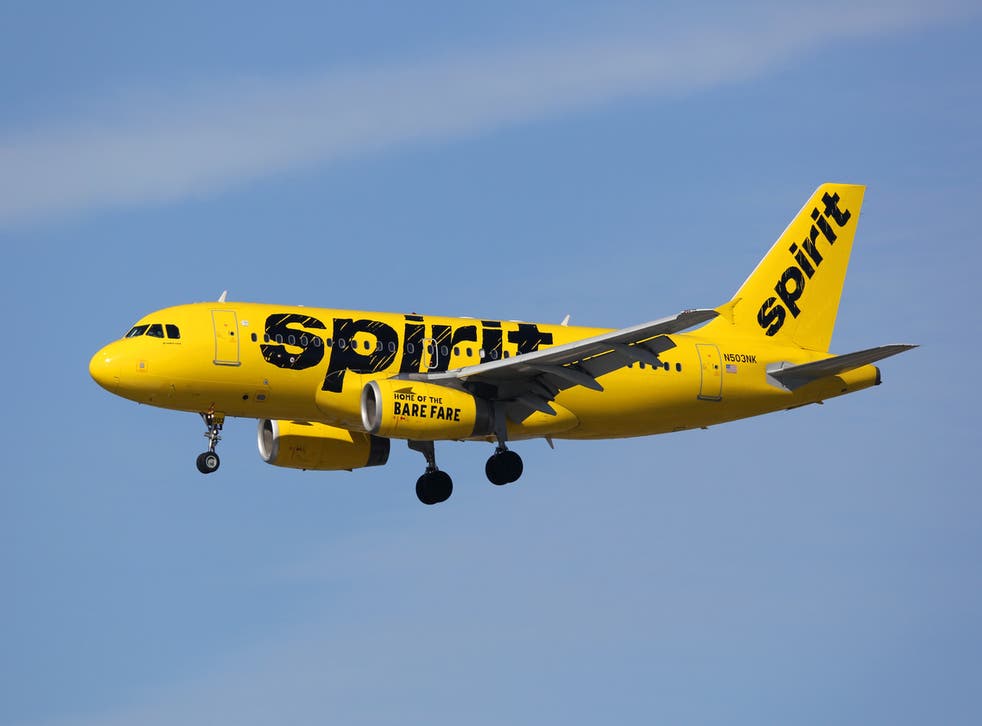 Mother claims she was kicked off Spirit Airlines flight 'because her son was crying'
The passenger alleges they were removed because her toddler was screaming after cabin crew forced her to stop nursing him
A cancer researcher and pianist from Houston has claimed she and her family were wrongfully kicked off a Spirit Airlines flight.
Mei Rui was flying to New York on Friday 8 December with her two-year-old son and elderly parents to participate in a cancer research study when the incident took place.
The airline has stated that the family were removed after failing to comply with crew instructions; Ms Rui has responded that "The only 'non-compliance' is that my son was crying for 25 minutes straight after I force-buckled him into the airplane seat."
She uploaded videos onto Facebook showing her son strapped into his seat and arguing their case later with Spirit staff.
She wrote accompanying posts explaining her version of events: "After a three-hour delay due to 'insufficient de-icing solution' to thaw the ice on the plane and having to deplane and re-board everyone, I was nursing my exhausted baby (we woke up at 3am for the early flight, as I have a very important recording session in NY this afternoon) as a crew attendant approached me and asked me to stop nursing him and buckle him in his seat.
"Since the plane hadn't finished re-boarding, and the doors were still open, I politely asked for a couple more minutes so I could finish nursing him. She waved for another flight attendant to come. I explained to them both that giving me a couple more minutes to finish nursing him would prevent him from crying and disturbing the other passengers.
"Seeing that I did not stop breastfeeding him promptly, they went back and at that point must have called the captain. I didn't want to cause any trouble, so I immediately pulled my son off and forced-buckled him into the seat, which set off uncontrollable crying for the next 25 minutes to the great dismay and earache of everyone on the plane.
"The crew came back (baby had been strapped in the seat for over 20 minutes at that point) and asked us to leave. We said that we haven't violated any regulations and asked why? They left, and at that point must have called the police.
"My parents and my young son are completely traumatized from this experience. All we want is an explanation for why we were kicked off the plane, and what exactly we were 'non-compliant' with, after complying and buckling my son into the seat and keeping him there for the entire duration until asked to deplane."
She added: "I had never imagined something like this could happen to our family. I am heartbroken that I could not protect my old parents and Lukas from this cruelty! Those of you who know me and my family, the last thing we would want to do is to cause trouble. I still can't stop trembling three hours later and am in shock..."
In a statement, Spirit Airlines said: "Our records indicate a passenger was removed from Flight 712 after refusing to comply with crew instructions several times during taxi to runway and safety briefing.
"To protect the safety of our guests and crew, FAA regulations and airline policies require all passengers to stay seated and buckled during takeoff and landing."
Ms Rui has disputed this statement, writing on Facebook: "Shame on you Spirit Airlines for fabricating more lies! The whole plane of passengers can testify that the plane's door was still open, was stationary at the gate, NOT in taxi mode as your statement says."
The family received a full refund but won't be flying with Spirit Airlines again, Ms Rui told KHOU.
"It was humiliating to be chased off a plane in front of hundreds of people. We had never been through anything close to this," she said. "We're not lawbreakers or trouble seekers. We're the elderly, a baby and his mother, why did they have to treat us this way?"
Register for free to continue reading
Registration is a free and easy way to support our truly independent journalism
By registering, you will also enjoy limited access to Premium articles, exclusive newsletters, commenting, and virtual events with our leading journalists
Already have an account? sign in
Register for free to continue reading
Registration is a free and easy way to support our truly independent journalism
By registering, you will also enjoy limited access to Premium articles, exclusive newsletters, commenting, and virtual events with our leading journalists
Already have an account? sign in
Join our new commenting forum
Join thought-provoking conversations, follow other Independent readers and see their replies