How to arrange your weekend trip to Russia
Still time to support Gareth Southgate's team at the third-place final in St Petersburg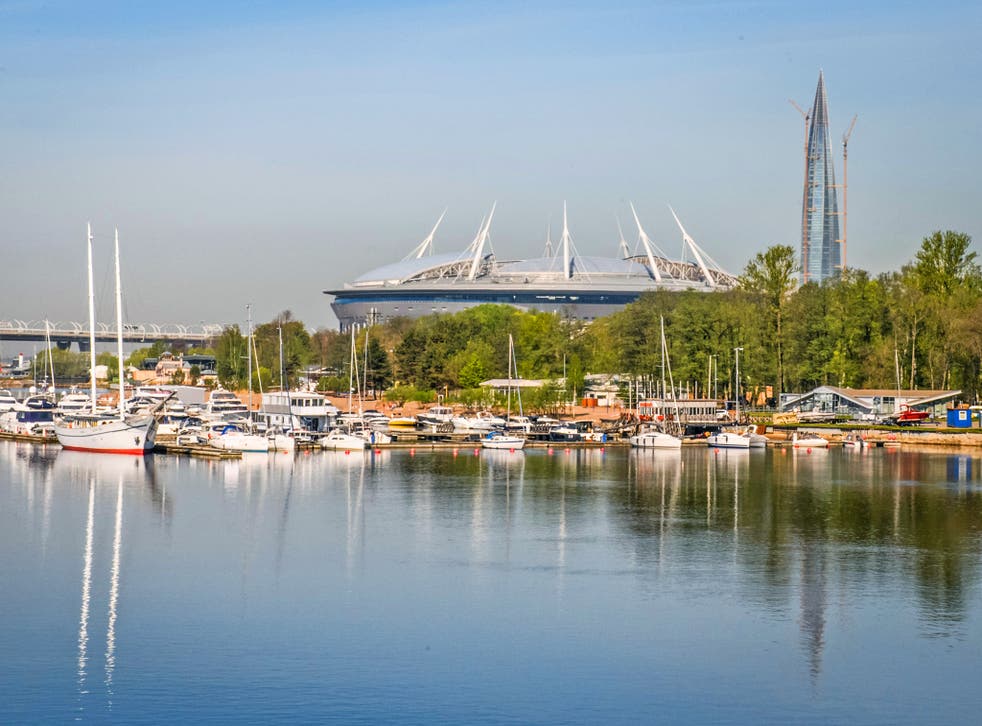 Despite losing against Croatia, England will be playing in Russia at the weekend, against Belgium in St Petersburg on Saturday. Kick-off is at 5pm, local time.
Can I get a ticket to the World Cup third-place final?
Match tickets have been coming onto the market sporadically through the official Fifa site, and have constantly been on sale at prices several times higher on ticketing websites; efforts to stop touting do not seem to have been remotely affected. But many fans will be content to soak up the atmosphere in Russia in a better mood than it's ever been.
Do I need a visa?
Getting a Russian visa is painfully difficult and expensive. As part of the agreement between Fifa and the Russian government, bona-fide fans do not require visas for visits to the host nation that start up to the day of the final, on Sunday 15 July.
Instead, they can travel with a "Fan-ID", which is issued free in a simple online process. It takes around five minutes and approval is normally almost instant. As well as basic passport information, the application also demands a ticket number or Fifa booking reference.
The line has always been that the Fan-ID is electronically locked to a valid match ticket acquired by the person who's applying for the Fan-ID: buy a ticket first, then get the permit to travel. But I have verified that someone else's ticket number from a previous game is sufficient to apply successfully for a Fan-ID. And ticket numbers are very easy to find on the internet.
This strategy is not officially condoned, and you could theoretically be stopped from boarding a flight to Russia or turned back when you get there. But I am not aware of that happening to anyone as yet.
How much will it cost to get to Russia?
Flights to St Petersburg increased very sharply after England were defeated. Services to and from Moscow are extremely busy. So the best plan is to fly to Helsinki and take the train. Travelling out on Thursday 12 July, back on Tuesday 17 July, fares on Lufthansa from Heathrow via Frankfurt are only around £250 return, less than half the price to St Petersburg.
Links from other English airports are around £100 more, but still good value relative to the cost and difficulty of flying to St Petersburg.
You will need to overnight in Helsinki, before taking the 3h30m, €69 train to St Petersburg. Plenty of seats appear to be available.
England's route to the World Cup semi-finals

Show all 6
Enjoy the third-place final here at the northernmost World Cup stadium. The St Petersburg Arena is also the most spectacular, looking like a spaceship that has landed on Krestovsky Island. But the experience in the fan zone will also be excellent.
In Sunday, you might also want to travel the 400 miles onwards to Moscow for the final. St Petersburg to Moscow is by far the busiest route in Russia by rail and air, and it's a buyer's market. Even on the day you can find flights for £25 each way, or pay around £100 for a luxurious overnight train (which will save a night's accommodation) to Moscow, and be in the capital for the final.
Where should I stay?
Before the World Cup I saw hotel rate rises of up to 18,000 per cent for the team's final group match in Kaliningrad what seems like 100 years ago. But every time, whether it's the World Cup or the Olympics, the winners are those who refuse to blink and just wait for the prices for beds to plummet.
Every time a big team like Germany or Brazil get knocked out, a tranche of provisional room bookings is cancelled. Add in the fact that Moscow and St Petersburg are the big tourist and business destinations in Russia, and that hardly any "normal" visitors are in town, and hoteliers are realising that the World Cup isn't quite the get-rich-quick scheme they were hoping for. So it's a buyers' market.
A couple of my favourites in St Petersburg and Moscow, the Oktyabryskaya and the Budapest, are charging around £200 for a double room including breakfast – expensive, but I've just checked with the three-star in London round the corner from my house and its lowest rate is £260.
Can I stay after Sunday's final?
They think it's all over... but it's not, quite. After the final whistle you can take advantage of the once-in-a-lifetime opportunity to explore more of Russia without a visa. From Sochi to Sakhalin Island, you have 10 days to travel far and wide before your Fan ID stops working at midnight on 25 July. Whatever your views on the Kremlin and Fifa, they have provided an unparalleled travel opportunity.
Register for free to continue reading
Registration is a free and easy way to support our truly independent journalism
By registering, you will also enjoy limited access to Premium articles, exclusive newsletters, commenting, and virtual events with our leading journalists
Already have an account? sign in
Register for free to continue reading
Registration is a free and easy way to support our truly independent journalism
By registering, you will also enjoy limited access to Premium articles, exclusive newsletters, commenting, and virtual events with our leading journalists
Already have an account? sign in
Join our new commenting forum
Join thought-provoking conversations, follow other Independent readers and see their replies