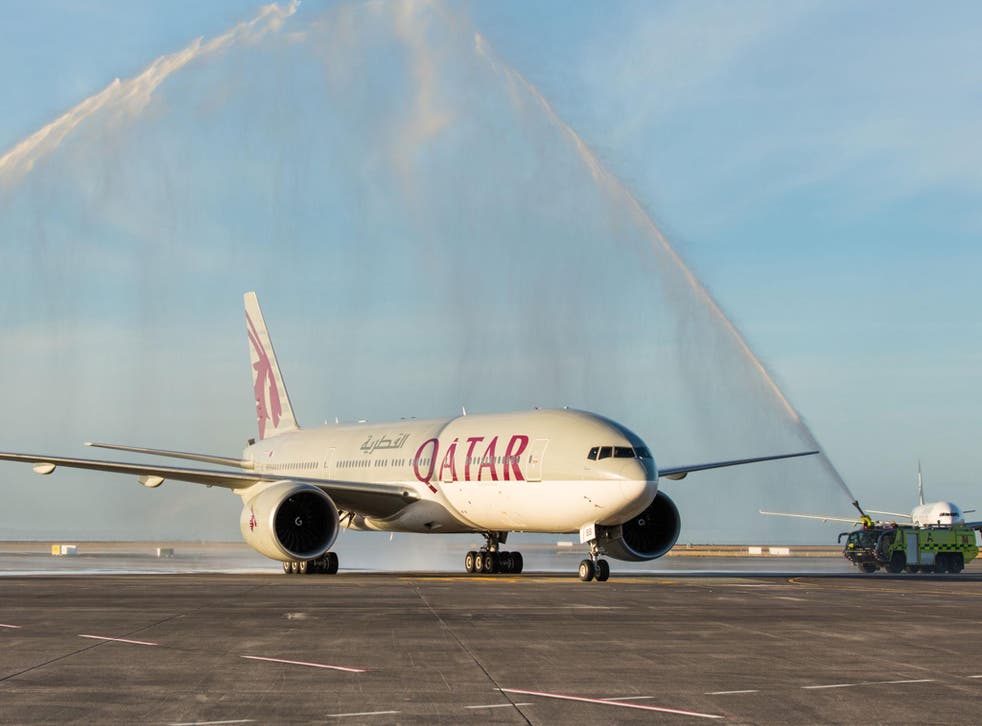 World's longest non-stop commercial flight touches down in New Zealand
The flight from Doha to Auckland lasted 16 hours and 23 minutes 
Loulla-Mae Eleftheriou-Smith
Monday 06 February 2017 12:37 Comments
The world's longest non-stop commercial flight has touched down in New Zealand after leaving Qatar 16 hours and 23 minutes earlier.
The Qatar Airways flight QR920 from Doha to Auckland covered a total distance of 14,535 kilometres (9,032 miles) and is the furthest distance between any two cities linked by direct flights.
The Boeing 777 landed at 7.25am local time on Monday, slightly ahead of schedule, and was showered by water cannons when it landed in Auckland as is traditional for welcoming inaugural flights on new routes.
The flight soared across 10 time zones with the help of four pilots, while 15 crew members served 1,100 cups of tea and coffee, 2,000 cold drinks and 1,036 meals on board, according to Qatar Airways.
The airline's Group CEO Akbar Al Baker travelled on the flight, which landed on New Zealand's Waitangi Day.
Once the airline completes its return trip to Doha it will set a final record for the world's longest non-stop commercial flight, as the journey takes an hour longer due to headwinds. The return flight is expected to take 17 hours and 30 minutes.
Prior to this new route, rival airline Emirates is understood to have held the record for the longest commercial flight for its route between Dubai and Auckland, which is around 300 kilometres shorter than Qatar Airways' new offer.
Additional reporting by Associated Press
Register for free to continue reading
Registration is a free and easy way to support our truly independent journalism
By registering, you will also enjoy limited access to Premium articles, exclusive newsletters, commenting, and virtual events with our leading journalists
Already have an account? sign in
Join our new commenting forum
Join thought-provoking conversations, follow other Independent readers and see their replies