The Independent's journalism is supported by our readers. When you purchase through links on our site, we may earn commission.
Tel Aviv city guide: How to spend a weekend in Israel's second city
Combine hard partying with serious chilling in Israel's White City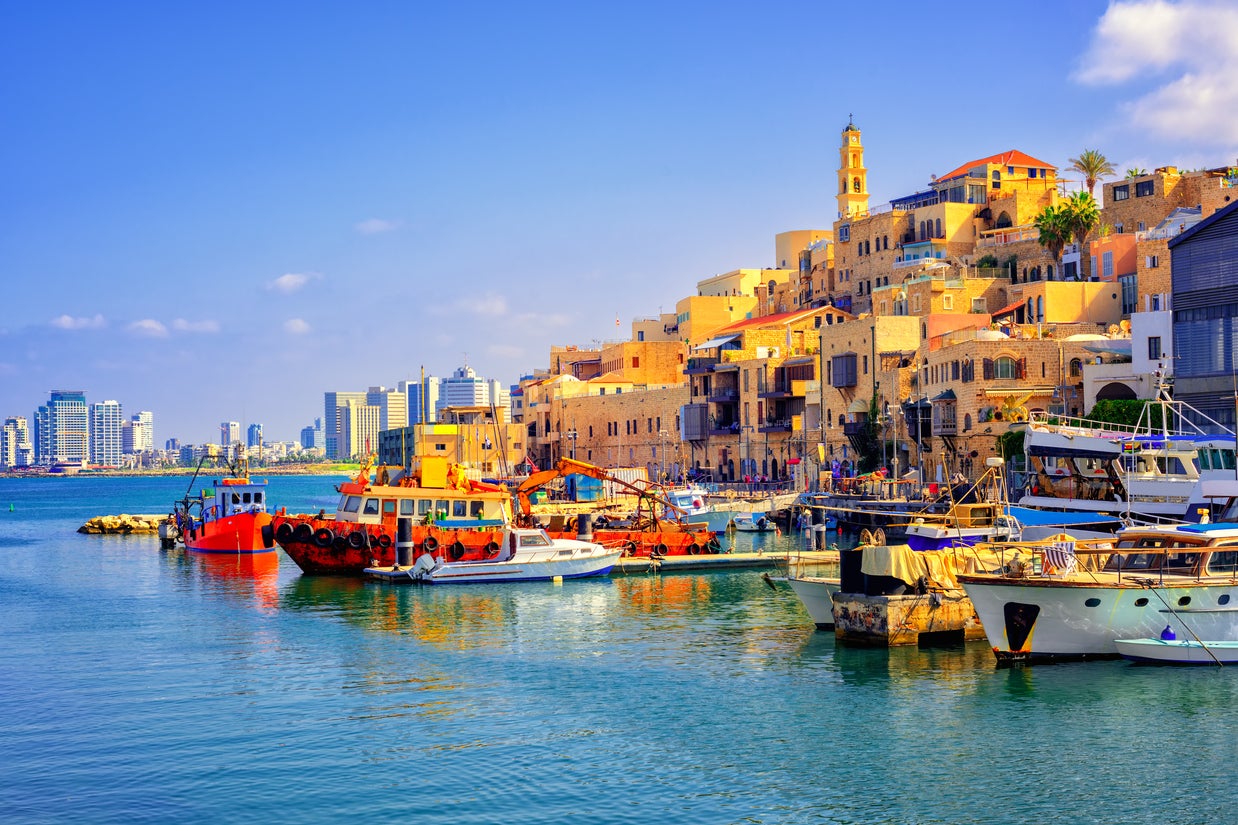 Why go now
Blessed with beautiful weather throughout spring and summer, the White City is the perfect destination for a lively weekend away. It's a party town, with restaurants, bars and clubs galore, and beautiful beaches for a restorative chill-out the morning after.
Get your bearings
On the glistening coastline of the eastern Mediterranean, Tel Aviv is located in the centre of Israel. To the south, the ancient port of Jaffa (1) has historic buildings and an alfresco restaurant-bar scene. In the centre, Carmel Market (2) is the beating heart of the city. The bustling Allenby Street (3) and Rothschild Boulevard (4) are near the market, while Dizengoff Street (4) carves up the city centre.
The weekend in Tel Aviv is Friday and Saturday. Saturday – the Sabbath – is a holy day, and shops and markets are all closed. Restaurants and bars start to open in the afternoon, so it's worth planning your trip around these two days to get the most out of the city.
Tel Aviv has two tourist offices (tel-aviv.gov.il): the Boardwalk Booking Centre (5) at 46 Herbert Samual St and Jaffa (6) at 2 Marzuk and Azar Street, near the clock tower (both open 9.30am-6.30pm Sunday to Thursday, 9am-4pm Friday, closed Saturday).
Day one
Take a hike
Start your day with spectacular views of Tel Aviv and the ancient port of Jaffa from Ha Pisga Garden (7) to the south of the city. Walk across the park to Olei Zion Street (8) and continue on to Jaffa Flea Market (9) (open 9am-6pm Sunday to Friday, closed Saturday; Friday is the main market day). From rugs to jewellery, pick up a bargain, then fuel up with a creamy malabi (similar to a rice pudding) from Ha Malabia (10) (00972 77 432 6051, hamalabiya.co.il) at 65 Ami'ad St in the centre of the market.
Walk north on Yerushalaim Avenue (11) until you hit the beach and continue along the Tel Aviv-Jaffa Promenade (12). Turn right onto Yosef Levi Street (13) and walk onto Ha Carmel – Carmel Market (2). This bustling market (open 8am until late Sunday to Thursday, 8am-4pm Friday, closed Saturday) is a great spot to amble through. Stay refreshed with a pale ale from the Beer Bazaar (14) (beerbazaar.co.il) at 1 Rambam St (open 11am-12am Sunday to Thursday, 11am-4pm Friday, closed Saturday).
For a more detailed walking tour, try Delicious Israel (deliciousisrael.com). The Eat Tel Aviv tour costs $100 (£72) per person and starts at 10am, lasting four hours. This includes all your food and drink along the way.
Lunch on the run
Started by two brothers in 1937, the fabulous local haunt of Shlomo and Doron (15) (00972 54-667-5505, facebook.com/shlomodoronhumus) serves several different types of hummus, including meshulash (made with three kinds of hummus), ful, which is made from fava beans, and, my favourite, shakshuka hummus. All three are served with fluffy pitta breads, zhug (a spicy Yemeni dipping sauce) and raw onion. Open 7.30am-3pm Sunday to Friday, closed Saturday.
Window shopping
From designer denim to stylish streetwear, shop till you drop on Dizengoff Street (4) in the North of the city. Check out Badim TLV (16) (badimtlv.com) for contemporary women's wear and cool home accessories (open 9.30am-8pm Sunday to Thursday, 9.30am-4pm Friday, closed Saturday) and pick up a pair of slick shades from Elison Eye Boutique (17) (facebook.com/Elison-Eye-Boutique) open 10am-7pm Sunday to Thursday, 10am-3pm Friday, and closed Saturday.
An aperitif
Tel Aviv is an outdoor city, so soak up the brilliant balmy weather with a drink at Port Said (18) (00972 3 620 7436, facebook.com/theportsaid). This tiny restaurant/bar is packed from the moment it opens until the last man is standing in the early hours of the morning. Open 12pm-3am Saturday to Thursday, closed Friday.
Carry on the party vibes late into the night at Sputnik (19) (00972 52 642 6532). Imbibe in style with a cool crowd on the terrace, and then head inside to their banging industrial bar and dance until the sun comes up (open 7pm-7am Saturday to Thursday, 9pm-9am Friday).
Dine with the locals
In a huge square around The Great Synagogue (20), Santa Katarina (21) (00972 58 782 0292, facebook.com/santakatarina2) is a modern Israeli restaurant with creative cocktails and a daily changing menu of delicious shared plates. Take a seat at the bar – the best seat in the house – and feast on tuna ceviche with mountains of herbs, tzatziki and chilli; spiced beef tartare kofta; and crisp asparagus spears on creamy labna. Open 12.30-4pm and 6pm-12am Sunday to Thursday, 12.30-5pm and 7pm-12am Friday, and 7pm-12am Saturday.
Day two
Out to Brunch
Take a seat outside Ha Basta (22) (00972 3516 9234, facebook.com/Habasta), a lovely little restaurant where you can enjoy a farm to fork Israeli brunch. Plates of labna, roasted aubergine and cured beef are served with spinach and Tulum cheese baked eggs. Brunch served on Saturdays only, 11am to 5pm.
Walk in the park
Why walk in the park when you can hit the beach? Saturdays in Tel Aviv are all about heading to the coast; make like the locals and head to Mezitim beach (23) in the north of the city. From here you can stroll down the boardwalk, past the beautiful Hilton Beach (24) – the city's famous gay beach – where you can hire paddle boards from the Sea Centre Club (25) (levyam.co.il) and then carry onto Gordon Beach (26). Try your hand at a game of matkot (paddleball). When you are all whacked out, grab a cold beer from one of the many beach bars.
Cultural afternoon
Continue walking along the blissful beaches all the way to Jaffa, where you'll find the Ilana Goor museum (27) (00972 3683 7676, ilanagoormuseum.org). Located in an 18th century building, this beautiful museum boasts over 500 works from Israeli and international artists, including Diego Giacometti, Henry Moore, Joseph Albers, Uri Lifshitz, Yigal Tumarkin, Pesi Girsch and Yaakov Dorchin. Open 10am-4pm Sunday to Friday and 10am-6pm Saturday; entry costs 30NIS (£6.40).
Icing on the cake
A trip to Jerusalem is a must if you can squeeze it in. This spectacular city is electric. The old town is packed with beautiful buildings, winding alleyways and historic monuments. The big three – The Wailing Wall, Temple Mount and The Church of the Holy Sepulchre – are all within walking distance of each other, and each is incredible in its own way. Dress modestly, covering legs and arms to ensure entry.
Take the tram from Damascus Gate to Mahane Yehuda Market. This hipster hangout is lined with cool coffee shops, sizzling street food and vibrant stalls selling everything from fruit and veg to fresh fish and sticky sweet rugelach pastries.
Travel essentials
Cheapest time to fly
Getting there
British Airways (britishairways.com) offers two to three flights a day from London Heathrow to Ben Gurion Airport (28), from £300 return.
From Ben Gurion Aiport, take the train from Terminal 3 to Tel Aviv town centre. There are two stations, Hashalom (29) in the South and Tel Aviv Salvador Centre (30) in the North. The journey time is around 15 to 20 minutes and costs 13.5NIS (£2.90) one way. It's easy to get a cab to your hotel from the station; Uber works brilliantly.
Staying there
With 12 elegant rooms, the best breakfast in the city and a killer concierge who can get you into any party in town, Hotel Montefiore (31) (hotelmontefiore.co.il) is the most beautiful boutique hotel in the city. Doubles from £330, B&B.
Overlooking Carmel Market, the newly opened Poli House (32) (thepolihouse.com) has a stunning rooftop pool with Balearic beats and boozy slushies to get you in the mood. Doubles from $270 (£209), B&B.
Hotels in Tel Aviv are on the expensive side, so for the best budget finds try using Airbnb (airbnb.co.uk). It has private studio accommodation for two, starting from $55-60 (£43-47), room only.
Join our commenting forum
Join thought-provoking conversations, follow other Independent readers and see their replies